How Much Did Marvel's 'Eternals' Make at the Box Office on Opening Weekend?
Despite receiving negative press for it's middling reviews, Eternals has defied the critics' expectations and posted impressive opening weekend figures at the box office.
According to the reviews aggregator site Rotten Tomatoes, Eternals became the lowest-rated Marvel Cinematic Universe movie ahead of its release. That's despite featuring a star-studded cast list and becoming one of the most diverse offerings ever seen in the MCU.
Oscar winner Chloé Zhao directs and co-wrote the screenplay while Richard Madden, Angelina Jolie, Salma Hayek, Kumail Nanjiani, Gemma Chan, Brian Tyree Henry and Lauren Ridloff star.
How much did Eternals make at the box office?
Even though there was a lot of talk around the underwhelming reviews, Marvel fans still turned out in force to watch Eternals and bagged the movie $71 million at the domestic box office on its opening weekend.
It made slightly less in its opening weekend than its MCU siblings, Black Widow ($80.4 million) and Shang-Chi and the Legend of the Ten Rings ($75.4 million), which also opened in the pandemic era. Venom: Let There Be Carnage was also released this year, with a $90 million opening weekend box office intake domestically.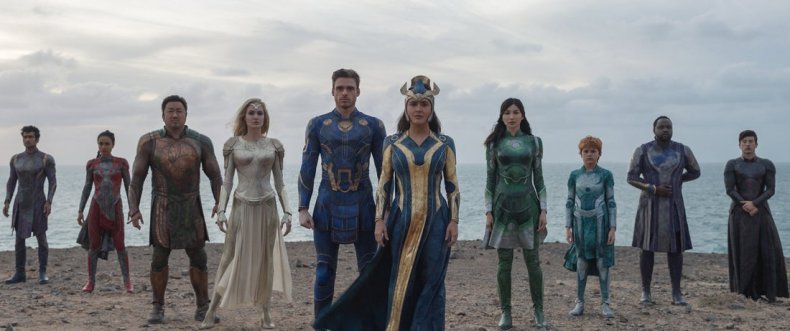 Eternals made an additional $90.7 million at the international box office, bringing its total figure to $161.7 million. It's currently showing in 46 markets across the world including major territories such as the U.K., South Korea, France and Mexico.
The movie reportedly had a $200 million budget, which isn't an unusual figure for a Marvel movie, so there's still some way to go before the studio can claim they've made a profit on Eternals.
What have the critics said about Eternals?
Across 297 reviews, Eternals currently has a 48 percent rating, which makes it the worst reviewed Marvel Cinematic Universe movie in history. The average score given by reviewers is 5.6 out of 10. Those figures could still change as more reviews roll in but as it stands, Eternals has overtaken The Incredible Hulk and Thor: The Dark World as the worst rated MCU film of all time.
The audience score on Rotten Tomatoes is far more favorable with an 81 percent rating. It also holds an audience rating of 6.9 out of 10 on IMDB.
Eternals introduces a cast of relatively unknown superheroes to the Marvel Universe, much like the Guardians of the Galaxy did in 2014.
The movie made waves ahead of its release when Harry Styles was revealed to appear in a post-credits scene. The movie also extended its international reach by featuring a song from the K-pop band BTS on the soundtrack.
Eternals is available to watch exclusively in movie theaters now.
The previous MCU entry, Shang-Chi and the Legend of the Ten Rings, will become available to watch on Disney+ on Friday, November 12.