How Nicki Minaj's Husband Kenneth Petty's Sex Offender Past Could Impact Custody
Nicki Minaj is pregnant with her first child, and there's a good chance her husband Kenneth Petty's criminal past may come into play when it comes to child custody. Because Petty, 42, is a sex offender, California law might present difficulties.
Minaj announced her pregnancy on Monday, and fans were ecstatic to see the "Super Bass" rapper starting a family. Minaj and Petty's marriage is a happy one, but Petty's recent arrest may have fans wondering about long term ramifications when it comes to custody of their expected baby.
Criminal Defense Attorney Paul J. Wallin ,who is not affiliated with Minaj or Petty, told Newsweek that in his legal opinion because of Minaj's high-profile pregnancy, there's a chance social workers may want to get involved to secure the safety of the baby.
Minaj and Petty were married in 2019, and Petty was arrested in March for failing to register as a sex offender in California. He previously served four years in prison as a Level 2 sex offender after he was found guilty of raping a 16-year-old girl, who he held at knifepoint, in 1994, Newsweek reported.
"Because she's high-profile and because it will be all over the news, what they have to be concerned about is the Child Dependency Court," he said. "Under Welfare and Institutions code [Section] 300 social workers are paid on a daily basis to keep registered sex offenders and people that may be a risk to their child away from all children in the family."
This is assuming Minaj doesn't file a complaint about Petty herself to California's Family Law Court. The pair are happily married, so it doesn't appear Minaj would plan on going this route.
She's even defended Petty's rape charge in the past. "He was 15, she was 16 ... in a relationship. But go awf [sic] Internet. Y'all can't run my life. Y'all can't even run y'all own life. Thank you boo," she tweeted.
Wallin claimed bystanders could report Petty's involvement in the child's life rather than Minaj. "Let's say hypothetically, a mother has three children and she starts dating a guy who is a registered sex offender," he explained.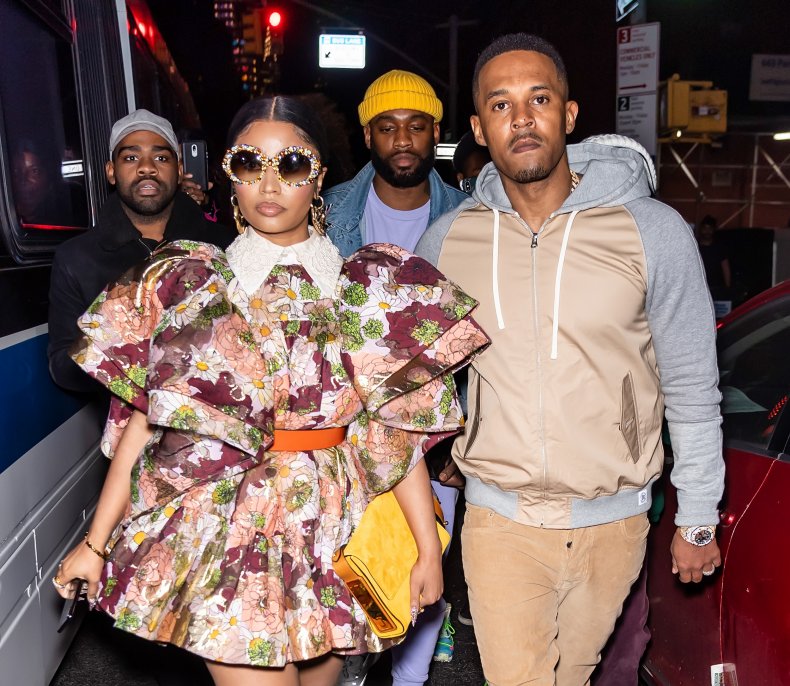 "Because registered sex offenders are on the internet, a neighbor finds out, they call a social worker, and they're now going to start telling the mother 'If you let that man in your house, we're going to file a petition under the code to take those children and put them away from you because you're putting them at risk.'"
In Minaj's case, it could result in Petty being banned from the family home. "Granted, they're going to say 'it was a long time ago, so he's cured.' But absent some evidence that he's done therapy and expert in sex offenders says he's 'not a risk,' there might be an order that he not be allowed to live in the same house with the baby, or that if they trusted her, they could say [Minaj] could be the monitor," he explained.
Adding in Petty's first-degree manslaughter prison time makes it even more complicated. "Now, they have a chance because it was 25 years ago," Wallin noted. "But then, obviously, he didn't register [as a sex offender in 2020], and he also got the manslaughter [charge]. I guarantee you red flags are flying all over the place. Babies can't protect themselves. Our society is set up so the Dependency Court is way more protective than the Family Law Court."
Even so, in order for there to be a legal battle for custody requires a social worker to file a petition that Petty is unfit to keep the child safe.
What seems certain is that because of Minaj's prominent status as a musician, eyes will be on her relationship post-birth. "The odds are overwhelming someone is going to notify a social worker, and in a non-Covid environment, the odds would be 95 percent some social worker is going to be knocking on Minaj's door after the baby is born," Wallin said.
Petty already has five children, this will be Minaj's first child.