How Popular Is Donald Trump in Texas? Crowds Flock to Rally but Approval Rating Has Fallen
It would appear that President Donald Trump remains as popular as ever in red-state Texas, judging from the large crowd of people who queued overnight in Houston ahead of his Monday-night rally for Senator Ted Cruz. But Trump's job approval rating, which has fallen since he took office, suggests otherwise.
Trump's approval rating in Texas dropped from 54 percent in January 2017 to 51 percent in September 2018, according to Morning Consult, which has been tracking him monthly in all 50 states. Meanwhile, Trump's disapproval rating in the state increased from 34 percent in January 2017 to 45 percent in September 2018.
Those ratings last month were nearly identical to a Quinnipiac University Poll released October 11 that found that 51 percent of likely voters in Texas approved of Trump's job-handling and 46 percent disapproved.
Despite Trump's decreased popularity in Texas, those who support him showed strong devotion as he headed their way. Trump's rally for Cruz was set up at the Toyota Center, which, at a capacity of about 18,000, is smaller than the reported demand.The Trump campaign reported that they'd received 100,000 requests for tickets by Sunday afternoon. Many Trump supporters drove in from far away and arrived at the venue more than 24 hours before the rally was scheduled to start to make sure they could get a seat.
The first to join the line arrived outside the arena at about 10 a.m. Sunday and was joined by more than 175 others with chairs and tents by nightfall, the Houston Chronicle reported on Monday.
"I just got out of bed and ran down here," Lisa Brewer, a freight logistics manager, told the newspaper. "I didn't know people would be here right after me."
Brewer said she and her daughter-in-law did not plan to sleep.
"Just the adrenaline alone will fuel us all," she said.
Glen Collins and his fiancée, DeeJay Miller, drove 180 miles from Waco to Houston and ditched their plans to stay at a hotel on Sunday night when they saw the line to get into the arena was already growing.
"We thought we'd get down here at 6 a.m., but when I drove down here to scout it out, I seen the line and I said, 'We can't take our chances. We just gotta sit out here,'" Collins told the Chronicle.
Linda Van Bebber, who lives in the Houston metropolitan area, explained why she supported Trump despite him tweeting "bad things."
"I don't like all of the tweets he makes," Van Bebber told the newspaper. "But if you look at the bottom line, it's a lot about him being tough on certain issues."
Trump's rally for Cruz, who leads Democratic challenger Beto O'Rourke in recent polls, is scheduled to start at 6:30 p.m. local time.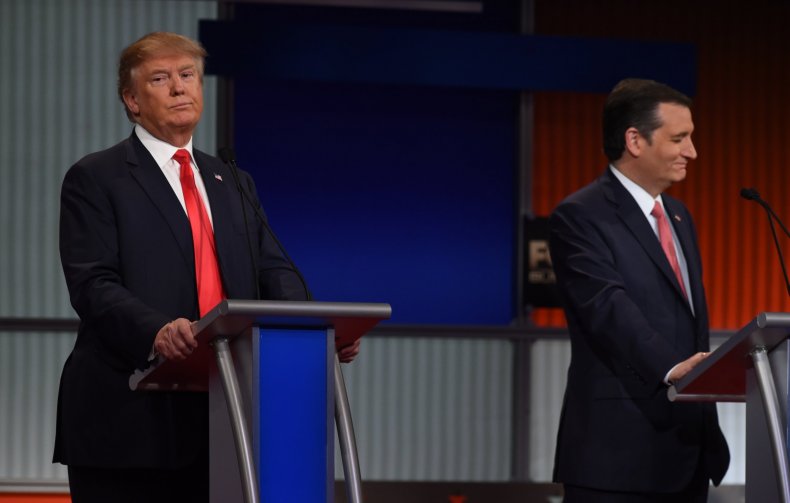 Texas is not the only state where Trump's approval rating has dropped since he was inaugurated—it has gone down in all 50 states and Washington, D.C. Trump had a net positive job approval rating in 38 states when he first stepped into the White House, but that has fallen to 22 net approvals and 29 net disapprovals on Morning Consult's tracker as of October 4.