How to Prevent Further Escalation of Violence in Israel—Before It's Too Late | Opinion
News is breaking about another violent attack in Israel, the fifth in three weeks. This one, which took place in Tel Aviv, left two dead and 12 injured. It brings the total number of Israelis killed in recent weeks to 13. They join 18 Palestinians killed by Israeli forces in the first three months of 2022, whose deaths the United Nations has documented.
How to combat this new wave of violence? The answer is perhaps more simple than one might expect: with good governance and with hope.
In the Palestinian-Israeli conflict, the absence of a political horizon coupled with large-scale failures of governance have meant that Palestinians living under the now decades-old occupation have no hope to one day live freely. A political process and a clearly defined road map are essential, not only to the pursuit of peace and an end to the occupation but to giving people a source of hope. Governing, especially in a location like Jerusalem, also requires leaders to check their ideology so it doesn't interfere in the process of proper administration.
There's an Arabic saying that's relevant here: fil harakeh barakah. It translates to, "In movement there is a blessing," meaning, it is extremely important to have a process. What that means in political terms is that the importance of people from opposing sides meeting and trying to work out a peace agreement cannot be dismissed. And this is something that throughout the long tenure of former Israeli Prime Minister Benjamin Netanyahu was simply non-existent.
The problem is that Israel has replaced an obstructionist prime minister with an ideological one—Naftali Bennett. During his last visit to Washington, Bennett boasted that he has not met with President Mahmoud Abbas and has no intention of meeting him or negotiating peace with Palestinians.
Without a process and an end game, Palestinians see only darkness and helplessness, making some easy prey for violent radicalization.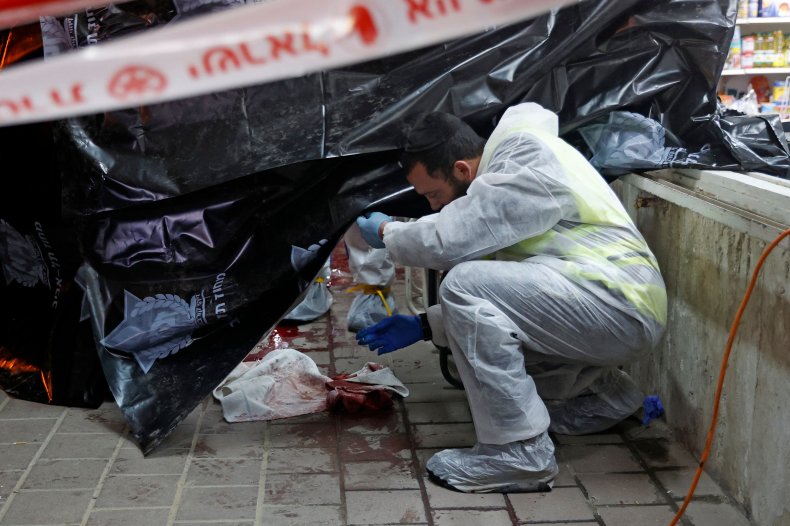 This is not to excuse the horrific violence. Every act of violence belongs to he who commits it. And yet, it is to say that one way out of this cycle is to give the Palestinian people another way, a vision, a reason to hope.
The explosive situation in Jerusalem is an example of what happens when leaders are motivated by ideology and are neither able to govern nor willing to provide the governed with tools to alleviate their helplessness and frustrations. Specifically in Jerusalem, Palestinians are cut off from their natural leadership and from fellow Palestinians in the West Bank and Gaza, but they are also barred from setting up their own institutions in Jerusalem; this week, Israel renewed the closure of 28 Palestinian institutions in East Jerusalem. The closed institutions include political, social, economic and even touristic bodies. Israel claims that the entire city of Jerusalem is part of Israel and falls under its civilian rule, yet it uses emergency British regulations from 1945 to stunt any efforts that Palestinians in Jerusalem might make to organize themselves and enjoy a semblance of a political identity.
This year, the religious calendar has Jewish, Christian, and Muslim holidays all occurring in the month of April. In past years, sane Israeli political leaders worked hard at avoiding friction between different groups to avoid compounding a religious conflict with the political one. But the right-wing Israeli government headed by Bennett seems eager to appease the radicals, knowing full well that this could turn ugly.
Meanwhile, U.S. Secretary of State Antony Blinken has called upon the Bennett government to calm the situation and prevent the radicals from storming the mosque area, especially during the holy month of Ramadan.
Bennett would do well to listen, or the situation is liable to escalate, especially around the grounds of the Al Aqsa Mosque during the last 10 days of Ramadan leading up to Friday, April 23. Hundreds of thousands of Muslim worshippers descend on Al Aqsa on Fridays during Ramadan, and this particular Friday will also be the Jewish holiday of Passover. Radical Jews are threatening to storm the mosque area during Passover.
The current Israeli leader who heads a small right-wing party is trying to juggle internal politics with his governmental responsibilities. In the volatile Palestinian-Israeli conflict, if radical ideology sweeps into governance, such efforts could become catastrophic.
Avoiding religious conflict and providing a pathway to peace that can reinstall hope is crucial and necessary so that the region doesn't fall again into an unending cycle of violence.
Daoud Kuttab is an award-winning Palestinian journalist and former Ferris Professor of Journalism at Princeton University. Follow him on Twitter @daoudkuttab.
The views in this article are the writer's own.