How to Protect Unborn Life in a Post-Roe America | Opinion
As Roe v. Wade turns 49 this month, the Supreme Court may soon overturn or significantly modify its abortion precedents, restoring the American people's power to protect unborn children and their mothers in the law. This is a dream decades in the making—but even an unequivocal win will represent the start, not the end, of the pro-life movement's work to rebuild a culture of life.
In a post-Roe America, each state will resume a debate that was unjustly stifled for two generations concerning how we protect the most vulnerable. American democracy will work as designed, with the people, through their elected representatives, determining the laws that govern them. Pro-life advocates must take the initiative in every state, and future pro-life presidents and members of Congress must act to defend life.
States have been at the forefront of America's pro-life revolution. The pro-abortion Guttmacher Institute recently called 2021 "the most devastating anti-abortion state legislative session in decades"—a peculiar way to describe life-saving laws. By October, more than 100 pro-life provisions had been enacted across 19 states, including some of the most ambitious protections ever passed.
Nearly half of the states have passed versions of the Pain-Capable Unborn Child Protection Act, which limits late-term abortions, conducted when unborn children can feel pain. More than 10,000 late-term abortions take place nationwide each year. States have also enacted laws protecting unborn children from discriminatory abortions based on their race, sex or a prenatal diagnosis such as Down syndrome. Others have passed measures protecting unborn children with a detectable heartbeat.
More states should enact these and other measures, such as protections for babies born alive in failed abortions and limits on the expansion of chemical abortion drugs, which are even more dangerous than surgical abortions and have caused women's deaths.
There's no shortage of pro-life policies that states can and should pass. Each will reach different conclusions, reflecting differences in public opinion. The process may be messy at times, but state leaders should have confidence knowing that the overwhelming majority of Americans support far greater limits on abortion than Roe allows.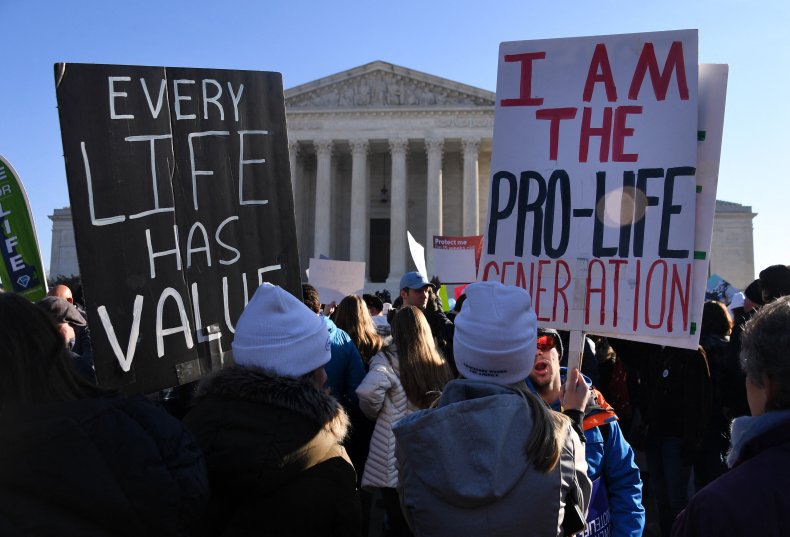 The federal government must step up, too. The president in particular must show the way forward. The pro-abortion Biden administration has worked to roll back pro-life policies on every front, so a future pro-life president must be prepared to act. That means following the example of President Donald Trump, who revived past administrations' pro-life policies and found new ways to protect the unborn and their mothers.
The process must start with undoing the Biden administration's pro-abortion policies. A future pro-life president should reinstate the Protect Life Rule and extend to all states the ability to prioritize life-affirming care—not abortion businesses—when allocating their own tax dollars, including in their Medicaid programs. He or she should instruct the Justice Department to finish its stalled investigation of Planned Parenthood's involvement in the sale of baby body parts, and work to end experimentation on the bodies of aborted children in the name of "research."
On the world stage, a future pro-life president should end U.S. funding for the United Nations Population Fund, which the Biden administration more than doubled. The UNFPA has openly collaborated with oppressive regimes like communist China, which commits forced abortions and other abuses against Uyghurs in the Xinjiang region. The U.S. should also rejoin the groundbreaking Geneva Consensus Declaration, which states that there is no international right to abortion. The U.S. and 33 other nations previously signed the declaration, only for the Biden administration to withdraw U.S. support.
A president must also exhort Congress to protect both the born and the unborn. If there is one thing Americans oppose more strongly than funding abortions domestically, it's exporting abortion around the globe. A pro-life White House and Congress working together could finally make permanent the Hyde Amendment, which has saved 2.5 million American lives and counting, and permanently end U.S. taxpayer funding for abortion overseas. They could also enact the Born-Alive Abortion Survivors Protection Act, currently blocked by Democrats, to stop infanticide.
Pro-life advocates must continue serving mothers and families in need by strengthening the pro-life safety net, which presently includes 2,700 pro-life pregnancy centers nationwide. This also entails making it easier to adopt and foster young children in stable, nurturing homes. The fight for life does not end at birth, and in a post-Roe America, these children and mothers will need our support as urgently as ever.
As life finally gets the defense it truly deserves at the High Court, we see hopeful signs that Roe is on life support. Victory, while not inevitable, is in reach—and with it, our greatest opportunity yet to change hearts and minds and save countless lives. Now is the time for all who care about life to prepare for that moment, employing all our creativity and fortitude to restore the right to life to its central place in American law.
Marjorie Dannenfelser is president of the national pro-life group Susan B. Anthony List. This op-ed is adapted from her chapter in Ambassador Nikki Haley's upcoming book, American Strength: Conservative Solutions Worth Fighting For.
The views expressed in this article are the writer's own.