How Queen Elizabeth II Axed Andrew and Learned of Government Betrayal in Nightmare Week
Queen Elizabeth II stripped Prince Andrew of his titles on the same day as reports broke of U.K. government parties having taken place the night before she sat alone at Prince Philip's funeral.
The Monarch, 95, took a further step toward casting her favorite son into the wilderness by removing his honorary military affiliations and royal patronages.
The Duke of York will no longer be able to refer to himself as "His Royal Highness," in a move that mirrors the palace approach to Prince Harry and Meghan Markle.
The decision—made with Andrew's agreement—means the prince will fight his Jeffrey Epstein lawsuit as a "private citizen" rather than as a royal.
Just four-and-a-half hours after the queen marginalized her second-born son in a statement of just 42 words, news broke in The Daily Telegraph of government staff holding two parties in Downing Street during lockdown the night before Prince Philip's funeral, which had been scaled down to meet COVID-related restrictions.
Famously, the queen showed leadership by sitting alone on April 17, 2021, as she said goodbye to her husband of 73 years—following the rules, just like thousands of Britons were required to do throughout the pandemic.
By contrast, the newspaper's account describes how the night before the funeral a special adviser in Downing Street was the DJ at a leaving do, while one staffer was sent to a shop with a suitcase to buy alcohol and another person broke a swing belonging to the prime minister's baby son, Wilf Johnson, who turns two in April.
Quoted by The Guardian, the prime minister's spokesperson said: "It's deeply regrettable that this took place at a national mourning, and No 10 has apologised to the Palace for that."
It's unclear whether the queen will take the matter up with the prime minister when they next speak.
Jubilee Plans
The revelations come just two weeks into a year when the queen is supposed to be celebrating her Platinum Jubilee after a difficult 2021.
Prince Harry and Meghan Markle's Oprah Winfrey interview came just a month before Prince Philip's death and it was broadcast while he was still in the hospital.
The Duke of Sussex then continued his criticisms of the royal family a month after his grandfather died in his documentary for Apple TV, The Me You Can't See, which was broadcast in May.
The queen then experienced a health scare in October that forced her to pull out of a series of high profile public engagements, including climate change conference COP26 in November.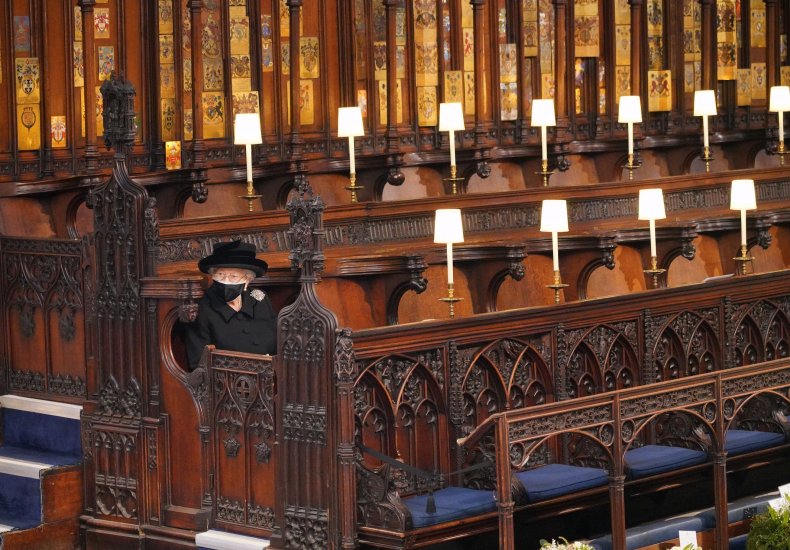 Pressure to take further action against Prince Andrew had been mounting since August 2021 when Virginia Giuffre filed a lawsuit accusing him of raping her when she was a 17-year-old Jeffrey Epstein trafficking victim in 2001.
If the queen hoped her Platinum Jubilee year in 2022 was going to go better, it does not appear to be so far.
Just four days in, Judge Lewis Kaplan appeared resolutely unconvinced by Prince Andrew's efforts via his lawyer to get the case against him thrown out during a fiery January 4 hearing.
The New York court's scepticism was confirmed on Wednesday when the judge ruled that a trial would go ahead, meaning that Prince Andrew will be deposed about his relationship with Epstein.
On Thursday morning it emerged that more than 150 veterans had signed an open letter pleading with the queen to strip Andrew of his honorary military roles.
The letter, quoted by The Independent, read: "Please do not leave it any longer."
It added: "Were this any other senior military officer it is inconceivable that he would still be in post."
The Buckingham Palace statement came within hours and read: "With The Queen's approval and agreement, The Duke of York's military affiliations and Royal patronages have been returned to The Queen.
"The Duke of York will continue not to undertake any public duties and is defending this case as a private citizen."
However, Elizabeth still has to endure her son's decision to fight the lawsuit with a civil trial sometime after July 2022.
Depositions are likely to take place in the spring and if Ghislaine Maxwell's criminal case is anything to go by, there will be regular updates from the court, keeping the issue prominently on the front pages.
Prince Harry's memoir also may well containing further criticisms of the monarchy, following his previous suggestion he experienced "genetic pain" from his royal upbringing during an appearance on the Armchair Expert podcast.
All this as the queen prepares to celebrate 70 years on the throne, British royalty's first Platinum Jubilee in history, and without her husband by her side.
Vicky Ward, one of the key journalists in the early stage of Epstein story, wrote on Twitter: "One feels sorry for the Queen. Imagine having to fire your favorite son at this stage of your life and reign."