How Queen's Jubilee Showed Monarchy Could 'Go Off a Precipice' in Caribbean
Queen Elizabeth II's Platinum Jubilee exposed the ignorance of the monarchy as successive royal tours saw Caribbean leaders call for slavery reparations and independence, a royal author told Newsweek.
Prince William and Kate Middleton led the charm offensive in March when they visited Belize, Jamaica and the Bahamas—only to trigger lively debates in all three countries about removing Elizabeth as head of state.
Now Prince Edward and Sophie, the Countess of Wessex, have been met with a similar response during a separate week-long tour, raising the long-discussed prospect of a domino effect among countries outside Britain that count the queen as head of state.
The blow was particularly striking because the publicly-stated reason for the royal visits was to celebrate the monarch's Platinum Jubilee, the 70th anniversary of her reign, which some states are now considering ending.
Clive Irving, author of The Last Queen, told Newsweek: "I think it is the beginning of a domino process. When the queen's reign ends they all go off the precipice, I think. They just drive off a precipice because it's only the presence of the queen.
"Once that's gone its a completely different ball game. I think if Australian republicanism then gets traction, which I think it will, that is bound to have an effect in the Caribbean, too. They'll look at it and think if Australia can do it, we can do it too."
Until recently, there were 16 countries around the world that recognized the queen as head of state, including Britain, with those outside the U.K. known as "Commonwealth Realms."
However, in November, Barbados cut ties with the monarchy in a historic, though good-natured, ceremony where Prince Charles was a guest of honor.
Months later, the situation appears to have declined significantly further, starting with William and Kate's very public tour meltdown, including a famous botched photo op of them greeting children through the holes in a wire-mesh fence.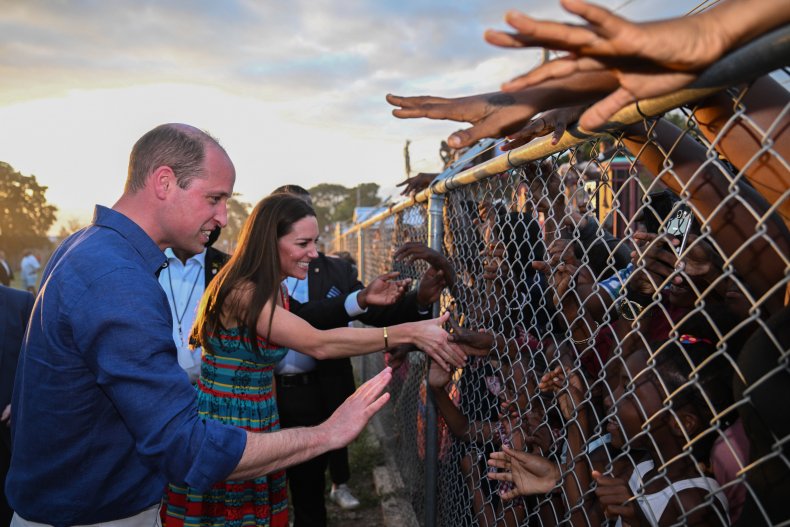 Jamaican Prime Minister Andrew Holness told them face-to-face of his country's desire for independence, while a similar intention was communicated by a minister in the Belizian government shortly after they left.
More recent events have been equally bleak for the royals, though far less high profile because Edward and Sophie do not draw the attention that the Duke and Duchess of Cambridge garner.
Things started badly when they postponed a visit to Grenada against the backdrop of a request to meet from the country's Reparations Commission, though the palace gave no public confirmation it was a factor in the decision.
There was then an awkward photo op of the couple giving Saint Lucian Prime Minister Philip J. Pierre a signed picture of themselves, which was criticized on social media.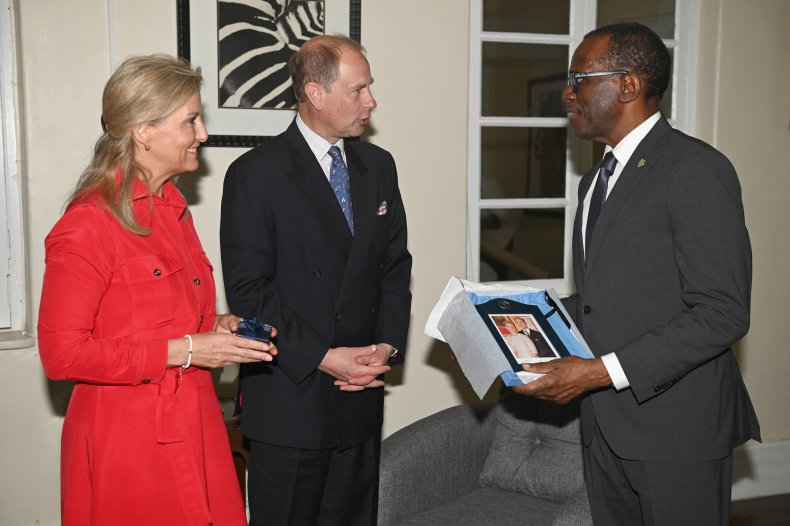 The tour's fate continued its descent as Gaston Browne, the prime minister of Antigua and Barbuda, told the couple the country will at some point in the future end the queen's reign, though not yet.
Quoted by The Independent, he said: "You can even use your, let's say, diplomatic influence to build bridges in achieving the reparatory justice that we seek here in the Caribbean.
"Because the reality is we have been left and bereft of important institutions such as universities and good medicinal facilities."
Prince Edward's response may have earned few brownie points with his hosts, however.
Nadine White, race correspondent for The Independent, wrote on Twitter: "In replying, Prince Edward didn't acknowledge or address the issue of slavery reparations raised by the Antigua PM.
"In fact, for some reason the Earl laughed while saying that he 'was not keeping notes' so is 'not going to give him a complete response.'"
Irving told Newsweek: "It's not surprising that Edward is historically ignorant on this issue but what surprised me is the people who plan these tours themselves seem to be completely tone-deaf about this.
"They need to start educating the royal family on this stuff because clearly they don't know it.
"If William—and I've given up on Charles—has any ambition to look like a modern monarch, he'd better bone up on his history.
"They shouldn't need to take notes. The whole idea of saying, 'I didn't take any notes,' is abject. What's the point of a royal tour anyway? Only to embarrass everyone."
It all makes life easier for Graham Smith, the chief executive of the anti-monarchy group Republic, who added in a statement sent to Newsweek: "This arrogant and contemptible response from Edward shows again that the royals are not cut out for diplomacy."
For more royal news and commentary check out Newsweek's The Royal Report podcast:
Now Saint Kitts and Nevis is also looking to cut ties with the monarchy, having not even been included among tour destinations by either royal couple.
Quoted by The Independent, Shawn Richards, deputy prime minister, said: "The advancement of the decades has taught us that the time has come for St Kitts and Nevis to review its monarchical system of government and to begin the dialogue to advance to a new status, just as Trinidad, Guyana, Dominica and now Barbados have done."
Irving said the crisis in royal international relations arose from an inability within the palace to see the new identities of Caribbean countries as they truly are.
He said: "Actually, I felt sorry for William and Kate and now I feel sorry for Edward and Sophie.
"They've been sent to do something, which is a ludicrous and impossible thing, which is to visually impersonate the Crown in military uniforms and formal occasions and a kind of patronising idea of 'this is who you owe allegiance to.'
"People in the Caribbean looked at it and thought, What are these guys doing here? What are they representing?'
"I thought it was absolutely a serious misstep for the monarchy, but it doesn't happen on its own out of a context. The context is the monarchy's assumptions about its role."
The royals, and William and Kate in particular, have their defenders in Britain, who steadfastly maintained the Cambridge tour of the Caribbean should be considered a success despite the political opposition to monarchy.
However, strikingly, criticism has also found its way into historic bastions of Monarchism such as the Daily Mail.
Royal biographer Tom Bower told the newspaper's website: "Once again, Foreign Office officials in London and the High Commissioner in Grenada failed to anticipate the problems and protect the Wessexes from the same humiliation which cursed the Cambridges' visit to Jamaica.
"Britain's diplomats are not only incompetent but dangerously ignorant and insensitive to the realities in the countries where they are employed."