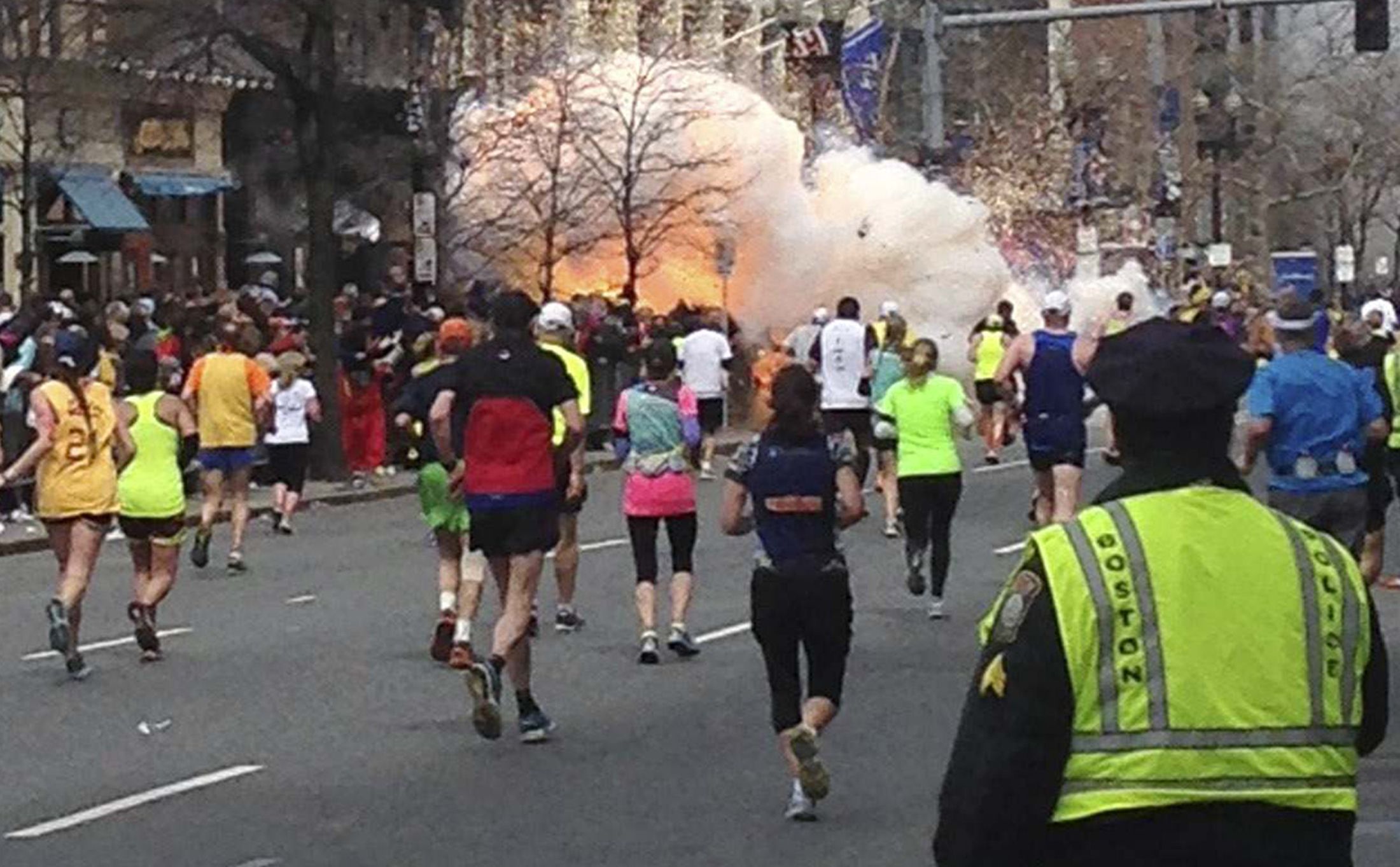 Two years ago, on April 15, 2013, thousands of spectators flanked the finish line of the Boston Marathon on Boylston Street, eagerly awaiting loved ones and cheering for strangers who were on the brink of completing the run. Just before 3 p.m., two explosions ripped through the crowd, turning the festive sporting event into a gruesome scene of death, injury and chaos. The bombing killed three and injured more than 200.
After the bombs detonated, news organizations scrambled to report what had happened and update viewers, listeners and readers on the search for suspects. But unlike with previous tragedies, such as the Oklahoma City bombing in 1995 and the attacks that took down the twin towers on September 11, 2001, the public didn't have to wait to get their news from traditional outlets.
Amateur sleuths immediately began digging for and publishing information online about the bombing and ensuing manhunt, quickly amassing large audiences. Users on Reddit, Twitter and other online platforms that didn't exist a decade and a half ago participated in the newsgathering process, sometimes running in tandem with or even ahead of traditional news outlets, but not always pausing to verify information.
The Thread—a documentary released Monday by Lightbox Entertainment and Xbox Entertainment Studios—explores how technology and social media have transformed news coverage, bringing advantages but also dangers.
With all the information swirling around the bombings, for example, a Brown University student named Sunil Tripathi was falsely identified on Reddit as one of two suspects in a surveillance photograph circulated by the FBI. Tripathi had been on a leave of absence from Brown when he disappeared about a month before the bombings.
Police soon released the names of the actual suspects, brothers Dzhokhar and Tamerlan Tsarnaev, and Tripathi's body was later found in the water near Providence, Rhode Island, where authorities said it had been for some time. Though Tripathi's name was cleared when the Tsarnaevs were identified, the family of the missing 22-year-old saw the false accusations spiral out of control and received a barrage of phone calls, in what some people described as "vigilante justice" perpetuated by social media.
Tamerlan, 26, was killed during a shootout with police just after midnight on April 19, and Dzhokhar was captured several hours later. The 21-year-old was found guilty of all 30 counts by a Boston jury last week and now faces a possible death penalty.
An executive producer of The Thread, Jonathan Chinn, spoke with Newsweek about meeting the anonymous figures who moderated Reddit threads and the tension between journalistic ethics and the do-it-yourself approach of citizen journalism.
Edited excerpts:
What prompted this documentary?
The film was part of a series that we were producing for Xbox Entertainment Studios called Signal to Noise, which basically took individual stories that illuminated some aspect of the digital revolution in a way that we could chart how our world was changing at the speed of light, based on advances in technology. Journalism was certainly one of the things we were interested in exploring because it has changed a lot in the last 10 to 15 years as a direct result of advancements in technology and the Internet. [We decided this story] would start at the moment of the bombings and then follow the subsequent days and see how traditional media responded to the manhunt and how citizen journalism responded to it, where those things intersected and also moved apart from each other.
If you had to boil down what the film is about in a few sentences, what would you say?
I think the film is about a moment in time that the Boston bombings catalyzed, where journalism found itself at a crossroad.... As a society, we're wrestling with speed of information and ease of information versus real journalistic integrity. I think what happened in the days after the Boston bombings was a really interesting microcosm of what is becoming a very big issue.
How does the bombing and the search for suspects demonstrate the impact of social media on news coverage?
For us, the Boston bombings was a watershed moment in the way that news is disseminated. It was the first time that an event of that magnitude was reported on and had public involvement to that degree. I remember it was the first thing that I followed minute-by-minute with all these outlets at my disposal. I remember at the time thinking how different my experience of the reporting and the newsgathering of 9/11 was. In 2001, I was in a room with friends and family watching television, waiting for the anchors and the news reporters and CNN to give me information, whereas with the Boston bombings there was video of the event coming out immediately from people who were right there. And then all of a sudden when it came to manhunt, the scale of information that was flying around cyberspace to me felt unprecedented.
It's not surprising that there were consequences to that. Sunil [Tripathi's] story is certainly one of the consequences. It humanizes the dangers of a society in which citizens can start to take the reins of the way information is broadcast.
What were some of the sources you turned to that wouldn't have been around in 2001?
What Greg Barker, the director, and Alice Perman, our producer, set out to do was get to the source of where the information was coming from, and obviously Reddit was a good place to start. That's how we came upon Chris, the character in his basement, who was the moderator of the subreddit "Find Boston Bombers."
Buzzfeed's a really interesting part of the story, because by their own admission, pre-Boston bombings, they were a little bit of a lighter fare outlet. But they had amassed a group of followers who, when the Boston bombings happened, wanted to know what was going on, and they were on Buzzfeed. So Buzzfeed sort of found themselves in the center of a high-stakes breaking news story about a massive terrorist act, and they decided to report on it. What we did is sort of trace everything back to the source: Who on the social media front was reporting on this? And what it led us to was some surprising places, such as Buzzfeed.
At the same time, the sort of mainstream, traditional [journalists were] doing their thing, but pretty much at every step of the way they were a couple of steps behind because they have a machine and a protocol that they have to follow. I think that we live in a society where people want information as quickly as possible, and the traditional journalistic outlets can't really provide that. So what we found out is that, in some cases, they ended up looking to social media to try and get their story straight, and that's a very interesting phenomenon, something that really came into sharp focus after the Boston bombings.
In the film, there's a bit of a disagreement between Jacob Weisberg of Slate and Erik Martin, the then-general manager at Reddit, about responsibility for content and verification that comes up as they sit on a panel together. Can you talk a little about that tension as it's presented in The Thread?
I think we realized that was the core of the film. As you say, the two sides of the coin are face-to-face. I think the manhunt was underway—they were grappling with it in real time.... Erik Martin was saying, "Well we're just a platform," and Jacob Weisberg was saying, "You can say that, but when it leads to vigilante justice, then you're something more than a platform."
We were interested in exploring the debate, asking the viewer to think about this because it's a real issue and it's not going away. Citizen journalism is a Pandora's box. The box has been opened and it's going to be very hard to close at this point. It's baked into the infrastructure of the way that people use the Internet, [which] is a very difficult thing to regulate. And this is an example of that in practice.
I think journalism, like many things, like science, like warfare, because of technology, is finding itself at an ethical crossroads, and I think the Boston bombings quite clearly demonstrated that crossroads in a real situation. Part of what we wanted to do with the film is deconstruct that, looking at what happened immediately after the bombings and what it says about journalism and media.
What were some of the issues that arose with the use of Reddit and other platforms? In other words, what are the dangers or maybe lessons of citizen participation in the newsgathering process?
We tried to tell that story visually about the volume of information—how many posts, how many people were taking one piece of information, matching it with another piece of information, coming to a conclusion, [and then] that conclusion then gets reentered into the system with a little bit more force, with a bit more credibility. There is a momentum, you could almost call it mob mentality, but there is a momentum that is very hard to stem.
It was important to us to meet these characters [involved in the Reddit threads, etc.] who were anonymous; we really wanted to put a face on citizen journalism. They just wanted to be informed and wanted to be a part of it. And technology has given the tools to do that, but there's a price to pay. There's always a price to pay.