How to Spot a Catfish on Valentine's Day: What Is a Catfish? What Red Flags to Look For
Valentine's Day isn't just for lovers—it's also very popular among scammers looking to extort cash from the lonely hearts out there.
Today, 40 percent of dating app-using Americans will turn to their smartphones to find a match, according to the below chart provided by Statista. However, many do not realize the dangers of romance scams.
According to cybersecurity company ESET, 52 percent of people say loneliness around Valentine's Day makes them vulnerable to catfishers, yet don't take precautions. The company's research showed that 71 percent of people do not do background searches before meeting a blind date from an online dating site—such as checking Facebook, Google, Twitter or other platforms.
Jake Moore, a cybersecurity specialist at ESET, says that while it's "disheartening" to see bad actors take advantage of vulnerable and lonely people around the most romantic of days, people need to be more vigilant. "When emotions are at play, individuals often lose focus of what they need to do to keep themselves safe online and so can fall victim to scammers who are pretending to be someone that they're not."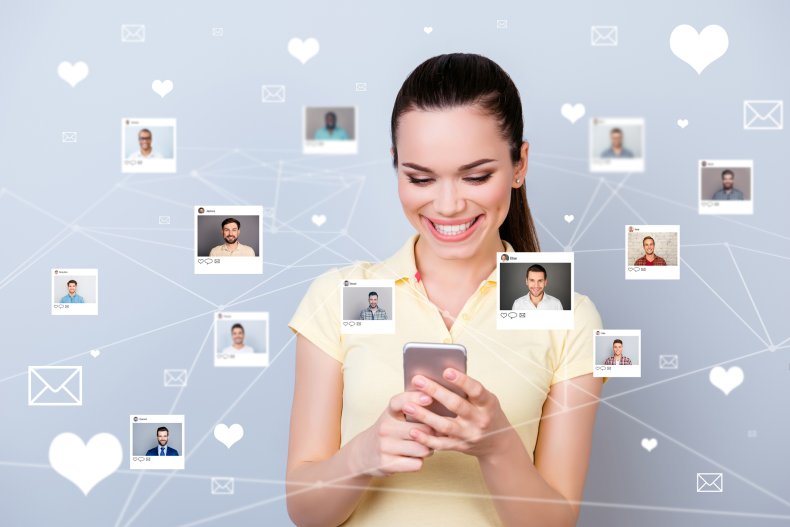 According to the Federal Trade Commission (FTC), in 2019 Americans reported losing $201 million to romance scams, with people losing more money to catfish in the past two years than other fraud reported to the government body. A graphic and research conducted by BestVPN.org show that Alaska suffers the highest number of catfished victims per capita (11.5), with Nevada, Wisconsin, Washington, California being the most dangerous states for catfishing.
What is a Catfish?
Unfortunately, we're not talking about a delicious Valentine's Day meal.
The term "catfish" has become to mean someone who is purposely deceiving another person by pretending to be a third party. This could take the form of using someone else's pictures for their own profile—sometimes stealing the images of other active profiles on social media—or using different names and ages.
The term "catfish" or "catfishing" is said to have been created by Nev Schulman, the longtime co-host of the MTV show Catfish: The TV Series. Prior to this, Schulman released a documentary entitled Catfish that shared his experience of being deceived by a woman pretending to be someone else.
As the MTV show proves, not all catfish play the part of someone else for money or for other criminal intentions. However, romance scammers create fake profiles on dating sites and apps or contact people through social media sites with extorting money in mind.
How to spot a Catfish?
Before readers decide to give up on finding the love of their life, Jo O'Reilly, deputy editor of ProPrivacy, believes that while it might not seem like the most romantic approach, being more cautious could be wise. "In the physical world, we're often wary about strangers approaching us, but online we let our guard down," she says. "If you're unsure about someone's motives, don't be afraid to ask questions, or do some research.
"Many prolific catfishers or scam artists will have done this before, and a quick Google could uncover a trail of lies and broken hearts."
According to the FTC, catfish often tell the same lies over and over again. They will use stories that explain why they aren't in the same state or even the country. The government body has advised on its website that some catfish use lies such as working on an oil rig, being a member of the military or even being a doctor with an international organization.
Other red flags to watch out for include:
Anyone who asks a lot of personal questions early on in the relationship—especially if it feels like they are trying to work out your financial situation
Look out for questions such as "where do you live?", "what kind of house do you live in?" and "how much you earn?", according to O'Reilly. "This is part of the early vetting process, to make sure you are worth their time."
Someone who is "full on" from the start or starts "love bombing"
Catfishers tend to be very full-on, they might start divulging their innermost secrets early on in the relationship. "They might declare you are their soulmate or the love of their life," explains O'Reilly. "They are trying to create a sense of false intimacy."
A user wanting to move the conversation to another platform
Many people meet using dating apps such as Tinder, but be wary if they quickly suggest you move the conversation to text or email. "Many dating services have anti-scam technology and so con-artists will quickly try to move to another platform," O'Reilly told Newsweek.
Too many similar interests
Do they seem too good to be true? They very well could be. "A catfisher will do their research to find out as much as they can about you via social media and then use this information to play with your emotions," warns O'Reilly. "You love dogs and so do they, you have the same favorite restaurant, studied the same subjects at college—these similarities are not simply fate playing cupid."
Alone in all their photos
If a profile only has selfies, it could be a Catfish. "Many of their photos won't include other people and may appear too good to be true—these are likely stolen from another account." If in doubt, reverse search an image like a true Catfish detective.
They constantly make excuses to avoid a face-to-face meeting and are reluctant to video call
Potentially one of the most obvious red flags of them all, according to O'Reilly. "Don't waste your time or emotions on anyone unwilling to meet you in person—the chances are the person you're falling for doesn't exist," she cautions.
When a new love interest requests money
For Jake Moore, a major red flag is requesting money: "If someone you've never met in person asks you for money, alarm bells should start ringing immediately," he says. "Catfishers are excellent storytellers and can tell a very convincing tale about why they need the money.
"They will remain focused on your emotions, so it is vital to stay detached when money is at stake." Moore goes onto explain that while requests for money might start out small—like the cost of a Greyhound bus to visit—once the catfish knows its victim is willing to give them cash, the frequency and amount will rise.
"Never send money to anyone you haven't met and if they are genuine, they will understand," concludes Moore.
According to the FTC, some ways catfish can extort money from you include getting you to:
Pay for a plane ticket or other travel expenses
Pay for surgery or other medical expenses
Pay customs fees to retrieve something
Pay off gambling debts
Pay for a visa or other official travel documents
They might also request you wire money or use reload cards like MoneyPak or gift cards from vendors like Amazon, Google Play, iTunes, or Steam. The FTC says that scammers ask victims to pay these ways because they can get cash quickly and remain anonymous. They also know the transactions are almost impossible to reverse.
If you suspect a romance scam, the FTC recommends the following:
Stop communicating with the person immediately
Talk to someone trustworthy and pay attention if friends or family say they're concerned about any new love interest
Browse the comments on the FTC's blog posts about romance scams to hear other people's stories
Notify the website or app where you met the scammer
If you paid a romance scammer with a gift card, contact the company that issued the card right away and explain that a scammer has the gift card and ask if they can refund your money
"A lot of times, Catfish will try to make you feel like they really want to see you—it's just that they "don't have the money to come and visit" or a working phone with a good camera," says cohost of Catfish, Kamie Crawford. "That's when we usually see the Catfish asking for money.
"Anytime you're sending money to a stranger on the internet, you have to be cautious—especially when it's a romantic relationship," she told Newsweek. "Unfortunately, most people will take advantage of that kindness and most likely ghost you once they get what they want."