How to Stop Putin From Using Tactical Nuclear Weapons in Ukraine: Clark
The strategy to stop Russian President Vladimir Putin from deploying tactical nuclear weapons in the ongoing war with Ukraine is to provide swift U.S. assistance and refuse to be "self-deterred" by fear, a retired U.S general said Saturday.
"The best way to prevent him using that weapon is to convince him that it won't help. And the best way to convince him it won't help is to give Ukraine the assistance they need as rapidly as possible and push those Russian forces right out of Donbas," former Army Gen. Wesley Clark told CNN.
Responding to an interviewer statement that the U.S. is "using fear as an excuse" to stay distanced from the war, Clark said that was the Russian president's intent.
"I think that's always been Putin's plan from the beginning...there's a lot of propaganda on Russian television about it," he said, noting Putin is "trying to build up his own domestic support by threatening nuclear weapons."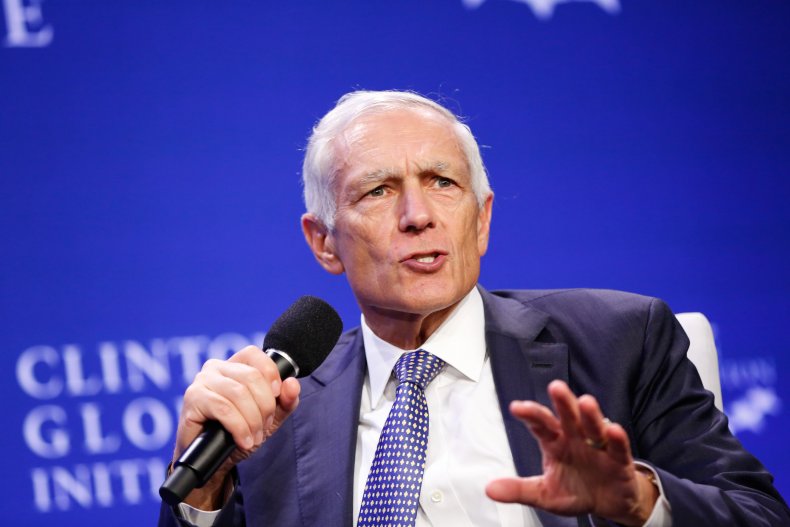 "We have to be strong enough to do this," Clark said. "This is the future of the international community. You can't let aggression succeed and believe that everything will be the same afterwards. It won't be."
As the "big dog in international affairs" and the "most powerful nation in the world," Clark said the U.S. needs to stand firm and provide Ukraine with the necessary resources to fend off Russia's attack.
"We can't allow ourselves to be self-deterred because he's gonna fire four or five tactical nuclear weapons that are gonna be the first use of nuclear weapons and so forth. He would do that. Not only for battlefield effect, but to frighten the United States and NATO and cause us to draw back from support," he said. "The best thing we can do to Vladimir Putin is say, 'it doesn't matter what you do, you're gonna lose. And we're gonna put the policies in place to make sure you lose.'"
Ukraine's 'Window of Opportunity' Against Russia
Clark predicted that if by the summer, the Ukrainians have not received "sufficient" supplies from the U.S., such as a high mobility artillery rocket system, "they're going to be outmaneuvered by the Russian forces."
"There's no long war strategy possible for Ukraine," he said. "They have a window of opportunity in the summer to eject the Russians if they're given the right support."
If not properly equipped, he said, Russians will mobilize forces, China "will be freed up to do more to assist Russia" and missile strikes will have caused more damage to Ukraine's infrastructure.
"So the long war strategy doesn't actually work for Ukraine. The United States needs to redouble its efforts to get military equipment into Ukraine right now," he said.
The longer the U.S. waits, he said, the harder it will be to provide the equipment as "Russians are now beginning to target the infrastructure that gets this equipment there."
"And so this idea that, you know, 'Hey, the Ukrainians are really winning. Just hold on...something's gonna happen to Putin or whatever,' it's not the right strategy, if that's the strategy. We're not quite sure what the strategy is," he said. "The chairman of the joint chiefs, the secretary of defense, secretary of state, all want Russia to have a strategic failure, Russia to be weakened.
"But the truth is right now, we don't have enough committed. We don't have enough on the ground or in the pipeline to make that strategy work. Instead, what we're going to end up with is a drawn out summer, back and forth, and then by the winter, boom, everything's gonna break free against the Ukrainians."
Newsweek has reached out to Clark for comment.