Putin's Soldiers Feel Disposable, Want to Leave Ukraine War: Report
Russian soldiers fighting the war in Ukraine feel disposable and some have been considering wounding themselves in order to leave the conflict, according to calls and messages Ukraine said it intercepted from Russian troops and commanders.
In the calls, which were translated and posted on the the Security Service of Ukraine's (SSU) website and viewed by Newsweek, Russian soldiers have allegedly referred to themselves as "cannon fodder" and compared their situation in Ukraine to "hell." Russia has not publicly addressed the SSU reports.
The alleged discontent among Russian soldiers, as demonstrated in the intercepted calls, comes amid swirling concerns that Russian President Vladimir Putin could officially declare war on Ukraine, even though Russian officials have denied those rumors since the invasion began in late February.
A U.S. Defense Department official said Monday that morale among Russian troops has been deteriorating, while Ukraine and NATO have estimated that Russian military losses have been heavy, highlighting circumstances that might lead to low spirits among the soldiers in Ukraine.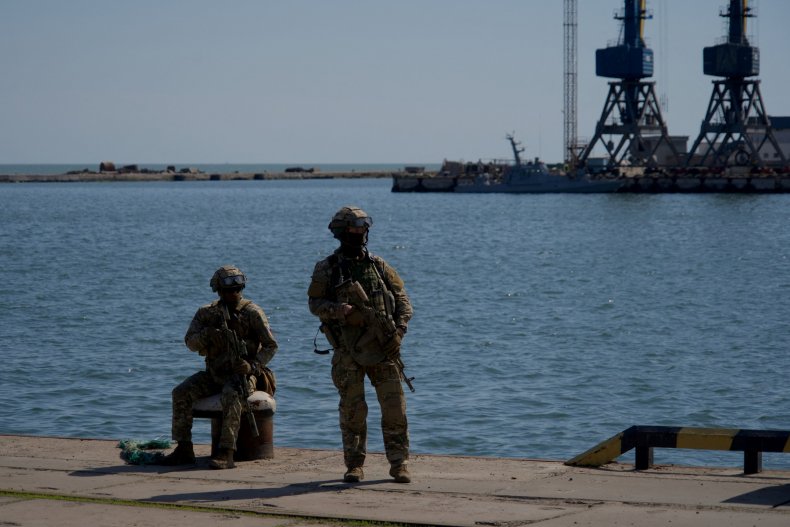 In one call the SSU said it intercepted, a Russian soldier told an acquaintance in Russia that certain troops refused to begin a new offensive in the Ukrainian region of Kharkiv.
"And they treat us here really tough in general, almost to the point of execution," the soldier said. "We want to leave, but they don't let us."
When asked why they refused, the soldier said: "Well, they send us directly to the front line, to real hell. There we're cannon fodder...There is just the artillery...and to go under the artillery fire—it's a f***ing suicide."
Another call the SSU said it intercepted in the Kherson region included a conversation between a Russian battalion commander and a company commander who arrived with reinforcements from the self-declared Donetsk People's Republic (DNR). In the call, the DNR commander described how Russian soldiers refused to go on an offensive and encouraged the newly arrived reinforcements to do the same, according to the SSU.
"This morning the Russians refused, saying, 'Why are you going? You are 'meat'!'...They refused, went the other way and said, 'Are you f***ing idiots? Where the hell are you going?', and then the panic started," the DNR commander said.
A Russian commander of a regiment fighting near Izium in the Kharkiv region said in reportedly intercepted text messages that he tried shooting some of his "completely demoralized" soldiers after failing to "get them up morally or physically."
"I even shoot some. And to no avail," he said.
Conversations in additional calls intercepted by the SSU suggest that Russia's dead and wounded don't fare much better. The SSU reported that a Russian prisoner of war said that he and a wounded soldier were abandoned on a battlefield by a commander during a retreat.
"They said they would pick us up, but they never did," the captured soldier said. "So many boys were left wounded, killed...."
The SSU also reported, citing another call, that Russian soldiers killed in the conflict are transported back to Russia in caravans, sometimes arriving partially decomposed and in need of identification by their relatives.
The desire to leave Ukraine, or at least temporarily evade the conflict, is so intense among some Russian soldiers that they are considering wounding themselves, according to conversations in other calls the SSU said it intercepted.
"I'll tell you this in confidence...we wanted to shoot each other's legs with Ukrainian 7.62 rounds and go back to the hospital here in [Budyonnovsk]," a soldier told his mother in one call.
In another, a Russian soldier allegedly discussed with his girlfriend whether he should "hammer" a shrapnel fragment into his leg so that he can return to Russia.
In response, the soldier's girlfriend suggested he shoot himself in the leg instead, but the soldier later concluded that a self-inflicted wound would not work, Newsweek reported.
Newsweek reached out to Russia's Defense Ministry and the SSU for comment.