Russia Ramps Up Military Recruiting After Suffering Heavy Losses: Ukraine
Russia is "intensifying" a campaign to recruit military volunteers under contract, but that recruitment is not taking place in its capital city of Moscow, according to Ukraine's Defense Ministry.
The ministry said in a message Monday that it believed Russia's ramped up effort was to replace troops it has lost since the start of the Russia-Ukraine War in late February. Russia plans to form "several new units" and is giving preference to people who have previously served in the military when signing contracts, the ministry said.
While estimates on how many Russian troops have been lost in Ukraine vary depending on the reporting body, all counts agree that it is at least in the thousands. The message from Ukraine's Defense Ministry indicates that Russia is now pushing to make up for those losses through its concentrated recruitment campaign, though Russia has yet to confirm the ministry's report.
The ministry said that Russia's military leadership has set clear "recruitment norms." In Russia's Far Eastern and Siberian federal districts, for example, the alleged quota is 200 volunteers per week, it said.
The ministry placed quotation marks around the word "volunteer" in each instance it appeared in the message, raising questions about how voluntary it believes Russia's recruitment to be.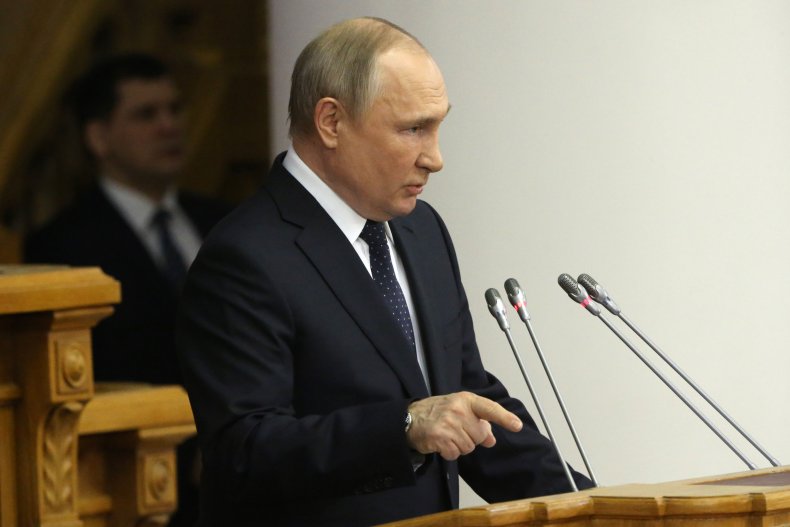 "Campaigning events are held to motivate 'volunteers' to serve. In particular, traditional Russian narratives about the 'collective West' and 'non-existent Ukraine' are repeated. Increased material security and benefits are also promised," an English translation of the message read.
"It will be recalled that the Russian occupation command has already used at least 95 percent of the prepared BTGs [battalion tactical groups], and this was still insufficient to achieve 'success' in the war with Ukraine," it added.
The ministry did not specify how it received the information on Russia's purported intensified recruitment campaign. It also did not offer any explanations or theories on why the recruitment is not taking place in Moscow, which is Russia's most populous city, according to the World Population Review.
Ukrainian President Volodymyr Zelensky said during an address Saturday that Russia has lost more than 23,000 soldiers in the conflict. He described the war as "senseless," but said that Russian troops still "do not stop."
"We know that the Russian command is preparing for new big losses. In those units, the personnel of which was almost completely destroyed or significantly weakened in March-April, new people are being recruited," he said. "With little motivation. With little combat experience. They just want to get the right amount. So that they can throw these units into the offensive."
"The Russian command is well aware that thousands more Russian soldiers will be killed and thousands more will be wounded in the coming weeks," he added.
Other estimates on Russian military losses have been lower. In late March, NATO estimated that Russia had lost between 7,000 and 15,000 troops in Ukraine, the Associated Press reported. At around the same time, on March 25, Russia reported that ​​1,300 Russian troops had been killed in the war, according to U.S. News & World Report.
Newsweek was not immediately able to access the Russian Defense Ministry's website to check whether any more recent reports on military losses in Ukraine have been issued.
Newsweek reached out to Ukraine's Defense Ministry, Russia's Foreign Ministry and the Russian Federation for comment.