How To Talk To Your Doctor About Sex When You Have Cancer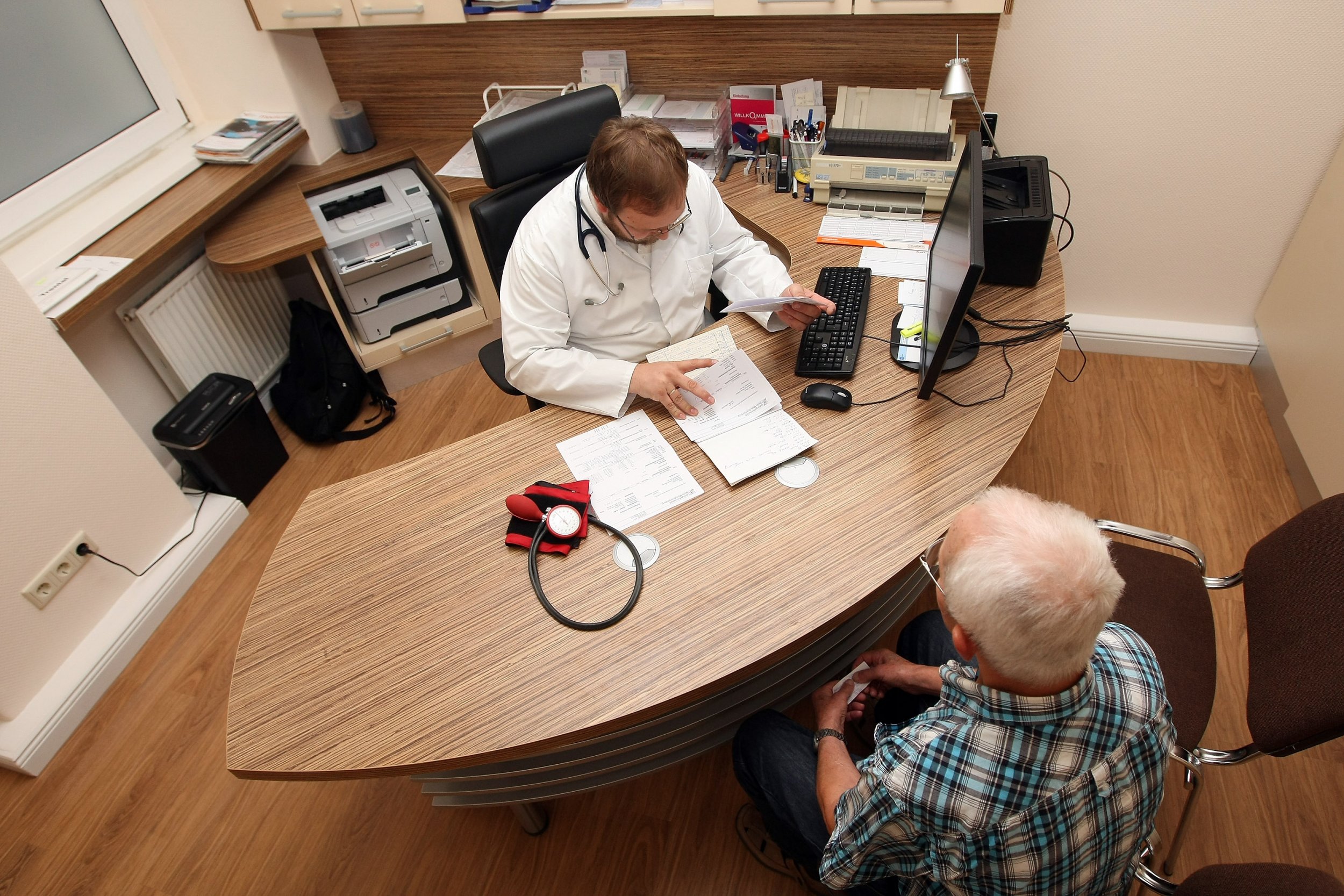 So you've survived cancer. You've endured brutal treatments that caused hair loss, weight gain, nausea, or so much pain you could barely move. Perhaps your body looks different, too—maybe you had a double mastectomy with reconstruction, or an orchiectomy to remove one of your testicles. Now you're turning your attention back to everyday life, whether that's work, family, dating, school, or some combination of all of those. But you probably aren't prepared for the horrifying side-effects those life-saving measures will likely have on sex and intimacy, from infertility and impotence, to penile and vaginal shrinkage, to body shame and silent suffering.
More than 15.5 million Americans are alive today with a history of cancer, and at least 60 percent of them experience long-term sexual problems post-treatment. What's worse, only one-fifth of cancer survivors end up seeing a health care professional to get help with sex and intimacy issues stemming from their ordeal.
Part of the challenge is that the vast majority of cancer patients don't talk to their oncologists about these problems, simply because they're embarrassed or they think their low sex drive or severe vaginal dryness will eventually go away on their own. Others try to talk, but end up with versions of the same story: When I went back to my doctor and told him I was having problems with sex, he replied, 'Well, I saved your life, didn't I?' And many oncologists aren't prepared to answer questions about sex.
RELATED: Life-saving cancer treatments wreak havoc on intimacy
"Sex is the hot potato of patient professional communications. Everyone knows it's important but no one wants to handle it," says Leslie Schover, a clinical psychologist who's one of the pioneers in helping cancer survivors navigate sexual health and fertility. " When you ask psychologists, oncologists and nurses, 'Do you think it's important to talk to patients about sex?' they say yes. And then you say, 'Do you do it routinely?' They say no. When you ask why, they say it's someone else's job."
Schover spent 13 years as a staff psychologist at the Cleveland Clinic Foundation and nearly two decades at the University of Texas MD Anderson Cancer Center. After retiring last year, she founded Will2Love, a digital health company that offers evidence-based online help for cancer-related sex and fertility problems. Will2Love recently launched a national campaign called Bring It Up! that offers three-step plans for patients and health care providers, so they can talk more openly about how cancer treatments affect sex and intimacy. This fall, the company is collaborating with the American Cancer Society on a free clinical trial—participants will receive up to six months of free self-help programming in return for answering brief questionnaires—to track the success of the programs.
Schover spoke to Newsweek about the challenges cancer patients face when it comes to sex and intimacy, how they can better communicate with their doctors, and what resources can help them regain a satisfying sex life, even if it looks different than it did before.
RELATED: How to enjoy sex after cancer treatment
NEWSWEEK: How do cancer treatments affect sex and intimacy?
LESLIE SCHOVER: A lot of cancer treatments damage some of the systems you need to have a healthy sex life. Some damage hormone levels, and surgery in the pelvic area removes parts of the reproductive system or damages nerves and blood vessels involved in sexual response. Radiation to the pelvic region reduces blood flow to the genital area for men and women, so it affects erections and women's ability to get lubrication and have their vagina expand when they're sexually excited.
What happens, for example, to a 35-year-old woman with breast cancer?
Even if it's localized, they'll probably want her to have chemotherapy, which tends to put a woman into permanent menopause. Doctors won't want her to take any form of estrogen, so she'll have hot flashes, severe vaginal dryness and loss of vaginal size, so sex becomes really painful. She'll also face osteoporosis at a younger age. If she's single and hasn't had children, she's facing infertility and a fast decision about freezing her eggs before chemo.
What about a 60-year-old man with prostate cancer?
A lot of men by that age are already starting to experience more difficulty getting or keeping erections, and after a prostatectomy, chances are, he won't be able to recover full erections. Only a quarter of men recover erections anything like they had before surgery. There are a variety of treatments, like Viagra and other pills, but after prostate cancer surgery, most men don't get a lot of benefit. They might be faced with choices like injecting a needle in the side of the penis to create a firm erection, or getting a penile prosthesis put in to give a man erections when he wants one. If he has that surgery, no semen will come out. He'll have a dry orgasm, and although it will be quite pleasurable, a lot of men feel like it's less intense than it was before. These men can also drip urine when they get sexually excited.
Why are so many people unprepared for these side-effects?
If you ask oncologists, 'Do you tell patients what will happen?' a higher percentage—like in some studies up to 80 percent—say they have talked to their patients about the sexual side-effects. When you survey patients, it's rare that 50 percent remember a talk. But most of these talks are informed consent, like what will happen to you after surgery, radiation or chemotherapy. And during that talk, people are bombarded by so many facts and horrible side-effects that could happen, they just shut down. It's easy for sex to get lost in the midst of this information. By the time people are really ready to hear more about sex, they're in their recovery period.
Why is it so hard to talk about sex with your oncology team?
It takes courage to say, 'Hey, I want to ask you about my sex life.' When patients get their courage together and ask the question, they often get a dismissive answer like, 'We're controlling your cancer here, why are you worrying about your sex life?' Or, 'I'm your oncologist, why don't you ask your gynecologist about that?' Patients have to be assertive enough to bring up the question, but to deal with it if they don't get a good answer. Sexual health is an important part of your overall quality of life and there's nothing wrong with wanting to solve or prevent a problem.
What's the best way for people to prepare for those conversations?
First, because clinics are so busy, ask for a longer appointment time and explain that you have a special question that needs to be addressed. At the start of the appointment, say, 'I just want to remind you that I have one special question that I want to address today, so please give me time for that.' Bring it up before the appointment is over.
Second, writing out a question on a piece of paper is a great idea. If you feel anxious or you're stumbling over your words, you can take it out and read it.
Also, some people bring their spouse or partner to an appointment. They can offer moral support and help them remember all the things the doctor or nurse told them in answering the question.
So you've asked your question. Now what?
Don't leave without a plan. It's easy to ask the question, get dismissed, and say, I tried. Have a follow-up question prepared. For example, 'If you aren't sure how to help me, who can you send me to that might have some expertise?' Or, 'Does this particular hospital have a clinic that treats sexual problems?' Or, 'Do you know a gynecologist or urologist who's good with these kinds of problems?' If you want counseling, ask for that.
What happens if you still get no answers?
I created Will2Love for that problem! It came out of my long career working in cancer centers and seeing the suffering of patients who didn't get accurate, timely information. When the internet became a place to get health info, it struck me as the perfect place for cancer, sexuality and fertility. Sex is the top search term on the Internet, so people are comfortable looking for information about sex online, including older people or those with lower incomes.
Also, experts tend to cluster in New York and California or major cancer centers. I only know of six or seven major cancer centers with a sex clinic in the U.S. and there are something like 43 comprehensive cancer centers!
We offer free content for the cancer community, including blogs and forums and resource links to finding a sex therapist of gynecologist. We also charge for specialized services with modest fees. Six months is still less than one session with a psychologist in a big city! We're adding telehealth services that will be more expensive, but you're talking to someone with expert training.
What can doctors do better in this area?
For health care professionals, their biggest concern is, 'I have 40 patients to see in my clinic today and if I take 15 extra minutes with four of them, how will I take good care of everybody?' They can ask to train someone in their clinic, like a nurse or physician's assistant, who can take more time with each patient, so the oncologist isn't the one providing sexual counseling, and also have a referral network set up with gynecologists, urologists and mental health professionals.
This interview has been edited for clarity and length. For more information about Schover and her work, visit www.Will2Love.com .