'How Is This Legal': Woman Exposes Child 'Rehoming' Ad From Adoption Agency in Viral Video
An adoption agency's Facebook page went viral after a TikToker shared the posts advertising "rehoming" children as if they were pets. The video received more than 494,000 views since December 13 and had viewers outraged.
Kirsta, who goes by @karpoozy on TikTok, shared a post from Second Chance Adoptions about "rehoming" an adopted child.
"Not only do people rehouse adopted children on Facebook," Kirsta said in the video. "They're talked about like they're dogs."
She explained that the post was from a full-service adoption agency based in Ogden, Utah that helps families find new homes for their adopted children. She then began reading the Facebook post which starts by stating: "AVAILABLE Facebook friends by sharing this to your Facebook page!"
She continued reading the post which described the child as a nine-year-old who loves animals and is a "typical boy in most ways." The post also said the child has been "described as compliant," "mostly obedient," and gets along with children "of all ages."
"That's a really long way of saying this kid will do what you want with no questions asked," Kirsta said. "He's not a dog. They are literally describing this child like you would see an ad for a dog at a shelter."
Kirsta, who is an adoptee herself, commonly posts videos answering questions about adoptions, how to advocate for adoptees, and various other commentaries about adoption agencies.
In the video, she explained how she did not know the full situation from the one post, however, she said the language throughout the post was exploitative.
"The fact that the first thing they decide to describe this child as is compliant," she said. "That is an open invitation to anyone with malicious intent."
Kirsta said she did not know why Facebook allowed the page to continue posting when "they know there is an underground market of people rehoming children" on their website.
More than 3,400 viewers commented on Kirsta's post, many questioning how the practice of "rehoming" children was legal.
"This looks like trafficking...how is this legal?!!" one user wrote.
"Honestly anybody who uses the word compliance to describe children is a HUGE red flag," another comment read.
"Facebook banned the trading/selling of live animals but not live humans...?" another user pointed out.
Facebook's Commerce Policies have long prohibited the sale of live animals, but in 2017 they added a feature that allowed users to report people for doing so. But many claim that Facebook is a common social media outlet for parents to "rehome" their adopted children without the involvement of the appropriate child welfare systems.
"I've been in fb jail for selling live aquarium fish, but you can sell a whole human child," a user replied.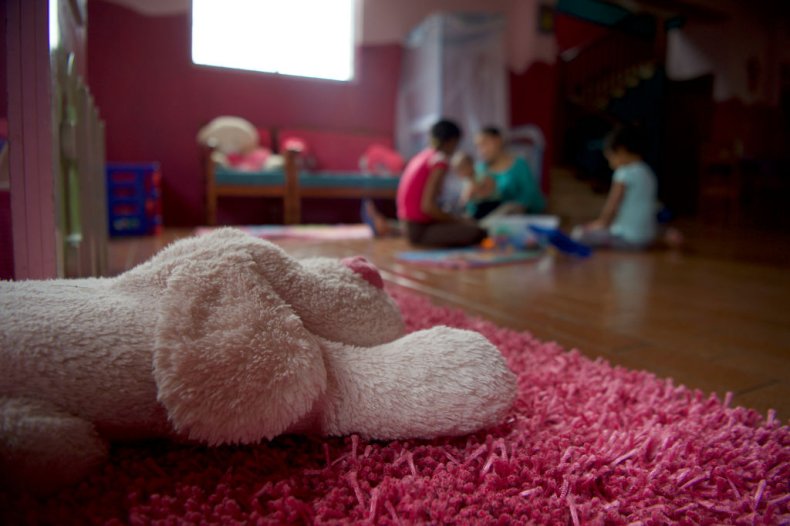 In a Facebook statement posted on Sunday by Second Chance Adoptions, they explained that there is a "huge difference between re-homing and a second adoption." They also explained that re-homing is illegal in most states and even a felony in some and that their mission is to provide second adoptions for families.
In the post, the agency explained that second adoptions are legal and "highly ethical." They also said that two adoption attorneys are involved with every adoption and that the state must give full approval to the new adoption.
"Children in this program have suffered early trauma from events that caused them to be orphaned in the first place," the post read. "They now have ended up with tragic diagnoses that need very specialized parenting and treatment. Unfortunately, the first adoptive parents did not know this and were not trained or prepared."
The post also explained that the new families have an approved homestudy, background clearance, and are trained with helping children involved in trauma.
"The sad thing is that there are kids who are not thriving in their first adoptive home and moving to a home with parents who are trained and equipped in the child's diagnoses REALLY helps the child heal," the post read.
The post also stated that the program is not about the parents' needs but about how to help the children with their needs and healing.
"Does this TikTok user know that foster kids in all 50 states are photo listed online? Is this legal? Of course! And sadly it is necessary. If kids were not listed, new families would never find them," the post continued. "Kids who have suffered trauma and are also without loving, appropriate, trained parents are tragic. Let's not add to that already huge number."
Newsweek reached out to Kirsta for comment.