Meet Blaire White, the Transgender Trump Supporter Winning Over Conservatives on YouTube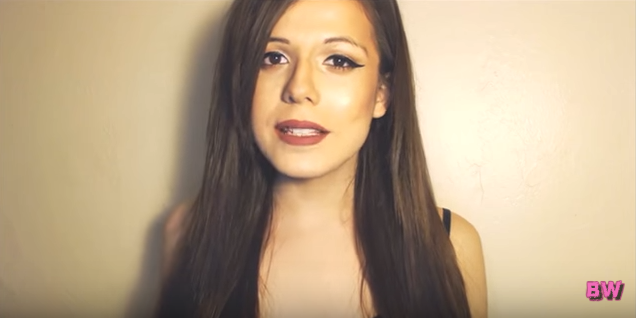 Blaire White and her boyfriend were dressed all wrong to attend an anti-Trump rally on Hollywood Boulevard. The couple were both wearing red "Make America Great Again" hats when they walked into a throng of protesters. After that, things went just about how they expected they would.
According to White, a male protester almost immediately snatched off her boyfriend's hat and threw it to the ground. When White went to retrieve it, she said the protester stomped on her hand and broke her nail, causing her to bleed. Later, when the two were making their way out of the crowd, White said a passerby threw liquid in her face she believed to be alcohol.
White, a conservative YouTube personality, caught it all on video, which had been her intention from the start: The stunt had been a "social experiment" to show her viewers just how maligned conservatism can be.
She said the alleged attack—which has been partly debunked by the fact-checking site Snopes—proved her point perfectly.
"I am a transgender woman who lives my life and goes out every day as myself," White told Newsweek. "I have never been assaulted for being trans. I've never had anyone on the street say anything nasty to me about being trans. But I was assaulted for wearing a Trump hat. I think that speaks for itself."
Aside from Caitlyn Jenner, White might just be the most prominent trans voice on the right: About every two weeks, White, a 24-year-old living in Los Angeles, posts videos sharing her conservative opinions on YouTube to an audience of about 360,000 subscribers who help her rack up millions of views every month.
White has been able to win over right-leaning YouTube viewers by taking shots at the usual conservative targets: Feminists, "social justice warriors," the media and even other trans or gender-nonconforming people. Some of her videos include "There Are Only 2 Genders," "Fat Acceptance Is Stupid," "Special Snowflake Syndrome" and "World's Youngest Trans Kid (WTF?)."
White's assertion, for example, that being conservative is harder than being trans plays right into the hands of her viewers, who, since the rise of President Donald Trump, have begun to view being Republican as its own kind of minority designation. It didn't matter to viewers that White and her boyfriend reportedly crossed a police line meant to keep the peace among protesters, perhaps inciting, to some degree, her MAGA hat confrontation. It's possible also, as Snopes speculated, that White and her boyfriend asked someone to throw the liquid in her face to stage the alleged assault, which White said she didn't report to the police. All that matters is the takeaway: Conservatives are under attack.
After seeing White's latest video recounting the MAGA hat confrontation, top commenters extended their sympathies to the YouTube vlogger and slammed the "tolerant left." As of this writing, the video had accumulated over 471,000 views.
White started making YouTube videos almost two years ago, when she was still studying computer science at California State University, Chico. At the time, she'd appeared on a friend's YouTube livestream and, according to White, hundreds of viewers wrote in the comments that she should consider launching her own YouTube channel. White said she'd been craving an outlet to speak out against the majority-liberal professors and students she encountered at Chico, so she took the commenters' advice. Now it's her full time job.
White, who started hormone therapy when she was 20 years old, recently used some of her YouTube checks to fund facial feminization surgery and breast augmentation, which she received earlier this year. After recovering from the surgeries, White posted a video explaining to viewers that the procedures weren't for "vanity," they were to help her gender dysphoria, the feeling that her physical appearance was at odds with her gender identity. In her interview with Newsweek, White said she'd felt this way since she was a toddler.
"My earliest memories were those of gender dysphoria: feeling uncomfortable in my skin and incapable of meeting male ideals," White said. "I didn't have the vocabulary for it when I was young. When I turned 20, I realized the easiest way for me to operate in society and to be myself was to transition."
She said her family, which is also conservative, was completely supportive of her decision. On the phone with Newsweek, she only paused to consider what her father, who died before she began transitioning, would have thought.
White is well aware that her gender identity makes her an unlikely spokesperson for the right.
"I really am the only trans woman occupying this space within the conservative movement," White said. "I take what comes with that. There are people on the very far right, who, no matter what I say or how I express myself, won't accept me."
The Daily Caller, she pointed out, updated its story about the alleged Hollywood Boulevard attack to change all feminine pronouns identifying her to masculine ones. (In an email to Newsweek, Daily Caller editor-in-chief Christopher Bedford linked to a 2008 Guardian article explaining that biological sex is codified in human DNA as an explanation for the editorial choice.)
White also said she's no stranger to hateful comments about being trans on her YouTube page, but she dismissed these comments as "par for the course just being online."
Still, it's instances like these that White says make her feel like she's in a kind of "limbo" as a trans conservative: While liberals are generally more understanding of her gender identity, they don't necessarily embrace her once they hear her political views. White feels most at home among conservatives, the majority of whom she said accept her because of their fundamental belief in "individualism"—a belief she shares, too.
But there have been choice moments when White has spoken out against her own party in defense of the trans community. In an October video, White debunks a Breitbart article alleging that a trans woman raped a 10-year-old girl in a bathroom, saying the outlet deliberately misled readers to "score political points." Speaking to Newsweek, White called stories of trans people assaulting children in bathrooms "mythology," and accused supporters of trans bathroom bills of "fearmongering." As a trans woman, White uses the women's bathroom—she thinks other people should use the bathroom that corresponds to their gender identity, too.
She also told Newsweek that she's partly opposed to Trump's proposed ban on trans troops, which has since been blocked by a federal judge. White said she agrees with the president's call to ban trans service members undergoing hormone therapy from fighting on the frontlines, but said there's no reason trans people shouldn't be able to serve in the military in other capacities.
Most of the time, however, White is right on target with her party's messaging.
In a video called "Trans-Retarded," White mocks people who identify as nonbinary or genderqueer, saying she thinks those identities are "largely bullshit."
"I think they're super meaningless," White says in the February 2016 video. "I think the people who take them on are usually extremely boring and have nothing else to their personality other than: 'I'm demi-queer nonbinary gender-fuck special snowflake kin.'"
White has targeted specific members of the trans YouTube community with these kinds of comments, most notably in a video called "Triggering Trannies Pt 2," where she takes jabs at trans vloggers with progressive views and mocks their appearance. One of the trans woman White singles out is Zinnia Jones, who has challenged White's statements that allowing children to transition amounts to child abuse.
"Conservatives are not [on White's YouTube channel] to support trans people," Jones, who has her own YouTube channel devoted to trans issues told Newsweek. "They are there because they want to be told that trans youth are invalid, that affirming care is political correctness gone mad, that transitioning is ineffective or harmful and that it's okay to call us 'trannies.' Blaire White provides them with all of these things."
Jones said White's videos smearing her and other trans vloggers have led to attacks from White's fans, who have driven her from YouTube. Jones hasn't posted a video to her channel in three months, preferring now to focus on her blog Gender Analysis.
"Her persistent harassment of myself and other trans women on the basis of appearance has definitely driven thousands of her fans to harass me with anti-trans slurs and insults on YouTube, Twitter, Facebook and just about any platform I use," Jones said. "Her behavior is cynical, selfish, and sets a harmful tone for what's considered acceptable treatment of the trans community."
There are tangible consequences to this kind of anti-trans rhetoric. 2017 has been the deadliest year on record for trans people in the United States, with trans advocate organizations reporting at least 25 trans murders so far. Trans women are more than four times as likely to be murdered as cisgender women, and between 2013 and 2015, about 87 percent of trans people killed were people of color.
After North Carolina passed its trans bathroom bill, calls to Trans Lifeline, a trans crisis hotline, nearly doubled, marking a record high for the organization. And within 24 hours of Trump tweets about his proposed trans military ban, the Trevor Project reported a "dramatic spike" in calls from trans people to its suicide hotline.
Activist groups have linked upticks in physical violence against trans people to these Republican-backed anti-trans policies, as well as to every day anti-trans rhetoric White uses in some of her videos.
But White doesn't see her other statements about trans people as harmful; she said she can critique trans identity and proudly endorse conservative views all while being supportive of trans rights.
She wants to see other trans women do the same—and make videos about what it means to occupy this gray area, or "limbo," for YouTube.
"I'd love to not be the only one," White said of being a trans conservative vlogger. "It's lonely out here. I'd love to see some other girls go up. I'd welcome them with open arms."