The United Auto Workers (UAW) strike launched early on Friday is likely to be an obstacle to the American car industry's transition towards electric vehicles pushed by the Biden administration, according to experts—as well as a crucial dilemma for the president.
Earlier this year, the Biden administration pushed forward legislation giving incentives to companies to manufacture electric vehicles (EVs) as part of its landmark climate legislation. While these measures were welcomed by climate activists, they disappointed the UAW, which said that the new rules failed to protect workers in the car industry.
This issue is likely to resurface in the incoming strike and be a thorn in the side of the president, potentially threatening the success of his Green New Deal and forcing Joe Biden to choose between making trade unions happy, or environmentalists.
The unprecedented walk-out was authorized by the UAW after the expiration of its current contract with the "Big Three" American car makers—General Motors, Ford, and Stellantis—expired at 11:59 p.m. on September 14.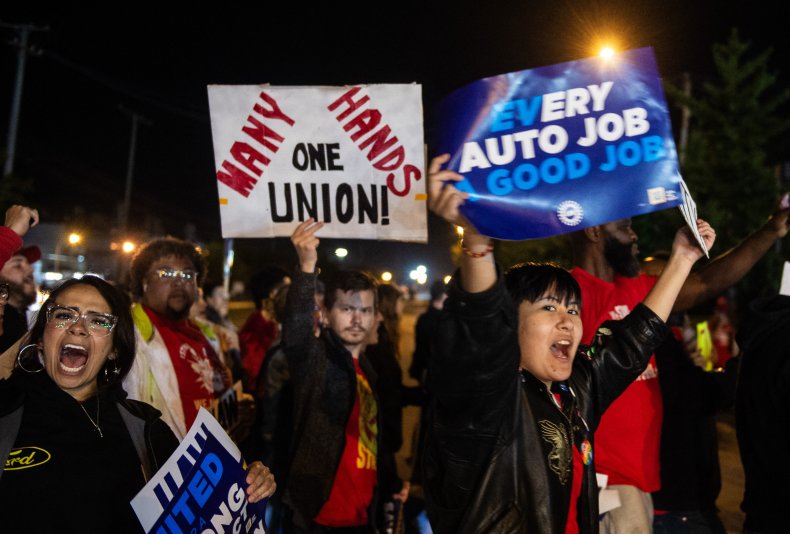 The trade union and the three companies failed to agree on a new deal satisfying UAW's demand for new contracts that would include pay increases of 40 percent over four years, among other requests.
Experts agree that the strike is likely to impact the American car manufacturing industry, halting "production of all domestic vehicles" and increasing prices for buyers, Karl Brauer, executive analyst of iSeeCars, told Newsweek.
But the strike could actually be beneficial to the country's green transition, according to Brauer, helping "dealers in the near term, because they are seeing electric vehicles stack up on their lots."
"If fewer EVs arrive in the coming weeks, that will allow them to clear the backlog," Brauer said. However, he added, the situation will change drastically if the strike continues for a longer time.
"A strike of more than a few days will hurt revenue and profits for the domestics, which they need to invest in developing EV technology and production," he said.
But Brauer is confident that this would be a minor setback and not a grinding halt for the American green transition.
"Every global automaker is working toward the transition to EVs, so overall that transition will continue regardless of the strike," the iSeeCars analyst said. "But a lengthy UAW strike will increase the challenges for domestic brands trying to keep pace with imports in the shift to EVs."
For Cristina Benton, the director of Market and Industry Analysis at the Chicago-based Anderson Economic Group, the impact of the UAW strike on the country's green transition is "the wild card of these negotiations."
"GM, Ford, and Stellantis have invested billions of dollars in their transition to electric vehicles in recent years. They have launched new electric vehicle models and are preparing many more for launch in the next few years," Benton told Newsweek.
"Part of this investment is building EV battery plants and EV assembly plants. Detroit's Big Three have all partnered with tech companies to build EV batteries. Ultium Cells is a partnership between General Motors and LG Energy Solution," she continued.
"BlueOval SK is a joint venture between Ford and SK Innovation. Stellantis is working with Samsung SDI for its battery plants in the U.S. Most battery plants are not unionized. Ultium Cells in Warren, Ohio become unionized in December 2022."
The UAW is asking for battery workers to be included in negotiations for better pay and labor standards, but manufacturers warn that this would make them uncompetitive with rivals such as Tesla.
But batteries cost a lot of money and take less labor to make, meaning that manufacturers are likely to let go of workers in the coming year as they grow their production—which is not what the UAW wants.
"The UAW is pushing for sizable pay increases and the restoration of defined benefit pensions and retirement health benefits eliminated for new hires in 2007. It is also seeking to prevent the Michigan-based companies from using structures like joint ventures with foreign companies to put some EV battery factory workers on lower pay scales," said Ted Hampton, vice president for Moody's Investors Service, in a report shared with Newsweek.
"If granted, this union objective would likely reduce the profitability of some legacy auto manufacturers' projects specifically linked to the industry's transformation, such as the GM joint venture that will run its planned 'Ultium' EV battery cell plant in Lansing."
That means that, for Biden, pushing for a green energy economy transition in the United States while keeping trade unions happy won't be possible as one cause or the other would have to be sacrificed.
On Friday, Donald Trump, who's currently the frontrunner for the Republican primary despite having been indicted four times since the beginning of the year, blamed Biden's green transition for the UAW strike, calling it a "disaster."
"The all Electric Car is a disaster for both the United Auto Workers and the American Consumer," he wrote on his social media platform, Truth Social.
"They will all be built in China and, they are too expensive, don't go far enough, take too long to charge, and pose various dangers under certain atmospheric conditions. If this happens, the United Auto workers will be wiped out, along with all other auto workers in the United States. The all Electric Car policy is about as dumb as Open Borders and No Voter I.D. IT IS A COMPLETE AND TOTAL DISASTER!"