Ukraine's military has ramped up attacks on Crimea, launching successful strikes on both land and sea. The increased military effort has inspired discussion about Kyiv possibly reclaiming the region by force, and how they would go about doing it.
"Retaking the peninsula will be hard, but it remains possible," Dr. Scott Savitz, a senior engineer at the RAND Corporation, told Newsweek. "At the very least, Crimea is no longer a secure base from which Russia can attack other parts of Ukraine."
Attacks on Crimea have become more common since Kyiv launched its ongoing counteroffensive in June that aims to reclaim territory occupied by Russian forces. Given Crimea's strategic location, many of these strikes have targeted Moscow's supplies lines of troops and weapons used for its February 24, 2022, invasion of Ukraine.
This week alone has seen strikes on the Russian navy's Black Sea fleet, which resulted in severe damage to the large Minsk landing ship and a submarine. A Russian air force S-400 air-defense battery was also reportedly destroyed in Western Crimea on Thursday, while drone assaults have seemingly become a regular occurrence at night.
Retired Lieutenant General Ben Hodges told Newsweek these recent attacks on Crimea "should be put within the broader context of the ongoing Ukrainian counteroffensive" and the assaults are "putting continuous pressure on the fragile Russian command structure."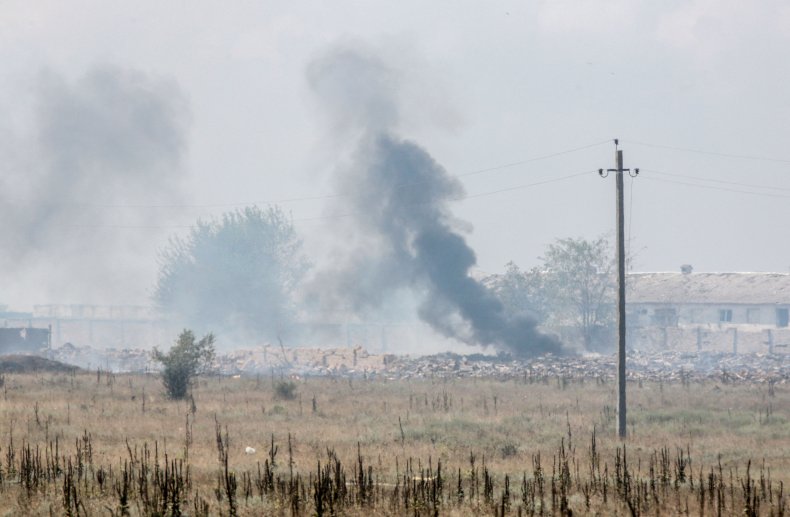 Crimea has been under Russian control since President Vladimir Putin invaded and annexed the region in 2014. During the course of Putin's current invasion, Ukrainian President Volodymyr Zelensky has repeatedly said that reclaiming the peninsula is one of his main objectives in the war.
"While Ukraine wants to take back Crimea, this will not be easy. Invading it will not be easy, especially with Russia still in control of territory to its east linking it to Russia," George Mason University Schar School of Policy and Government professor Mark N. Katz told Newsweek.
Katz feels Ukraine likely won't take back Crimea soon, but he said Kyiv's forces might have a better chance of success by first cutting off "Russian access to Crimea before being able to launch an invasion of the peninsula."
John Spencer, retired U.S. Army major and chair of Urban Warfare Studies at the Madison Policy Forum, told Newsweek that it could be possible for Kyiv to regain Crimea by military means. However, he added that "people get overfixated on 'taking' Crimea, meaning Ukraine needs to send a ground invasion into it."
"If Ukraine can make it untenable for the Russian military to stay in Crimea, they will have to leave," Spencer said. "Like we have already seen, Ukraine can do this with attacks by resistance forces, special forces and through long-range fires."
According to Hodges, "liberating Crimea begins with the isolation of the peninsula by severing the land bridge and the Kerch Bridge."
"I think this is the operational objective of the ground phase of the counteroffensive," the retired U.S. Army officer said, adding that Ukraine has already started "the long process of making Crimea untenable for Russian forces."
"Strikes on Sevastopol will soon make it very difficult for the commander of the Black Sea Fleet to continue operations from there, especially if the Ukrainians can sufficiently damage maintenance, fuel and ammunition facilities there," Hodges said. "The same concept will make it difficult for Russian Air Force operations at Saky [air base] and logistical operations at Dzhankoy to continue."
Savitz said a sound strategy would be for Ukraine to "relentlessly" raid Crimea's coastline while still inflicting damage with raids before Kyiv's forces move in for a direct invasion.
Doing this would "put Russian forces in the unenviable position of needing to be prepared to defend every point along Crimea's shores and to continually maintain a high state of vigilance everywhere," Savitz said. "The psychological effect of such raids would also likely be disproportionate."
The RAND engineer said that once Zelensky's troops go in for an invasion, a "key issue" wouldn't be that "Russia has been ensconced in Crimea for nearly a decade, but that Crimea's geography makes it hard to conquer."
"Even after Ukraine reconquers territory adjoining the peninsula, the approaches to Crimea via land are narrow, and Russia stole most of Ukraine's naval assets in 2014," Savitz said. "That said, Ukraine is doing a good job of conducting what is effectively a 21st-century siege—targeting both key supply routes and the peninsula itself using missiles, explosive uncrewed surface vessels, sabotage and other means."
David Silbey, an associate professor of history at Cornell and director of teaching and learning at Cornell in Washington, told Newsweek that if Ukraine manages to drive out Russian forces in Ukraine, it would then "go in and depose the Russian-appointed governments."
Silbey also described an attempt to regain the region as a tough mission but said it would begin with Ukraine having "to get to the neck of the Crimea through Russia's defenders first and then fight across a very narrow strip of land connecting it to the mainland."
"If they tried to bypass that by mounting an amphibious assault, they'd have to put together a large number of ships to carry their troops, ships that would be intensely vulnerable to Russian attack," he said. "Second, they'd have to supply any of their forces in the Crimea with munitions and food, requiring enormous numbers of vehicles and ships on a daily basis. Those would also be horribly vulnerable to interdiction."
As such, Silbey said, "the best thing for the Ukrainians to do is cut off the Russians in Crimea and force them to withdraw rather than try to attack and take it directly."
Hodges noted Kyiv will need additional support from its allies if it hopes to win back Crimea.
"The USA and Germany are key here," Hodges said. "If these two nations would finally give their approval to provide ATACMS [Army Tactical Missile System] and TAURUS [long-range cruise missiles], then Ukraine could accelerate this process, increasing the number and frequency of strikes on these high value targets in Crimea, putting enormous pressure on the Russian General Staff's ability to maintain its presence on Crimea."
But perhaps an even larger issue looms should Ukraine take back Crimea: Many of the residents on the peninsula are pro-Russian after many people that favored Ukraine fled as a result of the 2014 invasion.
"The re-imposition of Ukrainian control over Crimea would not be popular with the pro-Russian population there now," Katz said. "But if they think there is a serious chance of Ukraine taking Crimea back, they may prefer to flee—as did much of the pro-Ukrainian population when Russia took over in 2014. It is also possible that some of those who were pro-Russian in 2014 have grown disillusioned with Putin's rule and might not object to its ending."
Northwestern University political science professor William Reno told Newsweek that pro-Russian sentiment among many people in the population leads him to think that "ultimately the status of Crimea is something that could be subject to negotiation, perhaps a formal return to Ukraine with extensive local autonomy and promise of a referendum in some distant future."
The area will almost certainly continue to be heavily discussed during the course of the war.
"Crimea remains a glittering strategic jewel, with a prime geographic location," Savitz said. "There are reasons that it has been ruled and settled by ancient Greeks, the Roman Empire, medieval Genoa, the Mongol Empire, the Ottoman Empire and many others."