How Was Brian Laundrie's Body Missed by Cadaver Dogs During Initial Search of Reserve?
A K-9 handler said that the cadaver dogs involved in the search for Brian Laundrie at Florida's Carlton Reserve should have been able to detect Laundrie's remains that were discovered on Wednesday.
Kyle Heyen, a former police officer who is also the founder of Detector Dogs International, told Newsweek on Friday that cadaver dogs are able to detect human body odor through water and wouldn't normally miss it. But, there were some contributing factors as to why they weren't able to detect the body earlier in the search.
The FBI on Thursday confirmed that the remains found belonged to Laundrie, Gabby Petito's fiancée, based on dental records that matched those of the 23-year-old.
Laundrie was a person of interest in the murder of Petito whose body was found in Wyoming on September 19.
"If the body was just sunk to the bottom of six feet deep water and the dog goes by moments later, then the odors probably would not have worked out of that thickness or depth of water," he said.
Heyen added other contributing factors that could have impacted the cadaver dogs' search, including a change in current temperatures, the period of time that the body was there, and if someone might have relocated the body.
The way the dogs are well trained and maintained by their handlers is also another contributing factor, he noted.
"There is not enough information on the type of training the dogs used for the search have received," Heyen said, and he added he uses actual human parts to train cadaver dogs.
Heyen also said he thought that dogs used to search for Laundrie were search and rescue dogs, not cadaver dogs.
"While they [search and rescue dogs] may find a person or remains of a person, a short period of time after that person has gone missing and may be dead for 24 hours or 36 hours, they're not typically trained to find remains of a human two or four weeks after death. They're trained to find a living human or somebody who just died."
Michael Hadsell, president of the Peace River K9 Search and Rescue, also echoed Heyen's explanation and added that cadaver dogs are unable to detect a human odor in certain circumstances, the New York Post reported. According to the Post, while Hadsell was not a part of the search for Laundrie's remains, he had been a part of other searches in the Carlton Reserve's Myakkahatchee Creek Environmental Park, where Laundrie's remains were found.
"The problem is people don't understand that dogs are not body finders, they are odor hunters," said Hadsell, according to the Post. "They chase the odor of human remains, and the problem is that there are times when odor is not making the best presentation."
Hadsell said the dogs couldn't detect the scent of decaying human remains because some parts of the reserve were underwater.
"In this case, the search conditions that they were in initially were really bad, so the probability was more in the 20 percent success rate because there was water in that area."
However, Handsell said the cadaver dogs used in the search will be able to sniff other remains now that those parts are dry.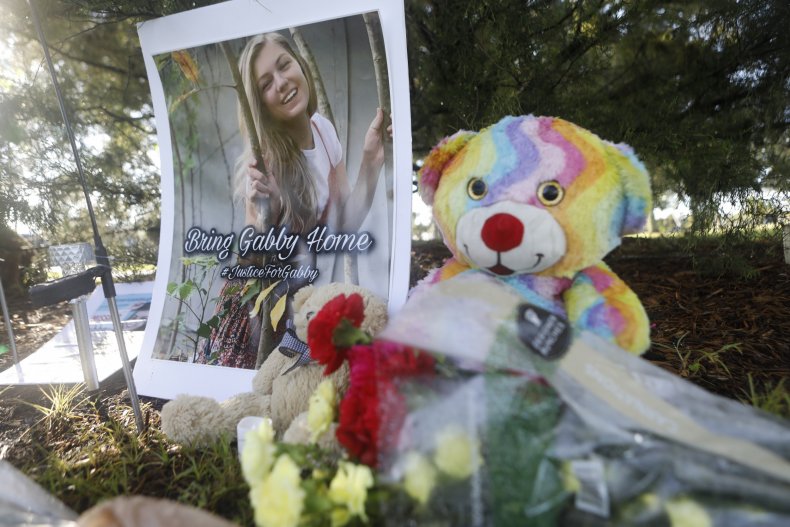 Laundrie disappeared a few days before Petito's remains were found after he allegedly went for a hike and never returned.
The couple were together on a months-long cross-country trip before Petito was reported missing on September 11. The police said that Petito died of strangulation by another human.
The 23-year-old Laundrie's disappearance prompted a large-scale manhunt that involved his parents Chris and Roberta who told law enforcement about the areas that he usually visited.
The Laundrie family found a backpack and a notepad that belonged to their son on the same day that his body was discovered.
Newsweek contacted Hadsell for comments but didn't hear back in time for publication.
Update - 10/22/21 12:10 PM ET- The story was updated to include comments from Kyle Heyen.