In the world of sports, no one wants to be below .500. Whether it's after one week or 10 weeks, losing more games than you've won is a problem. It's in that context that the Los Angeles Chargers and Tennessee Titans enter Week 2 of the NFL season.
L.A. engaged in a shootout during Week 1 but couldn't seal the deal against the Miami Dolphins. The Titans looked a bit worse, limping to a narrow loss to the Saints in New Orleans. Now, those two teams will square off, and neither one wants to get off to an 0-2 start.
With that in mind, let's break down the matchup. Here's your viewing guide to the Chargers vs. Titans contest.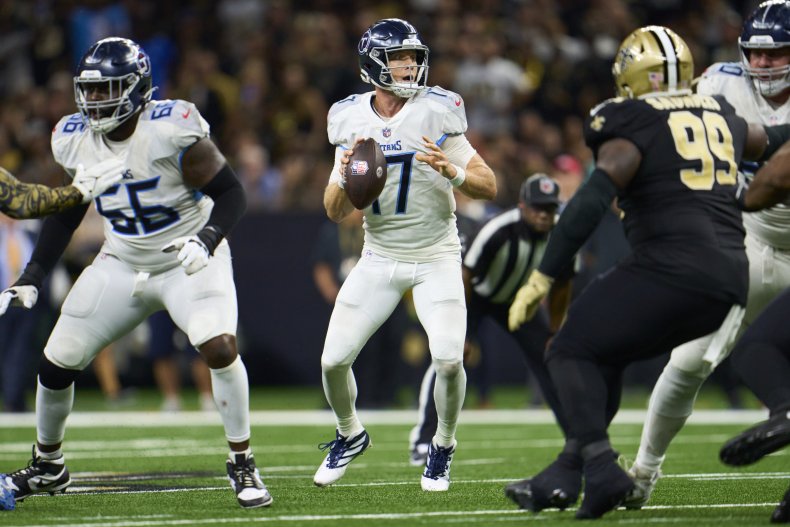 How to watch Chargers vs. Titans
Given that the Chargers and Titans lost in Week 1, you might think that their meeting won't be a marquee matchup. And whether that's fair or not, it's reflected in the Week 2 TV schedule.
When the teams take the field in Tennessee (Sunday, September 17, at 1 p.m. ET), the action will be broadcast on CBS. It won't be widely available—the broadcast markets are limited to the areas around Nashville and Los Angeles, plus a section of the map that includes Northern California and Southern Oregon—with Tom McCarthy, James Lofton and Jay Feely on the call.
Since the TV audience will be limited, it's safe to assume that a good amount of fans will be finding the game through out-of-market streaming. In that case, Chargers vs. Titans will be available through NFL+ and NFL Sunday Ticket via YouTube TV.
Can the Chargers Win, and Win Convincingly?
On paper, the Chargers are an incredibly talented team. The problem, however, is that football isn't played on a piece of paper.
For whatever reason, the AFC West club hasn't been able to get over the hump. Their 2022 campaign, for example, ended with an embarrassing postseason collapse.
The 2023 season could have started on a high note, but the Bolts couldn't seal the deal against the Dolphins. Justin Herbert threw for only one touchdown, the pass rush couldn't generate much pressure and, perhaps most painfully, the defense surrendered 536 total yards.
Is losing a one-off game by two points a disaster? Of course not. But, at the same time, the Chargers' have to tally some big wins if they want to be legitimate Super Bowl contenders.
You could cynically argue that beating the Titans doesn't fit those criteria, but every win counts the same in the standings. To that end, it's worth paying attention to L.A.'s performance. If the Chargers squeak by with a narrow victory, then maybe they should be viewed with a bit more skepticism. A convincing win, however, could suggest that the Chargers are worth a closer look.
Can the New Titans Offense Find its Stride?
While defense may win championships, you need to score points to win football games. The Titans' Week 1 haul—15 points against the Saints—doesn't cut it in that department.
Tennessee's offense does possess talented players. Ryan Tannehill might not be Tom Brady, but he's capable of putting up big numbers. Derek Henry is an elite running back, while DeAndre Hopkins is still more than worthy of sitting atop the depth chart at receiver. Against the Saints, though, nothing clicked.
Tannehill completed less than half of his passes, throwing for 198 yards and three interceptions. Henry was limited to 63 rushing yards, although he did make things happen as a pass-catcher, and Hopkins pulled in seven receptions for 65 yards. The wideout also injured his ankle, leaving his status for Sunday in limbo.
When you consider this was offensive coordinator Tim Kelly's first game calling the plays, it's easy to chalk things up to growing pains and individual errors. And while Week 2 will represent an opportunity for improvement, the Chargers defense isn't going to sit back in a beach chair and allow Tennessee to play into rhythm.
Add some frustration into the mix, and things could get ugly.
"Guys, I just want to move on to San Diego [Los Angeles Chargers]," Tannehill said, according to ESPN's Turron Davenport. "I'm not going to answer any more questions about what happened Sunday. I'm not happy about it. No one in this building's happy about it, but at the end of the day, it's over."
That's a reasonable sentiment, but the noise will only get louder if the Titans fail to improve.
Betting Lines, Over/Under for Chargers vs. Titans
If you consider that both teams have identical 0-1 records, you would expect the Titans vs. Chargers game to be pretty evenly matched. The oddsmakers, it seems, agree.
As of Thursday, September 14, FanDuel Sportsbook lists the Chargers as 3-point favorites. The over/under is set at 45.5 points.
Uncommon Knowledge
Newsweek is committed to challenging conventional wisdom and finding connections in the search for common ground.
Newsweek is committed to challenging conventional wisdom and finding connections in the search for common ground.
About the writer
Joe Kozlowski is a Newsweek reporter based in New York City. His focus is reporting on trending sports stories. Joe joined Newsweek in 2023. He is a graduate of NYU's Gallatin School of Individualized Study. You can get in touch with Joe by emailing j.kozlowski@newsweek.com.
Languages: English.