How to Watch Joe Biden's Dog Major's 'Indoguration' Ceremony Fundraiser
Joe Biden isn't the only one anticipating a big ceremony week. The president elect's German shepherd rescue dog Major is getting his very own "indoguration" ceremony on Sunday afternoon, and it looks to be a barking good time.
Major will be the first rescue dog to live in the White House when Biden is sworn in on January 20. The Delaware Humane Association (DHA) and Pumpkin Pet Insurance (a pet insurance agency) are hosting a virtual fundraiser in his honor.
"Join us to celebrate the first-ever shelter pup to become first dog and raise funds to help more DHA shelter animals like Major live the American Dream!" the invitation reads. To watch what is anticipated to be the "largest virtual party for dogs" with the goal of 1,000 attendees, folks can RSVP here and make a donation of at least $10 for the virtual ceremony, taking place on January 17 at 3 p.m. EST.
All proceeds will go to the DHA, which cares for over 2,000 cats and dogs every year. According to the press release, Lifestyle contributor for the Today show Jill Martin will host the event. Attendees will have the chance to nominate their pup to be part of Major's Cabinet as secretary of rescue dogs, and the top nominees will be revealed during the virtual ceremony.
"The event will not only celebrate Major's journey from the shelter to the White House, but it will also raise funds for DHA to help more shelter animals find their forever homes," a spokesperson for the Delaware Humane Society said in an email to Newsweek. "The event also aims to spread awareness about the need to help pet owners who are financially struggling to care for their pets."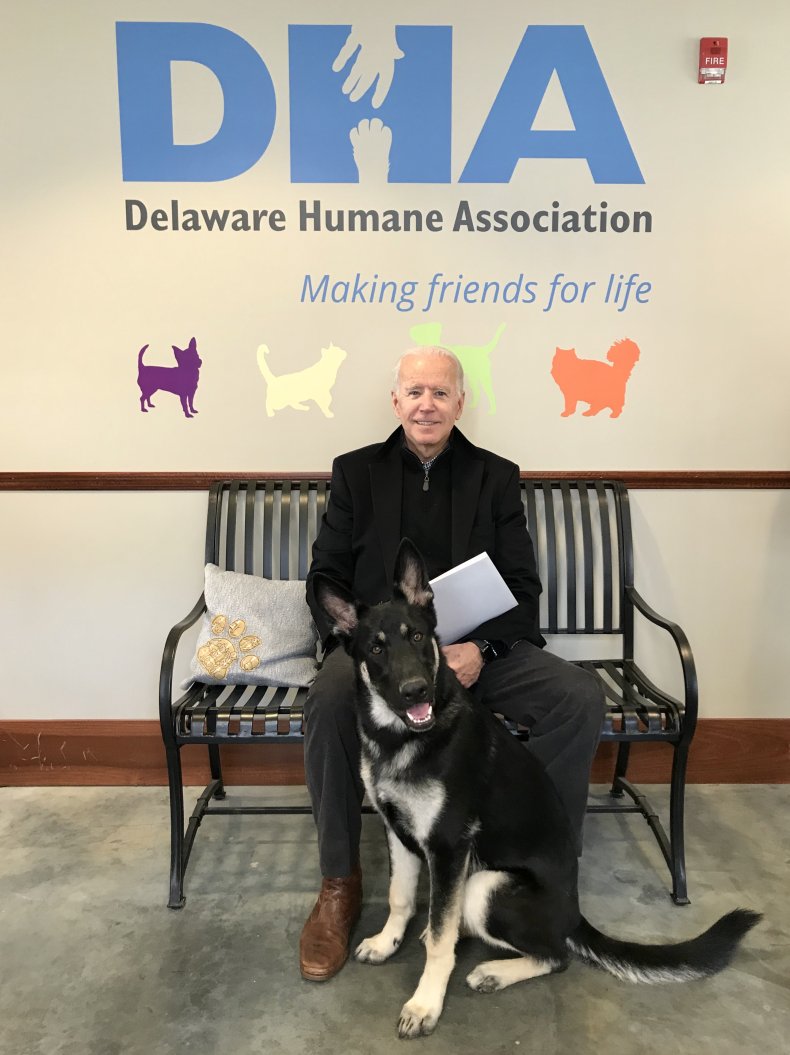 Pumpkin Pet Care's founder and CEO, Alexandre Douzet, is also excited to celebrate Major Biden on Sunday. "We are thrilled to co-host this Indoguration with DHA to help celebrate Major Biden being the first rescue dog in the White House," Douzet said in an emailed statement to Newsweek. "Shelters such as DHA not only rescue and rehome pets, but they also provide food and services that help pet families at a moment when so many people are struggling financially. We at Pumpkin Pet Insurance are proud that the Indoguration will support those efforts that will result in pets and their human parents staying together."
The Biden family fostered Major for several months and eventually adopted him from the Delaware Humane Association in November 2018. They also have another German shepherd, Champ, who has been with them since 2008. According to HuffPost, Champ was a post-2008 election gift to Jill Biden. Biden's granddaughters named the pup.
President Donald Trump never had a dog, or any pets for that matter, during his term at the White House. The Washington Post noted that it was the first time in over 120 years where the first family didn't have a dog living at 1600 Pennsylvania Avenue.