Before the 2023 NFL season kicked off, the Las Vegas Raiders and the Buffalo Bills had wildly different expectations. The former club, facing the challenge of playing in the AFC West, was expected to struggle; the latter, based on recent history, was targeting a trip to the Super Bowl. Ahead of Week 2, though, the results have flipped.
Vegas emerged from Week 1 victorious, while Buffalo crumbled on a rainy Monday night in New Jersey. Now, they'll be facing off in Orchard Park, New York, and seeing whether the opening round of action was a genuine clue about what the future holds.
Can the Raiders secure another big win? Will the Bills—and, more importantly, quarterback Josh Allen—pull things together? And, as a fan, where can you watch the game?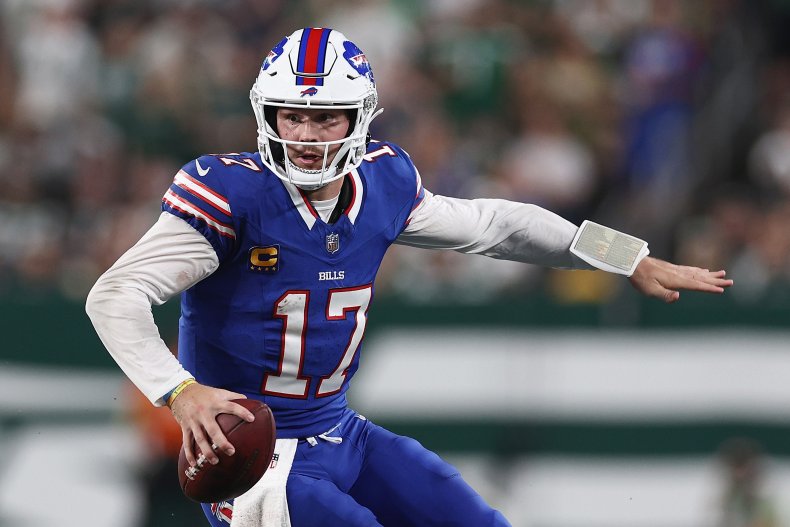 How to Watch Raiders vs. Bills
In recent years, the Bills have evolved into one of the NFL's must-see teams. And if you want to check them out in Week 2, we've got you covered.
The Raiders will travel east to Buffalo, and the action will kick off at 1 p.m. ET Sunday, September 17. CBS will carry the game, with Kevin Harlan and Trent Green on the call. In-market streaming will be available on Paramount+.
From outside of the local markets, you can catch the game on NFL+ and YouTube TV's NFL Sunday ticket. If you're looking for a radio broadcast, Buffalo's call will air on WGR 550; the Raiders broadcast will be on KOMP 92.3 FM and Raider Nation Radio 920 AM.
Just how good are the Raiders?
When you win a football game, especially against a division rival, it's tough to complain. The Raiders, however, won't want to rest on their laurels after beating the Broncos. Vegas played a largely solid game, with Jimmy Garoppolo, Jakobi Meyers and Maxx Crosby playing well, but the club didn't exactly set the league on fire.
Things will get even tougher if Meyers, who caught both of Jimmy G's touchdown passes, isn't available. He suffered a scary injury on Sunday and entered the concussion protocol.
While going 1-0 can kickstart dreams of a Cinderella season, Week 2 will provide something of a reality check for Vegas. Squeezing a narrow win over Denver is one thing, but beating the Bills on their own turf is a true challenge.
Can the Raiders trust Garoppolo to make plays against a tough defense that knows how to pressure the quarterback? And can someone step up if Meyers is sidelined? On the opposite side of the ball, can Crosby and company keep a (theoretically) potent Bills offense in check?
Once we see those answers, we'll have a better idea of where the AFC West club actually stands. Even if the Raiders don't win, a positive performance will leave everyone in Sin City feeling pretty upbeat about the season ahead.
Can Allen and the Bills bounce back?
If the Raiders are entering this matchup on a high, the Bills are coming in at rock bottom. Buffalo struggled on Monday night, losing an ugly game to the New York Jets. Allen, who's usually the team's main man, struggled more than most. The QB turned the ball over four times, and he fell on his sword after the game.
"I hurt our team tonight. I cost our team tonight," Allen said. "This feels eerily similar to last year, and I hate that it's the same. I do."
Week 2 will represent a chance to rebound and prove what he's capable of. With that said, though, the pressure could work against Allen. The Bills' QB is an incredible athlete, but he can sometimes undermine his game with poor decisions. If he feels like he needs to prove himself against the Raiders, that could be a recipe for forcing bad passes into double coverage.
And in a similar vein, it will be interesting to see how this Bills cope with the pressure. They're no longer an upstart group seeking an upset; they're one of the conference's top teams, and they have Super Bowl aspirations.
While two games won't make or break a season, Buffalo will be viewing a home game against the Raiders as a must-win affair. And after losing a golden opportunity against the Jets, everyone's anxiety level is probably a notch or two higher.
Will that pressure bring the best out of Allen and his teammates? Or will the Bills franchise be doomed to fall short of glory once again?
Betting Line, Over/Under for Raiders vs. Bills
Heading into the game, fans around the league will be wondering which version of the Bills offense will show up. Oddsmakers, however, think they know how things will play out.
As of Tuesday, September 12, FanDuel Sportsbook lists Buffalo as a 9.5-point favorite. The Over/Under line is set at 47 points.
Uncommon Knowledge
Newsweek is committed to challenging conventional wisdom and finding connections in the search for common ground.
Newsweek is committed to challenging conventional wisdom and finding connections in the search for common ground.
About the writer
Joe Kozlowski is a Newsweek reporter based in New York City. His focus is reporting on trending sports stories. Joe joined Newsweek in 2023. He is a graduate of NYU's Gallatin School of Individualized Study. You can get in touch with Joe by emailing j.kozlowski@newsweek.com.
Languages: English.