How to Watch Trump Speech: Time, Live Stream for CPAC Remarks
Former President Donald Trump will close out the third day of the Conservative Political Action Conference (CPAC) in Orlando, Florida, on Saturday—almost a year after he used the event to tease another presidential campaign.
Trump has maintained his hold on the GOP since leaving the Oval Office and has asserted himself as the leader of the party, potentially paving the way for a White House bid if he decides to run again. Speakers who took to the CPAC stage over the weekend were predominantly Trump allies, aligning themselves with the former president's view over the country's future.
Trump, who led a straw poll of CPAC attendees last year, will be the final speaker of Saturday's events event and is expected to take the stage on Saturday at 7 p.m ET. His speech will be live streamed on Fox Nation, Fox News' on-demand streaming platform; CPAC's website; and the Right Side Broadcasting YouTube channel. C-SPAN will also carry Trump's remarks.
Trump will likely lambast President Joe Biden for Russia's invasion of Ukraine. In an interview last week, the former president said that he "always knew" Russian President Vladimir Putin had his eye on Ukraine and that the two leaders discussed it multiple times. Trump said he squashed the idea of Russia invading Ukraine, telling the Russian president he "can't" do it, even though it was clear he wanted to.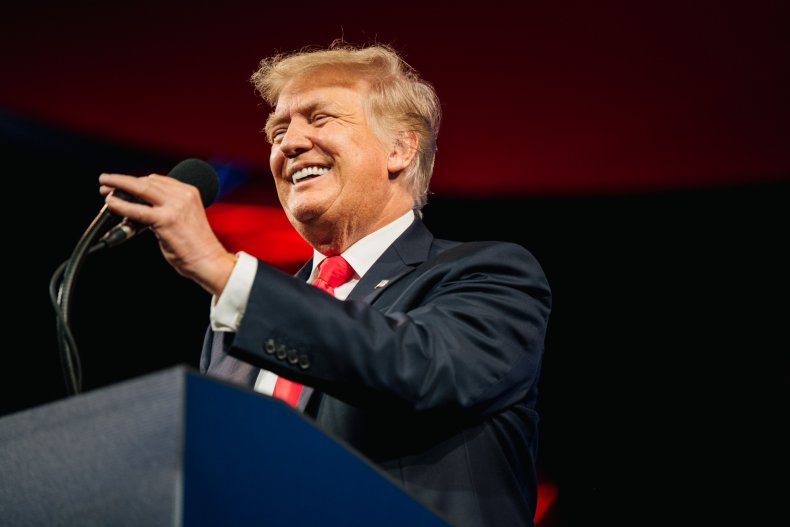 Trump added that the invasion would have "never" happened if he were still president, a message he has pushed with several other problems facing America.
Polls put Trump as the potential frontrunner for the 2024 GOP presidential nomination. While he hasn't committed officially to a run, Trump has teased about launching another bid for the White House and even called himself the "47th" president while golfing.
In criticizing Biden for his handling of the Russia-Ukraine conflict, Trump is attempting to juxtapose himself with his successor to rally voters ahead of the midterms.
The former president has vowed to help Republican candidates who espouse his America First agenda win their congressional races. Democrats are at risk of losing control of Congress in November because of their slim margins in both chambers—and Russia's invasion of Ukraine isn't likely to help win over voters.
Along with the Russia-Ukraine conflict, Trump is likely to use his time at CPAC to hammer Biden on the U.S. economy. Amid already-inflated prices, sanctions on Russia could force gas prices up, a problem Biden attributed to the cost of defending freedom.
Some in the Republican Party have sought to move past Trump. However, they're finding themselves in the vast minority as Trump's headlining slot at CPAC—which is the largest gathering of conservatives—appears to solidify the former president's position as the leader of the GOP.