How wild, domesticated and zoo animals are managing COVID-19
The COVID-19 pandemic has now reached almost every part of the planet since the first cases appeared in Wuhan, China, in late 2019. The number of cases has since grown exponentially, reaching every continent except Antarctica. In the United States, the epicenter of the virus is New York City, which as of late April 6 had over 68,000 positive cases.
Until this past weekend, though, it seemed as though animals had remained pretty much untouched by the virus. But, on Sunday the narrative shifted, and what is believed to be the first documented report of an animal contracting the virus was reported at the Bronx Zoo in New York. The virus was found in a 4-year-old Malayan tiger, Nadia, who had developed a dry cough.
Six other cats are said to have exhibited symptoms as well, though Nadia will be the only one tested so as to not subject more animals to anesthesia. All seven cats are expected to recover and according to the Wildlife Conservation Society, who manages the zoo, they are "bright, alert and interactive with their keepers."
It is believed that the cat contracted the virus from a zoo employee, and the U.S. Department of Agriculture is recommending that given the limited information known about how animals interact with this virus, it is best that people with the virus keep their distance from animals—even pets.
"Although there have not been reports of pets becoming sick with COVID-19 in the United States, it is still recommended that people sick with COVID-19 limit contact with animals until more information is known about the virus," the USDA said in a statement Sunday.
Now that the first U.S. case has been documented, it begs the question of how the virus could affect animals, not just in zoos, but domesticated and wild animals alike. Prior to this weekend's report, the majority of the animal news over the past few weeks took the form of videos of animals running amok in what are normally human-populated domains.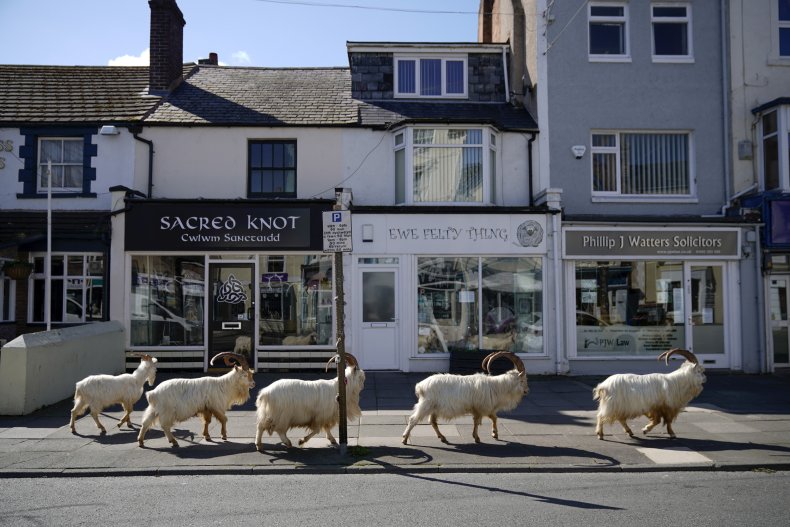 Last week, videos were posted of goats running through Llandudno, Wales. Since the country is on lockdown, the streets have been mostly free of humans, leaving room for the goats to roam unbothered. And the videos were pretty funny.
Other videos have circulated on social media, including coyote sightings in San Francisco, a wild deer on a street in Sri Lanka and penguins at the Shedd Aquarium in Chicago wandering on "field trips" around the usually crowded aquarium. But, despite these cute videos of animals doing things that may be out of their normal everyday routine, has the virus affected furry and flippered friends?
Steve Aibel, senior director of animal behavior and training at Shedd Aquarium, says though the aquarium is closed to the public, not much has changed in their everyday routine and interactions with the animals.
"I suspect that the animals notice that things are different now, but we have not seen real changes in their behavior," Ailbel told Newsweek. "It's impossible to truly know if they like it or not. Since the trainers work with the birds when people are in the building as well as when the building is empty, the birds are familiar with and do very well in both scenarios."
He says while they miss the guests, they are pleased that the videos they've shared of what the animals are up to has gained such a positive reaction.
While the videos of coyotes out and about in San Francisco may seem unusual, Deb Campbell of Animal Care and Control San Francisco says it's nothing out of the ordinary.
"We are getting sighting reports (we collect these through our website) of coyotes moving about using the near-empty streets," Campbell said. "They live here, and are probably taking advantage of some convenient shortcuts. Whether or not they're actually out and about more often, or being spotted more frequently by people sheltering in place and looking out their windows—we'll never know."
There was also seemingly a large push across the country to find those who were able to foster or adopt animals who are currently living in shelters. President and CEO of the ASPCA, Matt Bershadker, says this is in large part due to the strain put on shelters across the country who are struggling with reduced staffing.
"Because this is an unprecedented and ever-changing situation, each shelter is facing unique challenges specific to its communities. Many shelters are facing reduced staff and volunteer support, which is putting animals in desperate need of temporary or permanent sheltering," Bershadker told Newsweek.
He says that while stresses and challenges have risen in an unprecedented fashion, the ASPCA has not seen an increase in owner surrenders or stray intakes at the ASPCA Adoption Center in New York City due to COVID-19. On a national level, he says based on conversations with animal welfare professionals around the country, that trend is consistent around the nation.
"However, during any disaster situation, there's always a risk that pet owners will not be able to provide adequate care for their pets, so many shelters and animal welfare organizations are preparing for a potential increase in animals surrendered in the coming weeks and months. Effective fostering and adoption programs will be critical to meet that need."
He says those who are interested in helping homeless animals should contact their local shelters. By doing so, there will be more space for animals in need.
"There's no better place than a loving home to get animals used to the sights, sounds and experiences that will set them up for successful future adoption," he said. "Animals also provide incredible comfort and companionship, especially during times of crisis. This is the most compassionate way to return that favor, so we are encouraging people to adopt or temporarily foster animals now more than ever."