Will Susan Collins Vote for Brett Kavanaugh? Here's What's Likely Influencing Her Crucial Confirmation Decision
All eyes are on Senator Susan Collins as she gears up to announce how she will be voting on the confirmation of President Donald Trump's Supreme Court nominee Brett Kavanaugh.
The lawmaker from Maine is the only Republican who has yet to give a strong indication of how she will be voting during the final confirmation of the judge, which is scheduled to take place from 3:30 to 5 p.m. on Saturday. She could provide a crucial swing vote to Democrats who are looking to block Kavanaugh's ascension to the high court.
On Friday morning, minutes before arriving on the Senate floor, Collins said she would vote yes on the cloture motion to stop debate on Kavanaugh and move on to the official confirmation vote. She then announced that she would be giving a speech at 3 p.m. Friday to explain whether she would support Kavanaugh in the final tally.
Throughout the confirmation process, which has seen Kavanaugh's reputation clouded by allegations of sexual misconduct by three women, Collins has remained tight-lipped on whether she would vote in support of the judge.
But Republican strategists suggest that while Collins would practically like to remain within her party and support Kavanaugh, she has been leaning toward voting against his rise to the Supreme Court even before the allegations became public.
"I think she from the get-go has been trying to get from not to 'no' but to 'yes,'" Evan Siegfried, a GOP strategist and political commentator, told Newsweek on Friday. "It's been very hard for her to get to a yes."
Collins's main concern with Kavanaugh's nomination has been his position on Roe v. Wade and women's rights. She repeatedly questioned the judge on the topic, and seemed somewhat reaffirmed when he told her that the landmark Supreme Court abortion case is "settled law."
Sexual assault survivors stormed Collins's office in Maine on Friday hours before she was set to announce her decision, delivering the message: "If you vote to confirm Kavanaugh, you're saying what happened to us doesn't matter."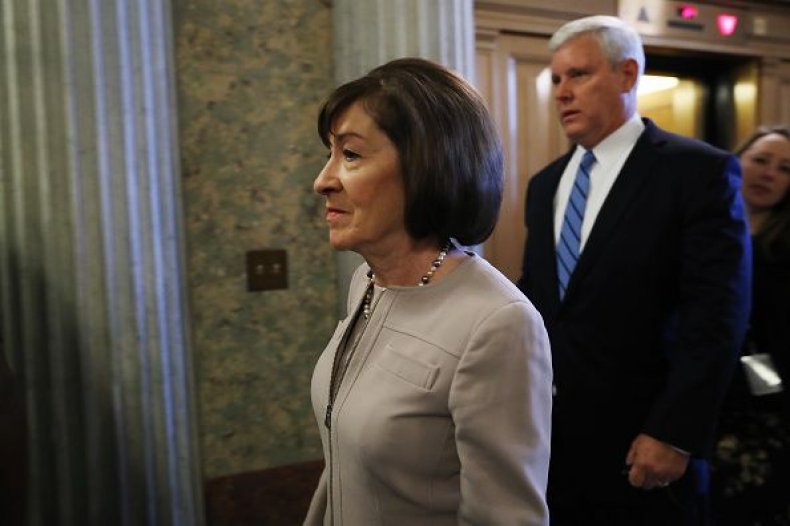 After the FBI began its investigation into the allegations of Ford last week, it was Collins who requested the bureau also look at the accusations being made by the third accuser Julie Swetnick. After the FBI findings were given to senators on Thursday, the senator expressed satisfaction in the "thorough" 46-page report.
Siegfried called the FBI investigation a very "shrewd move" by Senator Jeff Flake because it gives Collins, and other Republicans who may have been on the fence about Kavanaugh, a more "credible way to vote yes."
Collins is also faced with reconciling her moral position on the judge with how the Republican Party will view any possible betrayal heading into her re-election campaign in 2020 if she chooses to run again.
"I know several Republicans were discussing that if she votes no that Paul LePage should be made to challenge her in a primary race," Siegfried added.
While Collins is very well-liked among her electorate, LePage, currently serving as the governor of Maine, has drawn comparisons with Trump and has reportedly been encouraged by the president to run for a Senate seat. Collins has not faced a really tough opponent in a primary election since first being elected in 1997. All these factors are likely to be weighing heavily on her before she declares her vote on the judge.
Collins's announcement on Friday will give other senators who are on the fence a clearer picture of the weight of their vote on Saturday afternoon. With Jeff Flake strongly suggesting that he will vote "yes" and fellow Republican Lisa Murkowski all-but confirming she will vote "no," the other main undecided vote belonged to red-state Democrat Joe Manchin.
"I think she wants to take some off the drama off the table for tomorrow," Susan Del Percio, a Republican political analyst, told Newsweek, when it comes to Collins's announcement on Friday afternoon.
Rather than putting out a press release on her decision, giving a speech allows Collins to thoroughly explain "exactly how and why she is making this decision"—something not many senators have taken the time to discuss.
"It will give her a greater chance of satisfying the side that's not happy about which way she is going," Siegfried added.
"I think she's actually just trying to make a really tough decision. In many ways, she could be influencing the court for 30 years based on this decision and I'm pretty sure she's aware of that," Del Percio added.