Lisa Murkowski Explains Brett Kavanaugh Vote: Maybe 'He's Not the Best Man for the Court at This Time'
In a surprising move, Republican Senator Lisa Murkowski of Alaska voted against a procedural cloture vote on Supreme Court nominee Judge Brett Kavanaugh Friday that ended debate and established a 30-hour time period before a final vote must be held.
Her cloture vote does not mean she won't support Kavanaugh's final confirmation vote expected to be held Saturday, but her comments following it strongly suggested she has made her mind up not to support the Trump-nominee.
"This has truly been the most difficult...decision that I've ever had to make," Murkowski told reporters. "I believe he's a good man. It just may be that in my view, he's not the best man for the court at this time."
She added that the country has "gone down a path that is not good and right," if victims "feel that they're is no fairness in our system of government, particularly within our courts."
Fellow GOP Senator Jeff Flake said Friday that he plans to vote yes on Kavanaugh, unless "something big changes, which I don't see what would."
Murkowski and Flake are two of five key senators who will ultimately decide whether Kavanaugh is confirmed. Murkowski, along with GOP Senators Susan Collins and Flake, and Democratic Senators Joe Manchin and Heidi Heitkamp, have long been undecided about how they would vote on Kavanaugh's confirmation.
Heitkamp said Thursday that she would not support Kavanaugh, leaving Manchin and Collins as the last senators yet to publicly say how they plan to vote. Collins told reporters she would be releasing a statement about her position Friday at 3 p.m.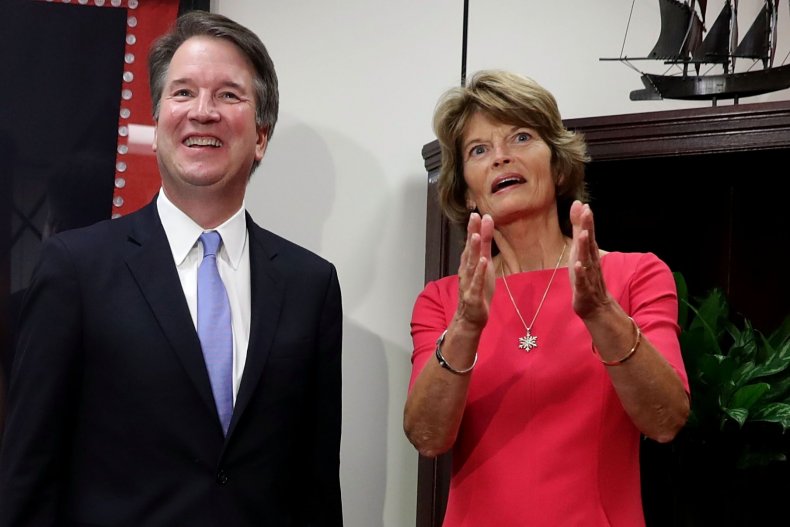 Murkowski was the only Republican to vote against Friday's cloture vote to move the confirmation process forward. Speaking to reporters, she said her mind changed about how to vote on the way to the chamber.
"If people who are victims, if people feel that there's no fairness in our system, particularly within our courts, we've gone down a path that is not good and right for this country," Murkowski said.
Senators—specifically those who are undecided—have faced mounting pressure from constituents, activists and sexual assault survivors who could have an impact on how they cast their final votes.
A joint letter was sent to both Murkowski and fellow Alaskan GOP Senator Dan Sullivan earlier this week. It consisted of more than 350 attorneys from the state urging their senators to vote against Kavanaugh's confirmation. They described the nominee's testimonies before the Senate Judiciary Committee about his confirmation and on sexual assault allegations against him as "uncontrolled anger, sarcasm and open contempt for Senators—particularly female Senators."
"Judge Kavanaugh's conduct during his confirmation hearings fell far short of our standards as citizens and as lawyers," the letter read. "He displayed uncontrolled anger, sarcasm, and open contempt for Senators—particularly female Senators—and he made numerous unapologetically partisan statements. This response to admittedly difficult circumstances exhibited poor judgment and a temperament unsuitable for a Supreme Court justice."
The letter went on to say that Kavanaugh's answers to Senators' questions were "frequently evasive, incomplete, and combative." The attorneys said they believed that his behavior "raised serious questions" about his "credibility and trustworthiness," adding that he "diminished public confidence, and our confidence, in his ability to uphold the independence and impartiality of the Court."
Sullivan is expected to vote for Kavanaugh, but Murkowski's suggestion that she would not support Kavanaugh could be a sign that she's been impacted by those around her pressuring to vote "no."
In addition to the pressure from constituents, hundreds of protesters have swarmed Capitol Hill and congressional halls in recent days to directly confront senators. More than 300 of the activists were arrested on Thursday. And in two separate occasions, the activists and sexual assault survivors confronted GOP senators as they were boarding elevators, prompting the president to call them–without evidence– "rude elevator screamers" who were "paid professionals only looking to make Senators look bad."
Senators received the FBI's supplemental investigation into the validity of the sexual assault allegations against Kavanaugh on Thursday, causing swift partisan reactions. Republicans claimed it cleared Kavanaugh of any wrongdoing, while Democrats called it an insufficient investigation for a lack of witness interviews. The FBI's report will not be made public.
The strongest reaction to the probe came from Democratic Senator Bob Menendez of New Jersey, who called the bureau's report "bullshit" over its lack of thoroughness.
Update: This story has been updated with further comment from Senator Lisa Murkowski.