Presidential Hopeful Howard Schultz Says Mostly Female Cabinet Would be 'Benefit for the Country'
Former Starbucks CEO and Independent 2020 presidential hopeful Howard Schultz said that if he were elected he would form a diverse cabinet, one that would potentially include more women than men.
Appearing Saturday evening on CNN's S.E. Cupp: Unfiltered , Schultz, who stepped away from Starbucks in 2018, spoke about his vision for the United States. He vowed to form "a bipartisan, very diverse cabinet" that was "heavily weighted toward women" if he were elected in 2020.
"Republicans and Democrats and Independents," would be part of the executive body, Schultz suggested. "I would do everything I possibly could to bring both sides together," he continued. "The problem we have right now is the ideology of Republicans and Democrats who are unwilling on any issue to work together to solve America's–people's problems."
Host S.E. Cupp then jumped in to ask him to clarify what he meant by "heavily weighted toward women." Schultz explained that "we have more women running for president than any other time in the history of the country. This is an opportunity to demonstrate that women should have the opportunity to serve the government in high positions."
Cupp then asked if the former CEO would be interested in having women "outnumber men" in his cabinet.
"I would," Schultz immediately responded. "I would, I think it's a benefit for the country," he added.
Schultz announced his presidential ambitions in January, drawing criticism from many Democrats and President Donald Trump. Although the former Starbucks CEO has described himself as a "lifelong Democrat," he has said he would run as an Independent if he officially enters the race. As progressive candidates, such as Senator Bernie Sanders of Vermont and Senator Elizabeth Warren of Massachusetts, have regularly taken aim at "the billionaire class" and its influence on politics, many have criticized Schultz's decision to consider a presidential campaign.
In a February interview with CBS This Morning , Sanders suggested that the billionaire, who is worth an estimated $3.7 billion, knows little about politics. "There are a lot of people I know personally who work hard for a living who make forty, fifty thousand dollars a year who know a lot more about politics than, with all due respect, does Mr. Schultz," he said.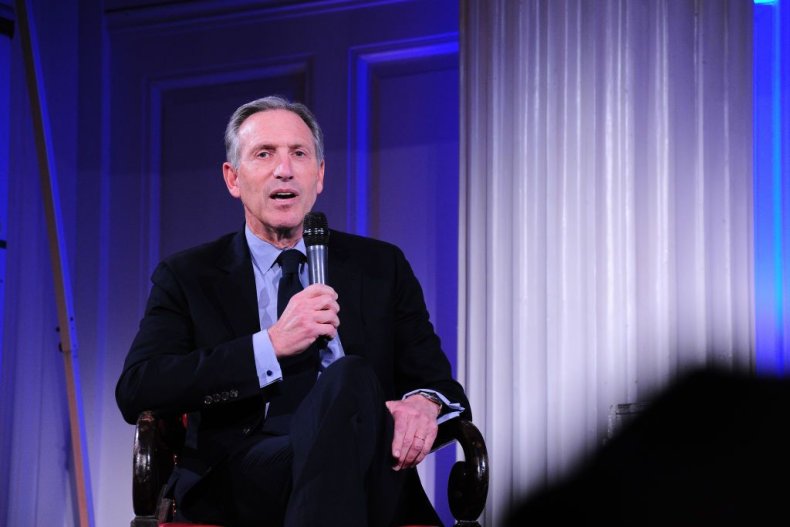 Other male 2020 contenders have, similar to Schultz, suggested that women would take a major role in their administration, although none have said they would consider having a cabinet with women outnumbering men. Former Congressman Beto O'Rourke of Texas said last month that "it would be very difficult not to select a woman" as his running mate if he managed to secure the Democratic nomination. Senator Cory Booker of New Jersey, who is also seeking the 2020 Democratic nomination, said in February that he would "be looking to women first" when selecting his running mate.
Thus far, five high-profile female politicians have thrown their hat in the ring for the Democratic party's nomination to run against Trump in 2020. In addition to Warren, these include Senator Kamala Harris from California, Senator Amy Klobuchar of Minnesota, Senator Kirsten Gillibrand of New York and Representative Tulsi Gabbard of Hawaii.