Howard Stern Wishes Death on 'F***ing Animal' Putin
Howard Stern has lashed out at Vladimir Putin, labeling him a "f***ing animal" following the invasion of Ukraine by Russian forces.
"I hate the Soviet Union," the veteran disc jockey said on Monday's episode of his SiriusXM radio show in a vicious tirade against Putin.
"I hate the Communist regime. I always hated Communism because it always turns into an autocratic situation like in China where they cut off your freedoms."
The 68-year-old went on to speak about how he "used to love Republicans" but condemned in the GOP, such as Donald Trump, for their support of Putin.
"I voted for many Republicans. I don't see how I'll ever get back to that," Stern said. "They've just totally disappointed me and their support of Vladimir Putin, the praise they heap on him. Trump's praise of Vladimir Putin."
Stern added: "This guy's a f***ing animal. I wish he was dead like I wish Hitler was dead."
Former President Trump said at CPAC last weekend that Russia's attack on Ukraine is "appalling," however, last week he called Putin a "genius" for how he started the invasion.
"I went in yesterday and there was a television screen, and I said, 'This is genius.' Putin declares a big portion of the Ukraine—of Ukraine. Putin declares it as independent. Oh, that's wonderful," Trump said on February 22, in relation to Moscow's recognition of two separatist nations in occupied Ukrainian Donbas.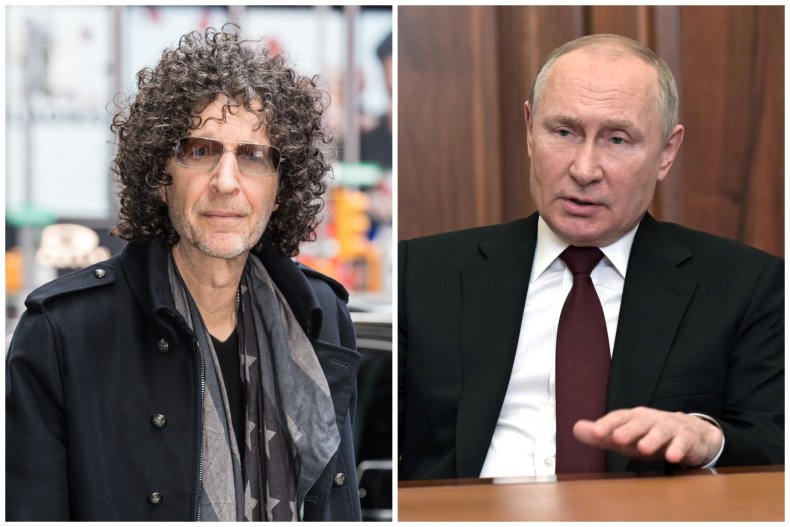 Stern went on to call Putin a "scumbag" who "has more money than anybody, who has more power than anybody, who enslaves an entire country, who will kill you if you're a journalist, will kill you if you speak out against him, who's got everything a man could want if you're truly a megalomaniac and he didn't have enough."
The radio host ascribed the Russian leader's actions to "not being loved as a child."
"He is a little boy who says, 'Everything in this world is for me, and I'm going to gobble it all up for myself,'" Stern concluded. "That's all that's going on here. That's what's happening. We have a guy who feels like he's never full. He wants more and more."