Howard Stern Says Trump 'Despises' His Voters and 'I Hate You for Voting for Him'
Howard Stern is questioning why people vote for Donald Trump, claiming the president is "disgusted" by his biggest supporters.
The radio host, 66, further admonished Trump voters, who he says "lack intelligence."
Speaking on his SiriusXM show Tuesday, Stern said: "The oddity in all of this is the people Trump despises most, love him the most.
"The people who are voting for Trump for the most part... he wouldn't even let them in a f***ing hotel.
"He'd be disgusted by them. Go to Mar-a-Lago, see if there's any people who look like you," he said. "I'm talking to you in the audience.
"The Trump voter who idolizes the guy, he despises you."
Stern, who endorsed Trump's Democratic rival Hillary Clinton in the 2016 presidential election, claimed Trump loves adulation from celebrities and the rich and famous—not the masses who vote for him, likening the disparity to an episode of The Twilight Zone.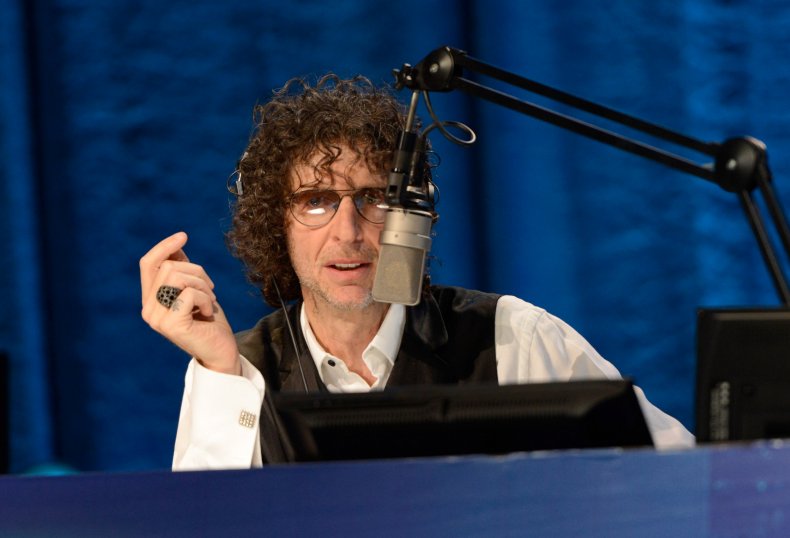 The president was a one-time friend of Stern's and made many appearances on his show over the years. The DJ maintains he doesn't actually "hate Donald."
"I don't hate Donald," Stern said. "I hate you for voting for him, for not having intelligence. For not being able to see what's going on with the coronavirus, for not being able to see what the justice department is doing. I hate you, I don't want you here."
Much like his own exploration into the world of politics back in 1994, when Stern ran in the New York gubernatorial election, the radio host believes Trump is not up to the job.
"I do think it would be extremely patriotic of Donald to say, 'I'm in over my head and I don't want to be president anymore,'" Stern said, but conceded this is unlikely to happen.
This is not the first time the radio personality has expressed his views on Trump's qualifications as president.
Last year, Stern told CBS host Stephen Colbert that Trump merely ran for office to boost his TV show, The Apprentice.
"I firmly believed that Donald did not want to run for president. I don't think it was serious. I don't think he wanted to be the president. I knew him. He had a great life at Mar-a-Lago," he said at the time.
"He's on The Apprentice. The ratings were going down. And NBC was balking at giving him a raise. So what did he say? 'I'll run for president, I'll get a lot of press.'
"And I really believe that Donald—this was a gimmick to get NBC to raise up his salary and to keep The Apprentice on and I would bet the farm on that."