US. Navy Dismisses Russian Media Claims Its Warship Approached Crimea
The U.S. Navy has dismissed reports that its destroyer, which is in the Black Sea for large-scale NATO-led military drills, had sailed towards Crimea in a provocative action.
Claims emanated from Russia that USS Ross, which is in the region for the Sea Breeze 2021 drills that started this week, had headed towards the peninsula, which Moscow annexed in 2014.
In an account cited by the newspaper Izvestia, Russian channel REN TV reported on Tuesday that Russian Su-30SM fighters had been monitoring the vessel, which it said had "appeared near Crimea."
It said that planes had escorted the U.S. Navy ship, which according to preliminary data, had been "close to Russian territorial waters and subsequently changed course," although it said that "presumably, the American ship did not cross the Russian border."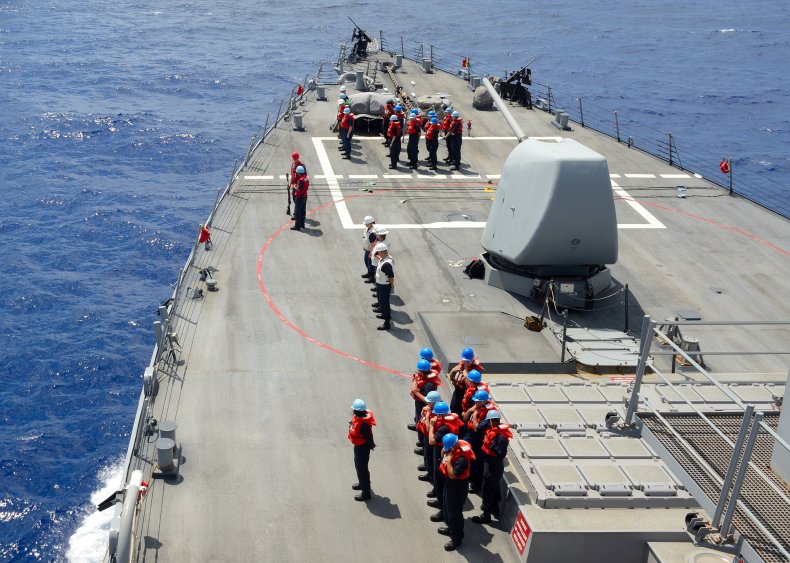 Online ship tracking services showed USS Ross sailing with a Ukrainian patrol boat five miles off the coast of Crimea during the night, according to The Drive, which reported that it was a case of spoofing of maritime tracking.
However, when asked directly about the claims, a U.S Navy spokesperson told Newsweek that the vessel had been berthed since Sunday.
"USS Ross was in port Odesa, Ukraine for Exercise Sea Breeze from June 27 to June 30," the spokesperson said in an emailed statement.
"The ship got underway this morning (Wednesday) for the Force Integration Training phase of the exercise," the spokesperson added, referring Newsweek to a tweet from the official Twitter account for Exercise Sea Breeze showing an image of USS Ross dockside.
The tweet said: "Despite recent reports, @USNavy #USSRoss as of 30 minutes ago and for the foreseeable future is in port #Odesa, #Ukraine to support #ExerciseSeaBreeze."
Defense experts took to social media to note the discrepancy between the claims about USS Ross.
Analyst HI Sutton tweeted that the Automated Identification System (AIS) tracks "which appear to show USS Ross off Crimea right now appear to be falsified," adding that a live "shows her berthed...as expected."
Lead writer at Great Power U.S., Molly McKew, tweeted: "Earlier, online Russian chatter was that USS Ross would attempt to repeat passage of HMS Defender thru Ukraine territorial waters that Russia claims."
"Last wk, someone also falsified positioning data to show Defender at Sevastopol. Repeat spoof of Ross points to Russia as perp /1," she added.
Russia's defense ministry, which Newsweek has contacted, has not commented about the USS Ross claims, which come as tensions grow surrounding the informational and naval cat-and-mouse game playing out in the Black Sea over the NATO exercises that started Monday.
Last week, the Russian defense ministry said that it had fired warning shots and dropped bombs in the path of British Navy destroyer HMS Defender as it sailed close to Crimea in waters which, counter to Moscow's claims, are recognized internationally as Ukrainian.
Moscow later claimed the U.S. was involved in the standoff. The U.K. denied the Russian account that shots were fired at all.
Meanwhile the Defense Ministry of the Netherlands said Tuesday Russian fighter jets carried out "mock attacks" on the Dutch navy frigate HNLMS Evertsen in the Black Sea last week.
News agency Interfax reported that Russia's Black Sea fleet deployed around 20 warplanes and helicopters, including Su-24M bombers, as well as S-400 and Pantsir surface-to-air missile systems to test the readiness of its air defense systems in Crimea.
Newsweek has contacted the U.S. Navy for further comment.