Magician Who Tried to Recreate Houdini Trick Feared Dead After He Was Lowered Into River
A renowned Indian illusionist who was trying to perform an escape act is believed to have died after he was lowered into a river in West Bengal.
Chanchal Lahiri, 41, who went by the stage name Mandrake, was trying to emulate a trick performed by Hungarian-born escape artist Harry Houdini almost a century ago.
People watched on the shore by Howrah Bridge in Kolkata to witness Lahiri being shackled with six locks and a chain. He was then dropped into the Hooghly River from a boat around midday on Sunday, The Times of India reported.
However, he never re-emerged. Both police and a team of divers have been unable to find him.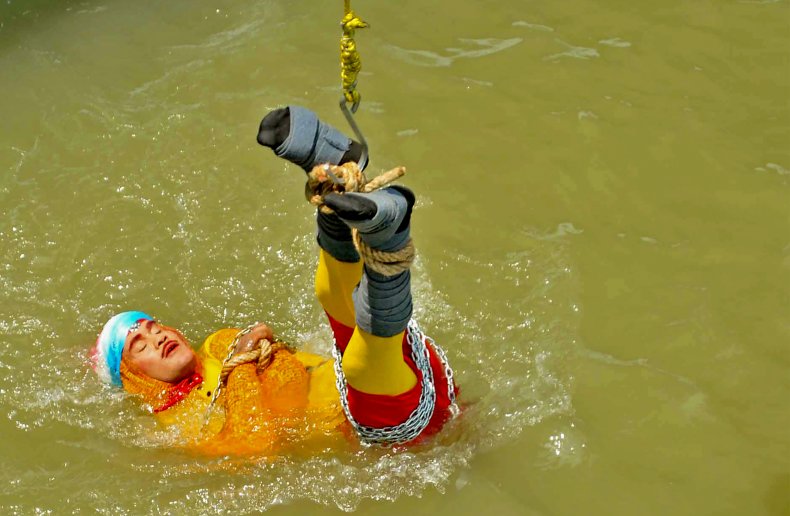 Jayant Shaw, a photographer with a local newspaper, told the BBC that he had spoken to the illusionist before his trick and his ambition was to "revive interest in magic."
"I asked him why he risked his life for magic. He smiled and said, 'If I do it right, it's magic. If I make a mistake, it becomes tragic,'" the BBC reported.
A senior police officer said: "We tried to spot him. But it seems the stream has swept him away. Our divers dived deep, but could not locate him.
"Because of darkness, we had to temporarily stop our search operation on Sunday evening," the officer said, according to NDTV. The station also reported there were no security measures in place.
Lahiri had sought permission for the stunt from both police and Kolkata's Port Trust.
Syed Waquar Raza, from the Port Trust, told the Times of India: "He had clearly mentioned the act was to happen on a boat or vessel and there was no connection with water.
"Hence, we allowed him permission. However, he did vaguely mention an 'extra act' which he did not clarify. We are investigating."
Lahiri claimed he had managed to pull off a similar stunt 21 years ago.
"I was inside a bulletproof glass box tied with chain and locks and dropped down from Howrah bridge. Then I came out within 29 seconds," he had said, according to Agence France Presse.
Back in 2013, Lahiri was assaulted by onlookers after he had tried the stunt. Thousands of fans claimed they could see he had escaped through a cage door that was clearly visible.
Lahiri was from Sonarpur and had claimed to have performed more than 2,500 shows worldwide.