HUD is Violating the Law by Withholding Billions in Disaster Aid From Puerto Rico, Democrats Say
The Department of Housing and Urban Development has yet to give Puerto Rico the ability to apply for billions of dollars in natural disaster mitigation aid that was appropriated by Congress three months ago, something that Democrats say violates the law.
By HUD not yet publishing the guidelines for how Puerto Rico can apply, the island nation will be delayed in receiving its allotted $8.3 billion for large mitigation projects that would help curb the impacts of future storms, such as Hurricane Maria, which in 2017 brought devastation by way of flooding, prolonged power outages and lack of drinking water.
Signed into law by President Donald Trump on June 6, the $19 billion supplemental bill came with stipulations, one of them being that within 90 days, HUD must make available the allocations and requirements — or essentially the rulebook — for how states and U.S. territories impacted by natural disasters in recent years can submit proposals and subsequently receive grant money. That deadline was Wednesday, and all nine states plus a U.S. territory that the funds are intended for have received the information and can begin applying — except for Puerto Rico.
As a result of the missed deadline, top members of the House Appropriations Committee say HUD is violating the law and will investigate the matter within the coming weeks by requesting officials to testify.
"If anything, Puerto Rico should [receive] a special urgency," Representative David Price (D-N.C.) told Newsweek by phone. "The delay is not acceptable, and it's certainly not acceptable to single-out Puerto Rico. The president's rhetoric on this raises a lot of questions about what's going on here and where this directive is coming from."
Price, who chairs the House Transportation, Housing and Urban Development Appropriations Subcommittee, along with Representative Nita Lowey (D-N.Y.), who chairs the Appropriations Committee, sent a letter on Thursday to HUD Secretary Ben Carson outlining their concerns and intentions to hold hearings. The letter, obtained by Newsweek, can be read at the bottom of this story.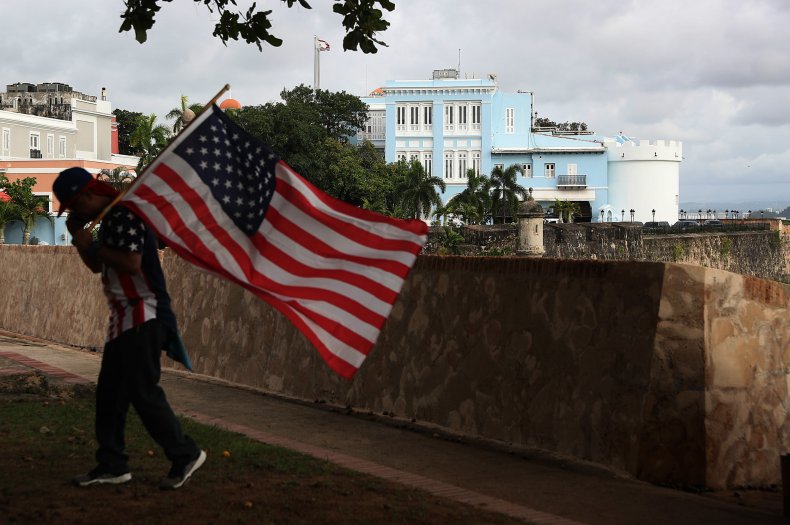 A HUD official who spoke with Newsweek did not indicate whether the department knew of the 90-day deadline or when the guidelines would be provided to Puerto Rico so that they can begin applying for grants. The official pointed to prior statements by HUD officials and Carson, which explained there were concerns that Puerto Rico may misuse the money.
Speaking with reporters on a conference call last month, two senior HUD officials outlined how the department would be disbursing the money and what qualifying states would need to do in order to receive it. However, the senior HUD officials said that Puerto Rico (and at the time, the U.S. Virgin Islands) would have to wait an unspecified amount of time before receiving their allocated mitigation funds due to a fear by the administration that the U.S. territories may succumb to corruption amidst the ousting of Governor Ricardo Rosselló and because of Puerto Rico's "past mismanagements of funds." The U.S. Virgin Islands has been provided the information they need to apply and obtain the grant money.
"Right now, because of the government instability, we have serious concerns. We want to make sure we're pumping the brakes, that we're being prudent and that the money is being spent properly," the officials, who did not allow reporters to use their names, said at the time. "In the meantime, we didn't want to hold off on the funding for the states because it's important that we give the states an opportunity to plan for next hurricane season and going forward."
The senior officials further said there were several HUD personnel in Puerto Rico, including a financial monitor, to ensure previous federal money already doled out was being properly used.
Price said those are not valid concerns to hold up billions of dollars the island nation could be using to help prevent the impact of future storms because oversight measures were included in their supplemental bill.
"We're concerned all the time about the appropriate use of funds. Puerto Rico would still have to submit their plan of action," he said. "You don't just hold up the whole flow of support. There are plenty of safeguards that would remain and check points to be dealt with."
Rather than the money going to help local governments rebuild homes, the money dispersed from HUD will have to be used for large projects that bring lasting benefits, such as the hardening of electrical grids. HUD has provided nine states and one U.S. territory — Texas ($4.3 billion), Louisiana ($1.2 billion), Florida ($633 million), North Carolina ($168 million), South Carolina ($158 million), West Virginia ($106 million), California ($88 million), Missouri ($42 million), Georgia ($27 million) and the U.S. Virgin Islands ($774 million) — with instructions and guidelines on how to submit mitigation plans detailing how the state and local governments would spend the money. Plans can be submitted at any time, so long as it is prior to a deadline ranging from February to April, depending on the state or territory. HUD will take up to 60 days to review and approve the plans before making the grant money available.
The delay in Puerto Rico's ability to receive their funds comes as it was revealed last week Trump will divert $155 million from FEMA's Disaster Relief Fund to Immigration and Customs Enforcement to help build his long-desired border wall along the U.S.-Mexico border. Trump has claimed in the past he's "taken better care of Puerto Rico than any man ever" and repeated the false claim that the U.S. territory has received some $90 billion in disaster relief since Hurricane Maria, when in actuality it's received around $42 billion.
Price said the 90-day deadline in the supplemental aid legislation seemed cut and dry. He also pointed to past money Congress has appropriated for Puerto that's yet to be made available to the local government, such as the nearly $20 billion lawmakers gave HUD after Maria, of which the department has only allocated approximately $1.5 billion.
"Our expectations were that this is already overdue, and the 90-day deadline meant what it said," Price said. "We didn't anticipate there was a question mark of some sort around this due date."