Huda Kattan Donated Twice As Much as Kylie Jenner to Samuel Rauda's GoFundMe
Kylie Jenner is being mercilessly criticized this week after it emerged she only donated $5,000 to her friend's GoFundMe—despite her billionaire status.
The social media star's paltry donation has been surpassed by fellow beauty guru Huda Kattan, who donated twice as much to help pay for Samuel Rauda's medical expenses.
Rauda, a well-known make-up artist and friend of Jenner's, was injured in a car accident on March 14 and has undergone major surgery. His family set up a GoFundMe to cover the $60,000 medical expenses which was shared by Jenner on her Instagram account.
"May God watch over you and protect you @makeupbysamuel," the 23-year-old wrote. "Everyone take a moment to say a prayer for Sam who got into an accident this past weekend. And swipe up to visit his families go fund me."
Per the fundraiser's page, Jenner is seen to have publicly donated $5,000 to the fundraiser that initially had a $10,000 target. Other recognizable names on the donations list include Bella Thorne, who also donated $5,000, and Sofia Richie, who contributed $3,000.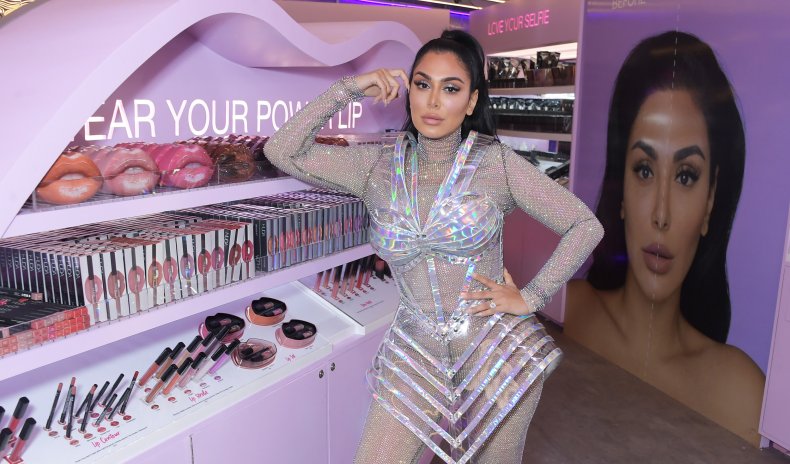 Kattan is the US-Iraqi beauty mogul behind the brand Huda Beauty, and some Twitter users have noticed her quiet donation.
"The best part of this story so far? Huda Kattan (founder of Huda Beauty and a competitor line to Kylie Jenner's) donated $10K," reads one tweet.
Jenner has yet to comment on the backlash she is facing over her timid donation.
In 2020, the reality television star was the year's highest-paid celebrity, according to Forbes, with earnings of $590 million. This has left fans wondering why she simply didn't cover the $60,000 costs for Rauda herself.
Jenner had been dubbed the world's youngest "self-made" billionaire by Forbes in March 2019, but the magazine later removed her from their list of billionaires and amid accusations that the value of her cosmetics company had been inflated.
However, her net worth is now reportedly $700 million, per Forbes—Kattan meanwhile, has a net worth of $510 million, according to the magazine.
"Her makeup artist apparently needs $60k. Kylie Jenner paying that would be like someone with $100k net worth sparing $6.72 to pay off a friend's medical bills," Charlotte Clymer tweeted.
While legal analyst Imani Gandy added: "How in the cinnamon toast f*** is Kylie Jenner asking for donations for her make up artist when she's a goddamn billionaire. Is that broad for real."
Jenner's representatives have been contacted for comment.
This article was updated to reflect that Rauda's GoFundMe had an initial goal of $10,000 that was increased.