Huge Crocodile Shreds Man's Arm As He Wrestled Beast To Survive
A huge crocodile shredded a man's arm while he wrestled the beast to survive in a remote area of Queensland, Australia.
The man in his 40s had been swimming in a waterfall area at Adels Grove in Lawn Hill National Park when the freshwater crocodile attacked, a statement from the LifeFlight Rescue said.
The man told rescuers he "put up a fight" with the crocodile and wrestled the predator until its huge jaws opened and released its grip on him.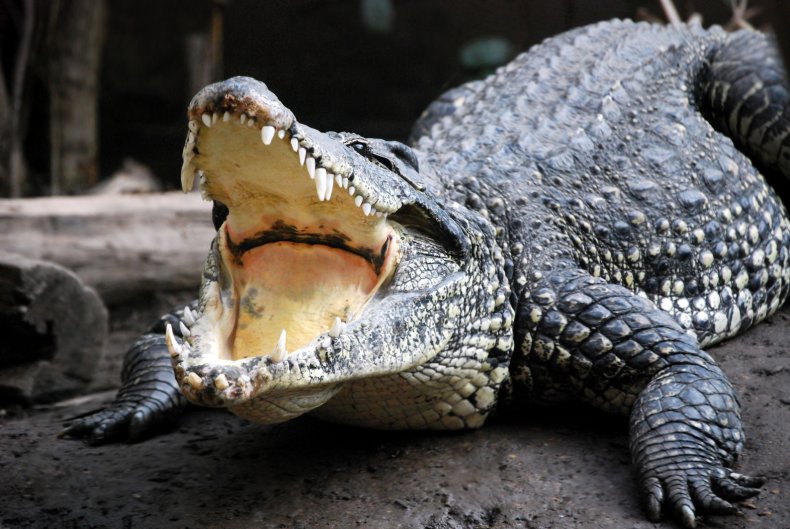 The man had been part of a motorcycle tour of the area at the time of the attack. Other tourists called rescuers, who arrived about an hour after the incident.
"He was in a lot of pain and the puncture wounds from the croc's teeth were very deep," RACQ LifeFlight Rescue Aircrew Officer Greig Allan said in a statement.
The man also suffered injuries on his hands and legs, ABC Australia reported. He is now in stable condition and at the Mount Isa Hospital receiving further treatment for his injuries.
The crocodile was estimated to be between 6 and 9 foot long, LifeFlight Rescue said in a statement. Allan said the man was "lucky to have escaped with his life."
Newsweek has contacted LifeFlight Rescue for further details.
Freshwater crocodiles tend to grow much smaller than saltwater crocodiles. It is rare for them to grow over 8 foot.
Other tourists on the motorcycle tour "did a really good job" at looking after the man while the air ambulance made its way to the location, bandaging up the wounds to limit the bleeding, superintendent for the Queensland Ambulance Service north-west district Brad Hardy told ABC.
"It appears that they were swimming around a waterfall and he went behind the waterfall and there was a freshwater crocodile there," he told the news outlet.
Freshwater crocodiles are native to Australia and are thought to be less aggressive than their saltwater relatives. Saltwater crocodiles are known for being more territorial and more prone to attacking humans when they feel threatened.
Their freshwater cousins usually leave humans alone unless directly provoked, but they have the potential to cause serious injuries.
Crocodile attacks in Australia are rare but not unheard of. In 2017, data from the Australian government estimated there was roughly one attack every year in a 33 year period, starting from 1985.
While freshwater crocodiles rarely attack, it is not the only recent incident.
Earlier in May, a woman was attacked by another large crocodile while swimming in a lake in Western Australia. This freshwater crocodile had already proven a nuisance to humans, so officials took the decision to euthanize the animal to prevent any further attacks.