Man Fights Off 10-Foot Crocodile's Death Roll With His Head in its Jaws
A Belizean fisherman found himself fighting for his life after a 10-foot crocodile attacked while spearfishing on a popular beach.
The incident occurred just before 10 a.m. on April 8 in a popular destination in Caye Caulker, Belize, called The Split where people often snorkel, fish, and swim, according to the Forest Department.
Joshua Young, a 28-year-old Caye Caulker resident, was swimming underwater in search of fish when he felt what he thought was a canoe run into his side, Metro reported.
By the time Young realized it was actually a crocodile, the massive reptile clamped its jaw around Young's head before attempting a "death roll"–an innate movement typically used to dismember and shred prey.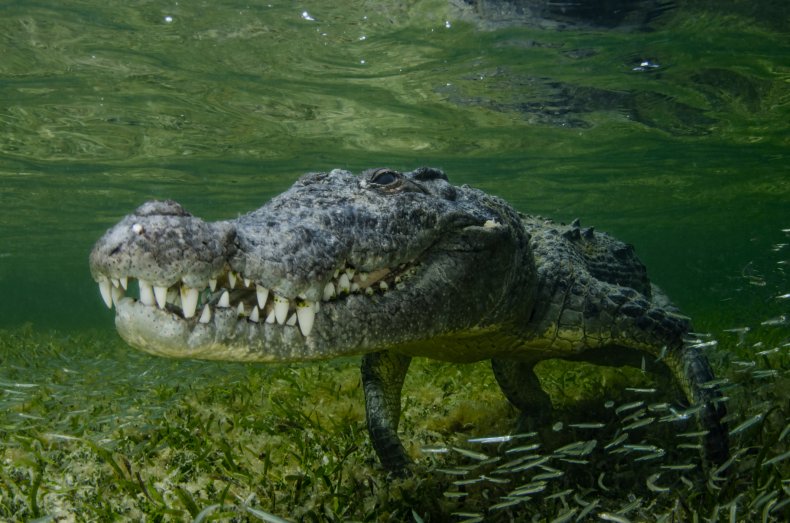 Young was able to swim to shore and bring both himself and the crocodile out of the water where he successfully wrestled it off and was treated for his injuries at a hospital.
According to a GoFundMe set up by Young's friends, he suffered injuries and teeth punctures to his throat, chin, forehead, and hands. Young said he is back home and taking time to rest while he recovers.
Members of ACES Wildlife Rescue Belize–a non-profit organization providing crocodile and human conflict–responded to the attack and aided in searching for the crocodile as well as the Forest Department.
It is important never to approach or attempt to feed a crocodile, ACES says. Although crocodiles commonly spend time on the beaches along Belize, they tend to be shy as long as they are left alone.
However, if a crocodile does approach you, ACES recommends speaking in a loud, firm voice and slowly back away.
ACES advises individuals living in areas with a heavy crocodile population to discard food and fish scraps in sealed containers in order to avoid unwanted conflict.
Newsweek reached out to Joshua Young and ACES Wildlife Rescue for comment.
In Kimberley, Australia, a 38-year-old woman was attacked by a crocodile while swimming in a lake normally considered safe for swimmers. The woman was swimming in Lake Argyle, Western Australia when the eight-foot crocodile bit her leg. She was rushed to the hospital and is in stable condition.
Another crocodile in Kimberley, Australia was caught on camera back in April after it jumped into a couple's small fishing boat.
One tourist in the Philippines was attacked by a 12-foot crocodile while posing for a selfie with the large reptile.
The crocodile lunged at the 68-year-old man before grabbing his left arm and pulling them both into the water. Remarkably, the man was able to get free and received surgery for the injuries to his arm.