Human Feces and Trash Spoil National Parks As Shutdown Rolls on and Federal Workers Sue Government
National parks are seeing the impact of the government shutdown, with reports of overflowing trash and human feces found at sites across the U.S.
John Garder, senior budget director of the National Parks Conservation Association, warned that the ongoing shutdown was a "nightmare scenario" and that there are concerns there will be "significant damage" to natural resources across the country, Agence France-Presse reported.
Read more: Government shutdown update: Here's the Democrats' plan to reopen government when they take over the house in 2019
The partial federal government shutdown began on December 22 after the Trump administration and Democrats failed to reach an agreement on the $5 billion funding that Trump demands to build a border wall between the U.S. and Mexico.
National parks have been closed during other government shutdowns, but this time they have remained open to visitors—without the rangers or staff to keep them running smoothly. "We're afraid that we're going to start seeing significant damage to the natural resources in parks and potentially to historic and other cultural artefacts," Garder said. "We're concerned there'll be impacts to visitors' safety. It's really a nightmare scenario."
On Monday, Yosemite National Park announced it was closing parts of its public areas and campgrounds after they became unsafe. Dakota Snider, who lives in the Yosemite Valley, told the newspaper: "It's a free-for-all. It's so heartbreaking. There is more trash and human waste and disregard for the rules than I've seen in my four years living here."
Parks can be closed when they pose a threat to health and wildlife. In Joshua Tree, authorities suspended all camping after human waste started overflowing from pit toilets.
In a statement about Joshua Tree, National Park Service said: "All campgrounds in the park will be closed effective noon on Wednesday, January 2, 2019. The park is being forced to take this action for health and safety concerns as vault toilets reach capacity. In addition to human waste in public areas, driving off road and other infractions that damage the resource are becoming a problem."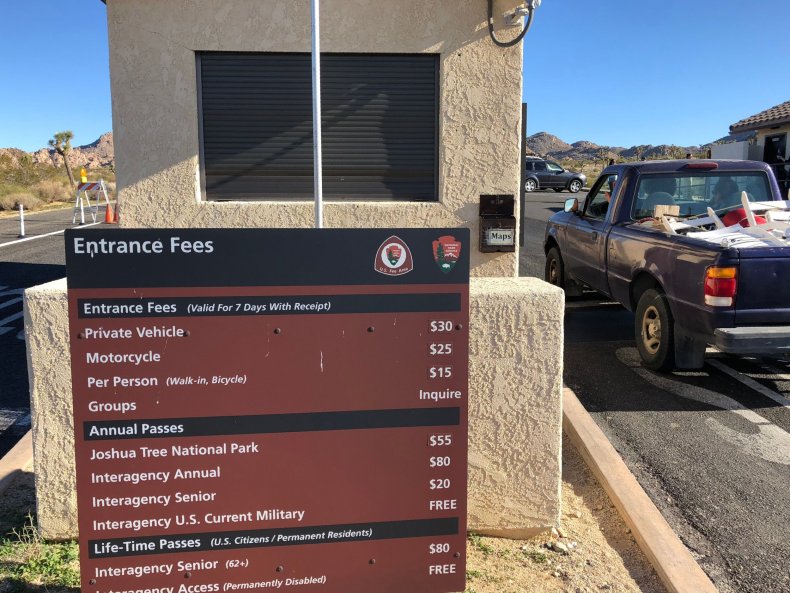 It is hoped the shutdown will come to an end on Thursday when the Democrats take control of the House.
Over the last 10 days, thousands of people have been placed on temporary leave from their government jobs. On Monday, the Federation of Government Employees (AFGE) union announced it was suing the federal government. It claims the government is breaking the law by requiring "essential" people—such as correctional officers, Border Patrol and ICE agents—to work without pay.
"Our members put their lives on the line to keep our country safe," J. David Cox Sr., national president of the AFGE, said in a statement. "Requiring them to work without pay is nothing short of inhumane.
"Positions that are considered 'essential' during a government shutdown are some of the most dangerous jobs in the federal government. They are frontline public safety positions, including many in law enforcement, among other critical roles.
"A substantial number of those working without pay are military veterans. Our nation's heroes, AFGE members and their families deserve the decency of knowing when their next paycheck is coming and that they will be paid for their work. Our intent is to force the government and the administration to make all federal employees whole," said Cox.