Human Remains Are Popping Up in Lake Mead, What Happens Next?
With more human remains found on what was once the lake bed of a megadrought-stricken Lake Mead, many wonder whether more bodies will be uncovered and the circumstances of their deaths elucidated.
Lake Mead—the nation's largest man-made reservoir—is receding at historically low levels as the southwestern U.S. faces a severe drought. Lake Mead provides sustenance to at least 25 million people across Nevada, Arizona, California, and Mexico.
Lake Mead dropped to 30 percent of its full capacity, a new low since it was filled during the Great Depression in the 1930s, according to the Los Angeles Times. Its critical levels have led authorities to pump deeper into the reservoir.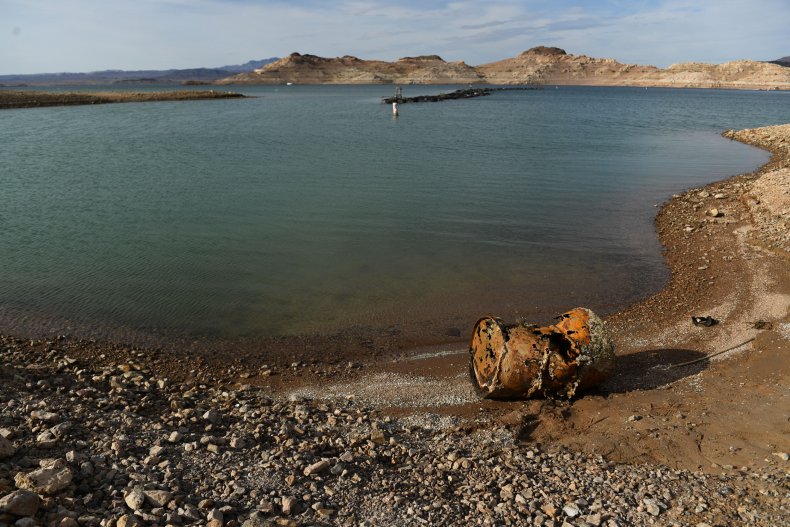 As news broke that Lake Mead's ebbing tides began unveiling corpses, speculation swirled as to how they got there. With Las Vegas' history of mob activity, the lake is now rumored to have been used as a dumping ground for corpses—particularly after a barrel was found with a skeleton inside it on May 1.
Lt. Ray Spencer, who runs the Las Vegas Metropolitan Police Department's (LVMPD) homicide division, told media the body belongs to a male gunshot victim. Based on his clothing and shoes, the man would have been at the bottom of the lake as far back as the mid-1970s or early 1980s.
"Had the water not receded so far, we never make the discovery of this victim," Spencer told FOX5 Las Vegas.
If DNA can be extracted from the remains, the LVMPD's homicide team will attempt to identify the victim and the circumstances of his death.
"It will be a very challenging part of this investigation," Spencer told FOX5.
The process of getting a DNA match will take months. After that, Spencer said, genealogical data will be used to "see if we can make a link between any potential DNA and any living family members so we can start our investigation."
Investigators are also looking to determine the exact year of the man's killing. Spencer said they may enlist the help of experts at the University of Nevada, Las Vegas, or the FBI Laboratory in Quantico, Virginia "to see if they can tell us the erosion of the metal, if that can give us a timeline on how long that metal would take to erode, also some of the sea life that has grown on the barrel, if that is an indication of timeline."
Speaking to KLAS-TV, Spencer predicted more bodies would be found as Lake Mead continues to dry up.
"I think anybody can understand there are probably more bodies that have been dumped in Lake Mead, it's just a matter of, are we able to recover those?" he said.
On Saturday, park rangers responded to the latest discovery of skeletal remains, which were found at Lake Mead's Callville Bay, the National Park Service announced. An investigation is ongoing, and the Clark County Medical Examiner was contacted to determine the cause of death.