Human Trials Are Beginning Early for One Possible Coronavirus Vaccine, Here's Where the Others Stand
Human trials for one potential novel coronavirus vaccine will begin two months earlier than anticipated, Johnson & Johnson announced Wednesday.
The vaccine the company is creating through Janssen Pharmaceuticals, its drug development arm, joins 10 others that have already entered the clinical stage of development, which means they have received necessary approvals to begin testing on human subjects.
"Based on the strength of the preclinical data we have seen so far and interactions with the regulatory authorities, we have been able to further accelerate the clinical development of our investigational SARS-CoV-2 vaccine," Paul Stoffels, the chief scientific officer with Johnson & Johnson, said in a Wednesday news release.
In the second half of July, the company said its vaccine will be tested in humans for the first time in the U.S. and in Belgium. The company previously estimated it would begin human trials in September. Adults between the ages of 18 and 55 will be tested, the release said, as well as those 65 and older.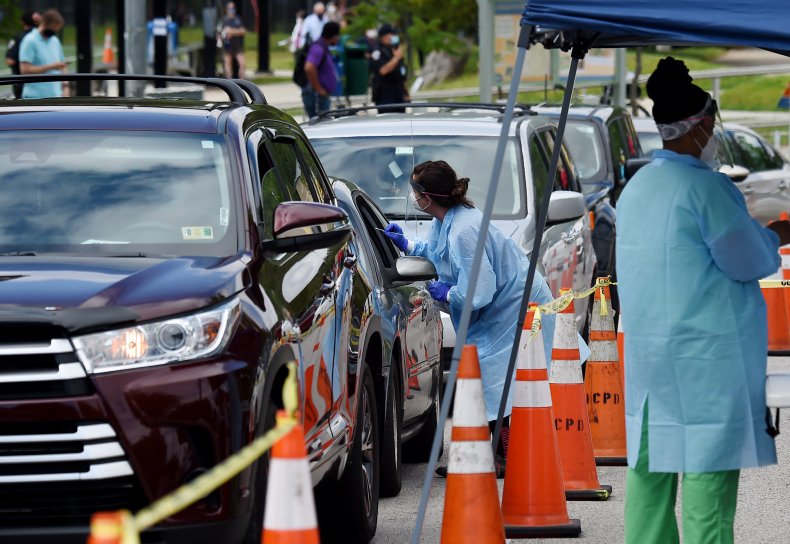 Stoffels said the company was also working to boost its production and manufacturing capacities in case the human trials are successful. "Our goal is to ensure we can deliver a vaccine to the world and protect people everywhere from this pandemic," he said in the release.
According to the World Health Organization (WHO), there are 125 other potential vaccines in the early stages of development that precede the clinical trial phase. Janssen Pharmaceuticals' vaccine was included on the WHO's latest list of pre-clinical vaccines, which was published one day before Johnson & Johnson made its announcement about the vaccine's anticipated acceleration.
By Wednesday, a tracker created by Johns Hopkins University showed more than 7.2 million COVID-19 cases had been confirmed worldwide. As pharmaceutical companies around the world race to be first to create the highly anticipated vaccine, the focus has zeroed in on the companies that received approval to begin testing in humans in the U.S.
Though health officials warned during the early days of the pandemic it would likely take 18 to 24 months before a vaccine went through the necessary trial and approval process, international efforts by pharmaceutical teams made many hopeful one could be successfully created even sooner. Last month, Dr. Anthony Fauci, the director of the National Institute of Allergy and Infectious Diseases and member of the White House's COVID-19 task force, said it was possible a vaccine would be ready by the end of 2020.
To fuel vaccine development efforts, President Donald Trump's administration introduced "Occupation Warp Speed" in mid-May, a program that aims to support companies creating promising vaccine candidates. Shortly after announcing the program, the administration said it would help AstraZeneca, a pharmaceutical company headquartered in England, in its efforts to make 300 million doses of the vaccine it currently has in human trials available by October.
The other nine potential vaccines that have been approved to begin human trials reveal a race between research groups in the U.S. and in China. Overseas, China's Sinopharm Group is working on two vaccine candidates and CanSino Biologics, Sinovac Biotech and the Chinese Academy of Medical Sciences are each working on their own in collaboration with research teams. Moderna, Novavax, Pfizer and Inovio Pharmaceuticals are the American companies that have also graduated to the clinical trials phase in their pursuits of a COVID-19 vaccine, according to WHO.
Though the approval for several vaccine development teams to move forward with clinical trials indicates a COVID-19 vaccine could be on the way, Fauci and other health officials have in recent days reminded the public that vaccine candidates frequently do not make it out of their clinical trials successfully. According to a paper published in 2013 by the research journal PLOS ONE, only about 6 percent of vaccines ascend from the trial process and become available to patients.
The traditionally long development process and low success rates of vaccine candidates are part of why the U.S. is taking steps to assist companies that might have leads on vaccines that could work, Fauci said last month. Another reason is the sheer volume of vaccines that will be needed around the world, meaning one vaccine will likely not be enough to protect the global population from the virus, according to a recent paper co-authored by Fauci.
Johnson & Johnson did not respond to Newsweek's request for further comment in time for publication.