Hundreds of Heavily-Armed Gun Activists Surround Michigan State Capitol
Hundreds of pro-gun activists have demonstrated at Michigan's State Capitol in support of the right to open-carry firearms inside the government building.
Heavily-armed protestors, some waving Confederate flags and Trump campaign banners, stood on the lawn outside the capitol building in Lansing brandishing AR-15 firearms and wearing body armour.
Among those in attendance were members of the Proud Boys—a far-right, all-male organization with a history of violence against political opponents—and the Michigan Liberty Militia, a paramilitary group.
After two hours of speeches a group gathered on the steps of the Hall of Justice chanting "U-S-A" and "four more years" for Donald Trump.
Estimates put the number attending the "Second Amendment March," which caused the legislative session to be cancelled, at between 200 and 1,000.
Tom Lambert, former president of Michigan Open Carry, addressed the crowd. "Whether you decide to open carry or concealed carry, that is your choice. It is not my job to make that decision for you," M Live quoted him as saying. "It is not their job to make that decision for you either."
Commenting on the protests, Democratic Senator Dayna Polehanki, who represents Michigan's 7th District, said: "While I did not relish the thought of facing more armed men in the senate gallery on Thursday, we can't keep canceling session ahead of these armed events.
"We were elected to work for our constituents, and this is preventing us from doing that. Ban guns from the Capitol now."
Similar protests were staged earlier in the year when demonstrators opposed to Governor Gretchen Whitmer's coronavirus shutdown entered the building and demanded a stay-at-home mandate be lifted so that businesses could reopen.
Some armed protesters at April's "American Patriot Rally" reportedly tried to storm the chamber but were blocked by police.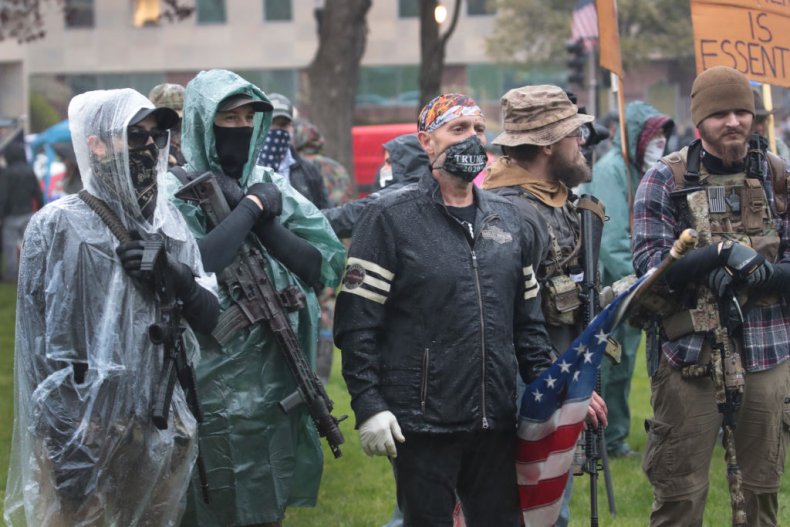 Michigan Senate Democrats tweeted earlier this week that "legislators, staff, children & teachers shouldn't have to fear guns in the Capitol."
It came as a six-person panel voted down a motion to ban guns in Michigan's Capitol and were evenly split on a bill to prohibit open carry firearms inside the building.
Commissioners said they first wanted to discuss funding for enforcing any new law before voting on it.
"I know one of the criticisms that this commission has received is there seems to be an appearance that we are just trying to stall, or drag our feet on this issue. I can assure you that is not the case," said Commissioner William Kandler.