Hundreds of Boys Detained in Syrian Prison Missing After Prison Break, Riot
The Human Rights Watch (HRW) said hundreds of boys that were detained in a Syrian prison for Islamic State members and their families are now missing following a 10-day siege by IS forces.
The boys, who were children of jihadi parents, were detained at al-Sinaa prison after their governments failed to repatriate them due to concerns that they will show "extremist tendencies," though it is not clear how many were trained by IS or had committed crimes, according to the Associated Press. In a report released Friday, the HRW said about 700 boys, with some as young as 12 years old, were being held at the time, and it is currently unclear how many had died.
In a statement released Monday, the Syrian Democratic Forces (SDF) said it regained full control of the prison on January 30, and that 374 "terrorist detainees and attackers" had died. It did not specify how many of these 374 were children. This comes one day after the ISIS leader Abu Ibrahim al-Hashimi al-Qurayshi died by a self-inflicted explosion during a U.S. counterterrorism raid in Syria.
Mazlum Kobani, the SDF's leader, told the New York Times "a very small number" of boys had been killed, adding that some have been rearrested and others escaped with the adults.
The HRW's report called for the SDF to be more specific on the details of the battle's aftermath and to allow international humanitarian groups to visit the prison.
"The detaining authorities in northeast Syria should end their silence on the fate of these detainees, including hundreds of children who were victims of ISIS," Letta Tayler, associate crisis and conflict director for the group, said.
"Everyone is in safe places. They receive good care," was all Siyamend Ali, media commander for the SDF, told the HRW, according to the report.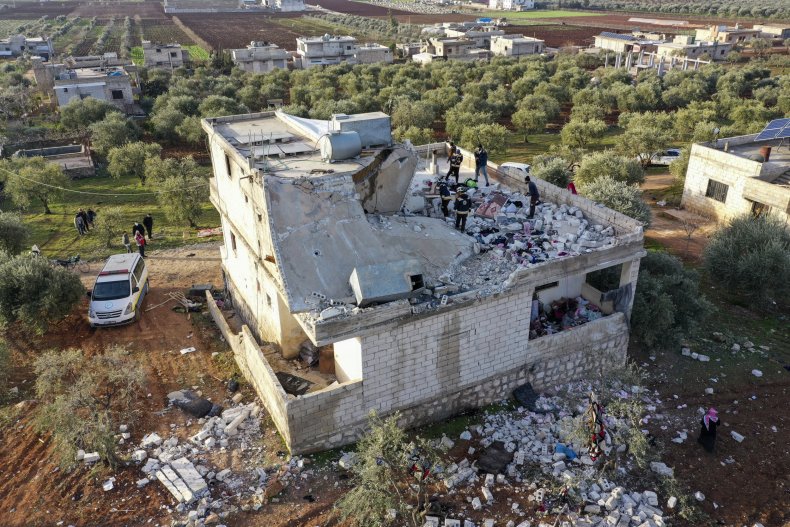 Firsthand accounts from other people inside the prison midway through the raid outlined in the report said children died in the battle. An unnamed Canadian detainee told the rights group he had seen "tens" of children die, adding that one of them died in his arms.
A 17-year-old Australian detainee said he saw at least 15 to 20 children die, including two of his own friends.
"There was shooting at our building [cell block]," he said. "I ran out with my friends and on the way my friends got killed in front of me, a 14-year-old, a 15-year-old..."
An 18-year-old detainee who told the HRW he is a U.S. citizen said the boys in the prison have run out of food, water and medicine during the siege.
"We're starving. We're thirsty," he said. "There's no food, there's no water, there's no medical supplies at all. We're scared. We just need someone to help us get out of here, to help get us to safety."