Hundreds of California Students in Quarantine in First Week of School: 'A Perfect Storm'
With Friday being the end of the first week of classes for many schools, hundreds of students in Southern California school districts are in quarantine after testing positive or being exposed to someone with COVID-19.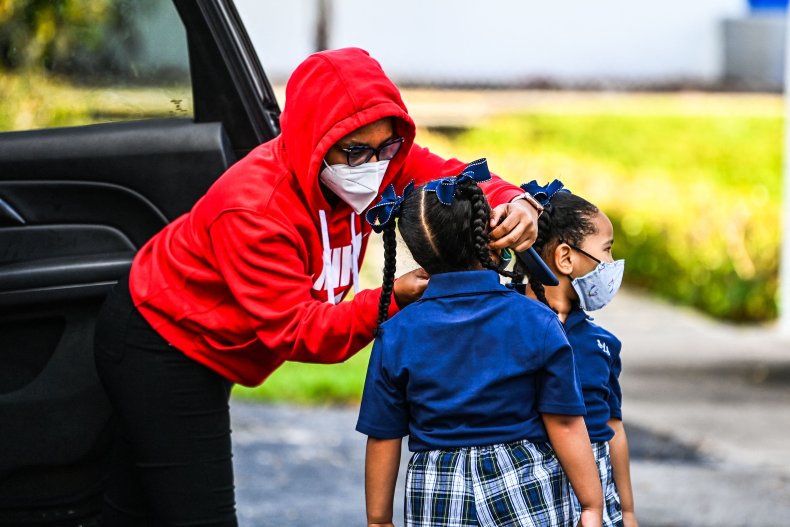 Los Angeles' CW-affiliated station KTLA reported 500 students in Lake Elsinore's school district, located in the western part of Riverside County, have already been sent home to quarantine. The Press-Enterprise of Riverside wrote that approximately 300 of those students were from one school, Elsinore High School, which began classes August 11.
The Press-Enterprise obtained an email from Lake Elsinore Unified School District spokesperson Melissa Valdez that addressed the situation. The newspaper reported she wrote, "This exposure happening during the first week of school provided a perfect storm environment."
"Since students have not been on campus for the past year many students were not able to identify classmates for contact tracing, which required whole classrooms to be impacted," Valdez continued, according to The Press-Enterprise.
Valdez also reportedly said students who are quarantined at home can participate in online education and home assignments, so that they don't fall too far behind.
California Governor Gavin Newsom issued a mask mandate for all of the state's K-12 schools, which led to some protests. Orange County's Board of Education filed a petition to overturn the mandate last week, which was denied by California's Supreme Court on Wednesday.
The Delta variant caused a surge in COVID-19 cases throughout the country this summer, including in California. Schools have been struggling with how to fight rising case numbers as students return to classrooms.
Ontario Christian High School in San Bernardino County opted to delay the first day of school after nearly one-third of its teachers became too sick to report to work. The school was to open its door for students on August 18 but has now pushed that date to August 30.
Though the Ontario school did not mention coronavirus or COVID-19 in its announcement about the ill teachers, San Bernardino County has seen a dramatic spike in COVID-19 cases recently. On August 16, the county reported 5,618 new cases from a week earlier, an increase of 59 percent, according to the San Bernardino Sun.
On Thursday, the Los Angeles Daily News wrote that other schools in the Southern California region had reported students needing to quarantine at home. The Saugus Union School District said 74 students who were in quarantine, and 43 students from the Pasadena Unified School District were also home due to either testing positive for COVID or having close exposure to someone who had.
On August 17, Culver City Unified School District became the first school district in California to require vaccinations for eligible students. Superintendent Quoc Tran announced that students aged 12 and older, along with eligible staff, have until November 19 to provide proof of vaccination.