'Hundreds' of Dead Fish Found After Ohio Train Releases Toxic Chemicals
Hundreds of fish were discovered dead in a stream running through East Palestine, Ohio, after a Norfolk Southern Railway train derailed more than a week ago.
Officials decided to conduct a controlled burn of the toxic chemicals contained within the train cars to prevent an explosion that could potentially cause more harm. The burn released an ominous plume of black smoke in the air. Five of the train cars contained vinyl chloride, a human carcinogen.
An evacuation order has since been lifted, but residents are still recognizing the devastating effects of the derailment, specifically the impacts on wildlife.
Two days after the controlled burn began on February 6, Pittsburg news station KDKA reported that hundreds of fish were found "belly up" in the Leslie Run stream.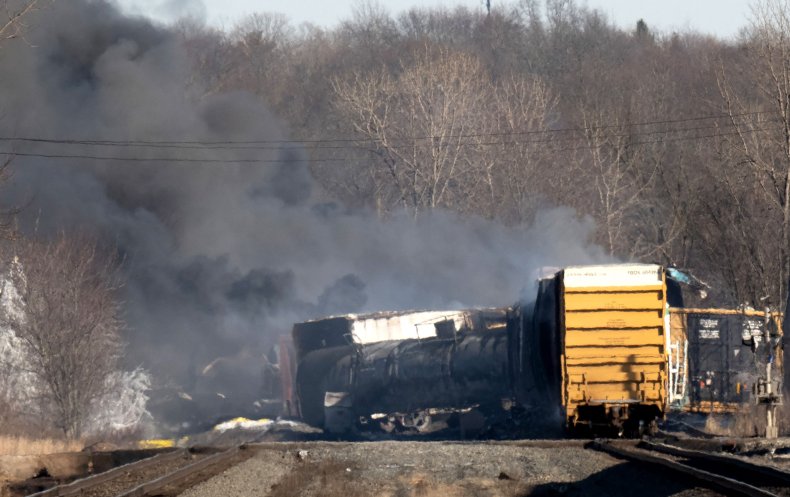 KDKA shared a clip of Ohio officials speaking at a press conference, where one official admitted that there were impacts to wildlife after the chemical spill.
"The impact to the fish—yes, there was an impact to those," he said.
The official went on to say that groundwater was safe to use, but environmental mitigation tools were being used to sift out any potential chemicals that made their way into the stream.
The fish aren't the only animals fatally impacted. One wildlife rescuer's fox died in his arms after the chemicals plumed into the air, and another fox broke its leg when fleeing after the train derailment caused a loud noise.
Taylor Holzer, who lives near East Palestine but keeps his foxes and other exotic animals at a property inside the evacuation zone, told Newsweek that he was unable to evacuate the animals in time. He brought four of the sickest foxes to the vet. One has since been released. Holzer said that other animals have been impacted as well, such as coyotes and wild birds.
Many residents took to social media to learn the detrimental effects of vinyl chloride burn. Norfolk Southern Railway Regional Manager Hazardous Materials Scott Deutsch defended the decision and said by burning the chemicals during the day, fumes could "disperse more quickly" according to Cleveland.com. If the rail cars had exploded, debris would be unable to be controlled and could cause more harm, according to Deutsch.
Officials monitored the air quality and eventually lifted the evacuation order. However, residents are posting on social media saying they are concerned about the lingering effects and are unsure if they should trust government officials when discussing water quality.
University of Notre Dame Associate Professor Kyle Doudrick told Newsweek that the extent of the harmful effects depends on how much vinyl chloride was released.
"Vinyl chloride is mobile in water, which means if it does enter the ground or surface water that it can easily move downstream," Doudrick said, noting that vinyl chloride has a short half-life in the atmosphere, so much of the concern will be regarding short-term impacts rather than long-term.
"Both the aquatic life and atmospheric impacts would depend on the amount that was spilled," he said.
Newsweek reached out to Norfolk Southern Railway for comment.