Ohio Avoids 'Tragedy of Epic Proportions' as Train Derailment Evac Lifted
Residents of the town of East Palestine in Ohio, near the border with Pennsylvania, have been allowed to return to their homes following a train derailment that led to a toxic chemical leak.
Hundreds of residents from the area surrounding a railroad were forced to evacuate on Friday. Pennsylvania Governor Josh Shapiro on Monday urged residents in his state within a 1-mile radius to evacuate and those within 2 miles to shelter in place.
Officials said they had decided to initiate a controlled burn of vinyl chloride due to the risk of tanker cars exploding. They warned, however, that it would send toxic gases phosgene—used during World War I—and hydrogen chloride into the atmosphere.
In a joint decision with Ohio Governor Mike DeWine, the evacuation order was on Wednesday lifted as monitoring hadn't found levels of toxic chemicals to be above safe limits in either the air or water. Monitoring is ongoing.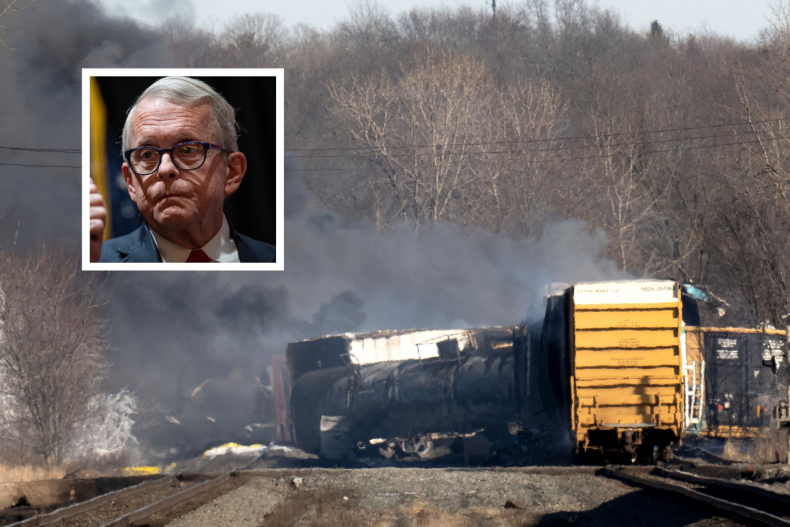 "We came together as a community and put safety first, avoiding what could have been a tragedy of epic proportions," Keith Drabick, East Palestine's fire chief, told a press conference.
He said that members of the U.S. Environmental Protection Agency, the Ohio EPA and members of the Ohio National Guard's 52nd civil support team had collected air and water samples, which were analyzed overnight. James Justice of the U.S. EPA said they had used "hundreds and hundreds" of datapoints, including both static and hand-held detectors, around the site.
"That controlled burn was so important to get right, because there was potential for those contaminants to be released," Justice said. He added that there had been "a few detections right at the site, but very few detections," and "all below health screening levels."
Asked about the long-term risks of contaminants in the air, he admitted "there may be issues with that," but noted: "The primary issue with air issues is fire; the fire is out. There may be some off-gassing from pull product."
When asked to comment, the Pennsylvania Department of Health told Newsweek it "remains committed to working with colleagues in Ohio as well as federal officials from the EPA and Agency for Toxic Substances and Disease Registry (ATSDR) to provide residents with additional information and updates in the days and weeks ahead." The Ohio Department of Health referred to the press conference.
Experts and first responders were able to puncture the rail cars that had come off the tracks after noticing drastic temperature changes within the cars, and allow the contents to flow into a trench before burning it off. An explosion would have sent shrapnel flying into residential areas.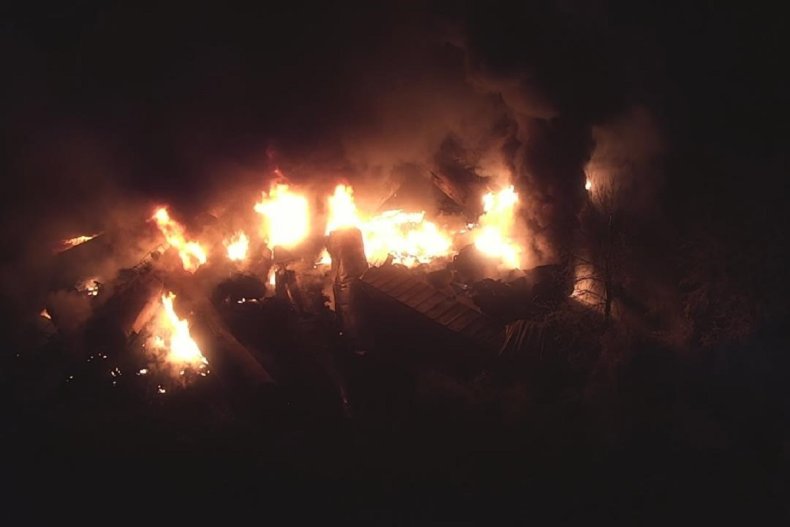 Air quality monitoring will continue in the area in the coming days, and Norfolk Southern Railroad has hired an independent contractor to take air samples within residents' homes, officials said, and those uncomfortable returning to their homes could claim hotel costs from the rail firm.
"The readings are basically similar to what they would have expected prior to the train wreck," DeWine said.
With the fire extinguished, the main source of contaminants is now the material left over from the spill; "grossly contaminated" material will be removed this week. Soil samples would also be taken.
"The unfortunate side of these incidents at the onset is material does, and in this case has, entered the waterway," Kirk Kollar of the Ohio EPA said. "Actions were taken to minimize that."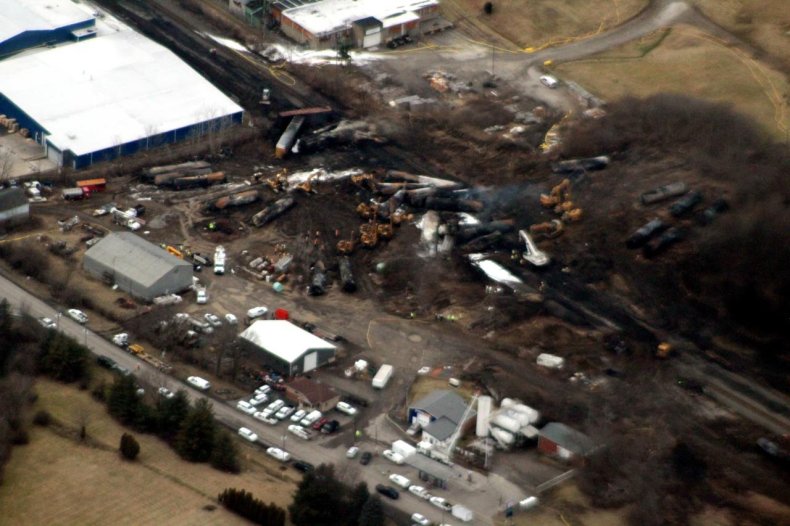 He noted that the levels observed "were immediately toxic to fish," but the data as of Wednesday showed that there was no risk for drinking water.
Sampling of residents' private wells would take place this week that Kollar said "will confirm that what is in your well is the same as what it was prior to the spill." In the meantime, locals could acquire bottled water from Norfolk Southern Railroad.
Monitoring of water toxicity was taking place in Sulphur Run, Lesley Run, Little Beaver Creek and even the Ohio River; the U.S. EPA said that spilt material had leaked into Sulphur Run. Jeremy Carter, law operations manager for northeast Ohio at the Department of Natural Resources, told reporters that water in the Ohio River was being monitored all the way down to Cincinnati.
"Yes there were detections, but again they remained at safe levels," Kollar said. "The toxicity of the material that entered the waterway wasn't an acute and immediate effect to the wildlife."
The Ohio EPA referred Newsweek to the U.S. EPA's updates on the incident, which said that particulate matter was the only air contaminant detected above screening levels at 9 p.m. ET on Tuesday. The Pennsylvania EPA was also contacted for comment.