Hundreds of Truck Drivers Stuck at British Border Due to New COVID Strain
Hundreds of trucks were stranded on the roadside a few miles north of the British port of Dover on Monday.
The traffic backup followed Prime Minister Boris Johnson's announcement on Saturday to lock down some areas of the nation, which sparked strict travel restrictions from various European countries.
In a press conference Monday afternoon, U.K. Transport Secretary Grant Shapps said at its height the backup saw about 500 truckers stranded. However, that number has decreased to around 170.
Shapps noted they have been successful in "queuing effectively" to fight the backup. However, some truckers will be diverted to holding areas in Kent, England.
Stanislaw Olbrich, a 55-year-old truck driver who has been trucking since 2004, bringing freight to Britain from Poland, was one of the many stranded in the town of Ashford in Kent.
"I take freight to Britain and I can't go back home because of the stupid virus. But, I don't know if it is the virus—I think it's politics," Olbrich told Reuters at Ashford International Truckstop nearly 24 miles north of Dover.
"It's very difficult for me because I am away. My chances of going home for Christmas are going down," Olbrich continued. "It's stupid and I am nervous and unhappy about that."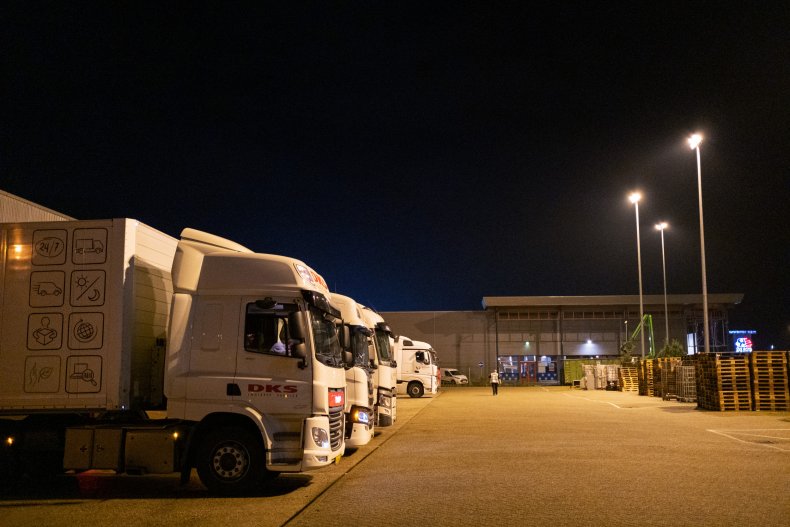 Johnson's lockdown announcement came after scientists discovered a new variant of the coronavirus in England's southeast that could be up to 70 percent more transmissible. Although the new strain, VUI202012/01, is fast-moving, scientists said, it so far doesn't appear to be deadlier.
About 120 countries now require a negative test before arriving from the U.K., and many others have closed their borders entirely.
Canada, Germany, Italy, the Netherlands, France, Portugal, Switzerland and Ireland halted travel from the U.K. on Sunday.
Jeremy Farrar, a member of the U.K.'s Scientific Advisory Group for Emergencies (SAGE), wrote on Twitter Saturday that the new strain was worrying and cause for global concern.
"The new strain of COVID-19 is worrying and a real cause for concern and extra caution. Research is ongoing to understand more, but acting urgently now is critical," tweeted Farrar. "There is no part of the U.K. and globally that should not be concerned. As in many countries, the situation is fragile."
The new strain came as the world surpassed 77.1 million cases of coronavirus and 1.69 million deaths, according to data from Johns Hopkins University on Monday. As for the U.K., the nation has reported over 2 million cases and 67,700 deaths.
Newsweek reached out to the U.K.'s Transport Secretary but didn't hear back in time for publication.