White supremacists, neo-Nazis and members of the so-called alt-right gathered on Sunday evening at a "Unite the Right" march in Washington, D.C.
The march went from the Foggy Bottom metro station to Lafayette Square park, across the street from the White House. It marked the one-year anniversary of the "Unite the Right" rally in Charlottesville, Virginia, which left one counterprotester dead and dozens injured. Heather Heyer, 32, was killed on August 12, 2017, when a suspected neo-Nazi drove his vehicle into a crowd of protesters.
The white nationalists attending Sunday's protest were far outnumbered by counterdemonstrations and local residents. Before the rally, approximately 50 counterprotesters had walked through downtown Charlottesville toting a banner that read, "Good night, white pride."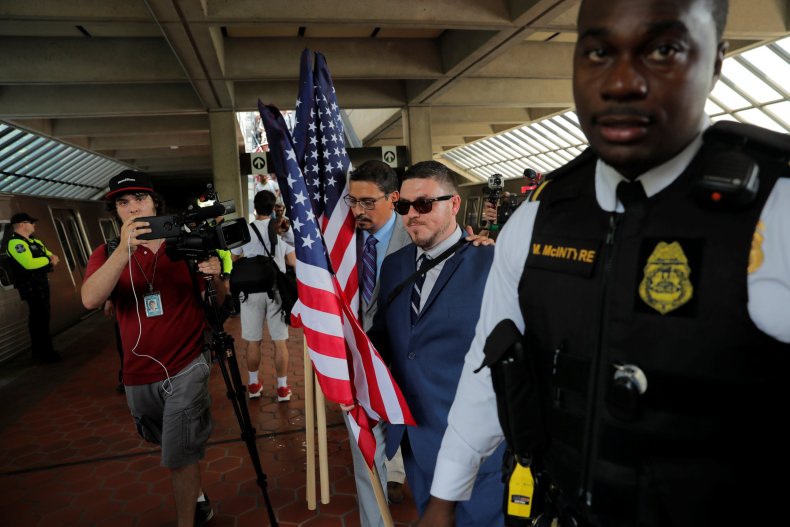 Among those scheduled to speak at the event, according to the official permit application, were former Ku Klux Klan leader David Duke, as well as Thomas Kawczynski, a town manager from Jackman, Maine, who had endorsed the idea that races should "voluntarily separate," and John Fitzgerald, a former GOP congressional candidate and Holocaust denier.
Virginia Governor Ralph Northam had ordered that parts of northern Virginia and Charlottesville be placed under a state of emergency, saying it would be a way to prepare the Virginia National Guard and other security forces in case violence broke out.
President Donald Trump drew significant backlash after the Charlottesville rally last year, as he appeared reluctant to criticize the Unite the Right demonstrators, many of whom openly supported his presidential bid and likely felt emboldened by his 2016 election victory. The president said there were "some very fine people on both sides" and argued that the press had treated the right-wing protesters "absolutely unfairly."
On Saturday, in advance of the anniversary rally, Trump posted another message that condemned racism but stopped short of calling out the white supremacists.
"The riots in Charlottesville a year ago resulted in senseless death and division. We must come together as a nation. I condemn all types of racism and acts of violence," Trump wrote in a Twitter post. "Peace to ALL Americans!"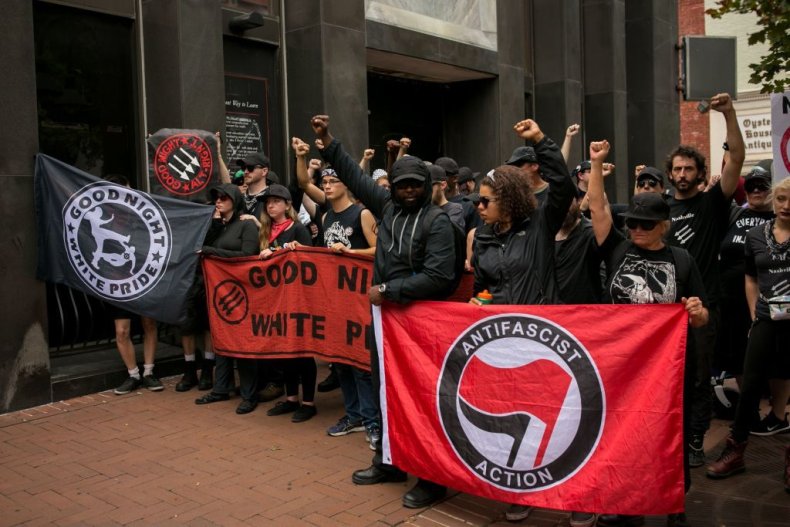 Jason Kessler, who organized last year's rally and secured the permit for this year's event as well, said that police in Charlottesville "screwed" him and other white nationalists last year in an interview last month. He also said that white people were "up against a wall" and argued that Jews "control the currency" and are "overrepresented in Congress and on the Supreme Court," in an interview with Stormfront Action, a white-nationalist online radio show.
"What's happening to us is unjust right now," Kessler told listeners, The Washington Post reported. "That's why I don't want to back down."
But counterdemonstrators, who were expected to significantly outnumber the white nationalists, didn't plan on backing down either. Hundreds packed into the areas where the Sunday rally took place.
"If we don't say, 'Not here, not now,' this violence will keep happening on our watch," Constance Young, who was among those who survived the car attack that killed Heyer last year, said on Sunday, The Guardian reported.
"We still here, we still strong, fighting white supremacy until it's gone," counterdemonstrators chanted.