Hunter Biden's Access to Classified Documents in Delaware Questioned
Republicans are speculating that the classified documents kept by President Joe Biden at his Delaware home may have been reviewed by the president's son Hunter Biden.
The White House confirmed on Thursday that classified documents dating back to the Obama administration had been found at the president's private residence in Wilmington.
That revelation came only days after it was announced that an initial batch of classified documents from Biden's time as vice president had been found in an office at Penn Biden Center in Washington, D.C.
Biden defended the discovery at his private home by insisting that he treats "classified materials seriously" and noting that the documents were inside a "locked" garage. Attorney General Merrick Garland appointed a special counsel to look into the Biden document finds later in the day.
Republicans have argued that there is a double standard regarding the mishandling of government records. Some have demanded that the FBI raid Biden's home to look for more classified documents, as happened last summer at the Mar-a-Lago home of former President Donald Trump.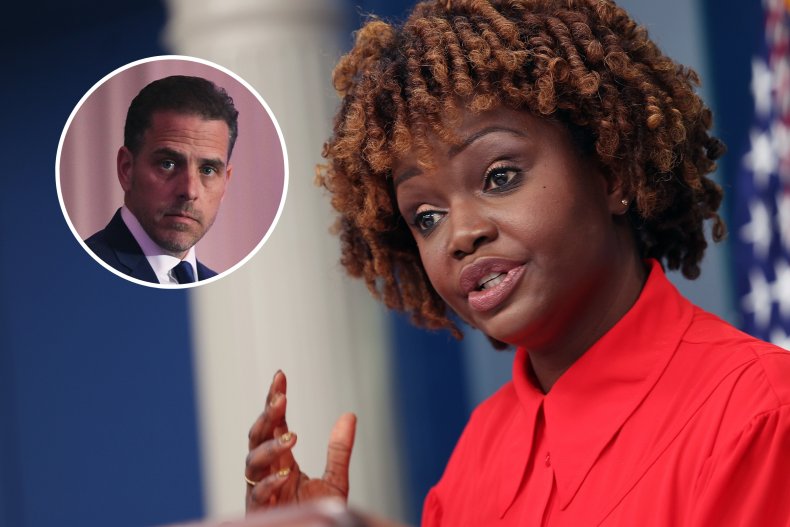 Following the new discovery in Delaware, a number of prominent conservatives floated conspiracy-laden suggestions that Hunter Biden may have seen the documents, although there is no evidence to suggest that he did.
"Given his extensive ties to China, Russia, and Ukraine, did Hunter Biden have access to Joe Biden's garage and therefore the classified documents?" Donald Trump Jr. tweeted.
"Gosh I hope Biden didn't let Hunter drive the Corvette," tweeted conservative commentator Liz Wheeler. "Hunter might've found the classified documents. Have we checked Hunter's naked crack-smoking Russian hooker videos for Biden's classified documents yet?"
"Did Hunter Biden get a look at the classified documents about Ukraine his father happened to have laying around his Corvette?" conservative author and activist Brigitte Gabriel tweeted. "The American people deserve to know."
Some also demanded that the White House release "visitor logs" to Biden's private home, with GOP Representative Lance Gooden of Texas writing the president a letter demanding the release of the logs.
"Today, we learned that Biden was keeping classified documents in the garage of his Delaware home," Gooden tweeted while sharing the letter. "However, the Biden WH is still shielding the Visitor Logs from that home. The American people deserve to know who had access to that garage."
"Apparently now we know why they've been so secretive about the visitor logs at Joe Biden's home," Donald Trump Jr. tweeted in response to Gooden. "Don't Americans deserve to know? If it was Trump they'd be clamoring for it!"
"How many times did Hunter Biden visit Joe Biden's Wilmington home with the classified docs and the Corvette?" tweeted conservative activist Charlie Kirk. "Release the visitor logs!"
As a private residence, it is not clear that any visitor logs would be kept at Biden's home in Delaware. Regardless of any records, the possibility that Hunter Biden visited his father's home at any point during the roughly six years since he was vice president seems far from remote.
However, there is little reason to believe that Hunter Biden would have reviewed the documents during a visit with his father.
Earlier this week, Donald Trump claimed without evidence that Chinese agents "saw" the classified documents that were stored at Penn Biden Center.
The status of any visitor logs taken at the residences of Trump, who is facing potential criminal indictments over his own classified documents scandal, is unclear.
In 2017, a watchdog group sued the then-president to release visitor logs from Mar-a-Lago, which is a private club in addition to being Trump's private residence. The Secret Service later said that the names of visitors could not be released because no such log existed.
As part of the same lawsuit, the Department of Homeland Security said that there were no visitor logs for Trump Tower in New York City, which was still serving as Trump's primary private residence at the time.
Trump also refused to publicly release White House visitor logs during his presidency, prompting some to criticize his administration over a lack of transparency. The Biden White House publicly releases White House visitor logs online every month.
During a press conference on Thursday, a Fox News reporter asked White House press secretary Karine Jean-Pierre when the Biden administration would "release a log of visitors to the Wilmington house."
Jean-Pierre did not answer the question directly or indicate whether a log existed, while instead pointing out how current White House policy on its own visitor log differed from that of the Trump administration.
"We did something that the last White House got rid of," she said. "Which is instituting the White House logs. Did you ask the last administration why they got rid of the White House logs?"
Newsweek has reached out to the White House for comment.