Hunter Biden's Ex-Wife Urges: Don't Bury 'Head in Sand' on Family Finances
Hunter Biden's ex-wife has urged people not to put their "head in the sand" about family finances as she discussed her relationship with President Joe Biden's son, Hunter.
Kathleen Buhle spoke to ABC's Good Morning America about her 24-year marriage to Hunter Biden, including his "struggling under a massive drug addiction," and the ongoing investigation into his tax affairs.
She said how Biden told her, after he returned from rehab, in 2003 that they owed taxes but had set up a payment plan and "he wasn't worried."
Biden revealed that he was the subject of an investigation into his taxes and foreign business dealings in 2020. The president's son has not been charged with any crime.
But those business dealings have been the target of Republican criticism, with some calling for investigations into Hunter Biden and his father.
Part of that investigation involves Biden's work with Ukrainian natural gas company Burisma and payments he may have received while serving on the company's board of directors.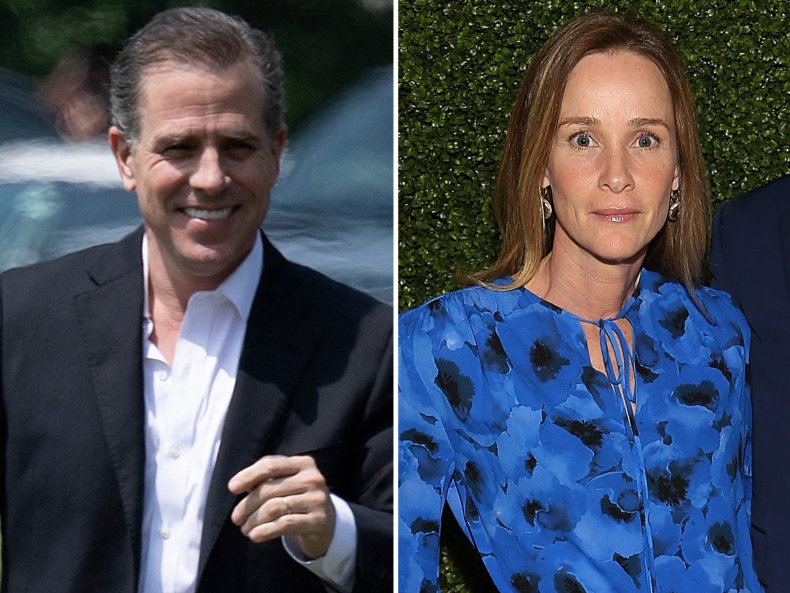 Buhle, who is promoting her new memoir, told ABC's Amy Robach she had "ceded all financial control to my husband."
Asked why, Buhle replied: "I liked the nice things. And I didn't want to think about the costs at which they were coming."
She added how "unfair that was to Hunter and how unhealthy that was for me."
Asked if she would have anything to say if called to testify against her ex-husband, she replied, "No. I have buried my head in the sand.
"I really hope that's a lesson that women hear. Understand your finances, take responsibility for them."
Robach asked Buhle about previous comments Hunter Biden had made suggesting he would not have been as successful if his name wasn't Biden and Buhle replied that it was difficult for a person to "parse out what parts of their life came from their parents."
That was "not a healthy exercise," she added.
Hunter Biden and Kathleen Buhle divorced in 2017 and have three daughters. Biden began dating Hallie Biden, the widow of his late brother Beau Biden, following his divorce from Buhle.
The relationship between Hunter Biden and Hallie Biden had reportedly ended in 2019—the same year Biden's father, then-Vice President Joe Biden, officially launched his successful campaign for president.
Joe Biden spoke to Page Six about the relationship in 2017, saying: "We are all lucky that Hunter and Hallie found each other as they were putting their lives together again after such sadness."
"They have mine and Jill's full and complete support and we are happy for them," he said.