How Much Did Exxon Make Last Year? Biden Demands Oil Giant Pay Its Taxes
U.S. President Joe Biden on Friday called on ExxonMobil Corporation to start investing and paying more in taxes.
"Why don't you tell them what Exxon's profits were this year? This quarter? Exxon made more money than God this year," Biden said during an appearance at the Port of Los Angeles when asked about oil company profits.
On February 1, Exxon announced it had made $23 billion in earnings in 2021. Of that sum, $8.9 billion came from the fourth quarter. At the end of April, Exxon reported it had made $5.5 billion during the first quarter of 2022. That figure was reportedly double the earnings it made during the same period last year.
Biden's comments came after the Labor Department released data Friday morning that showed the consumer price index rose 1 percent last month and 8.6 percent in the 12-month stretch ending in May. The 8.6 increase is the largest 12-month rise since 1981.
Biden has addressed high inflation and pressed Congress to pass tax reform that would see large corporations pay more in taxes. On Friday, he named Exxon as one such company that he feels should face higher taxes.
"Exxon, start investing," Biden said. "Start paying your taxes."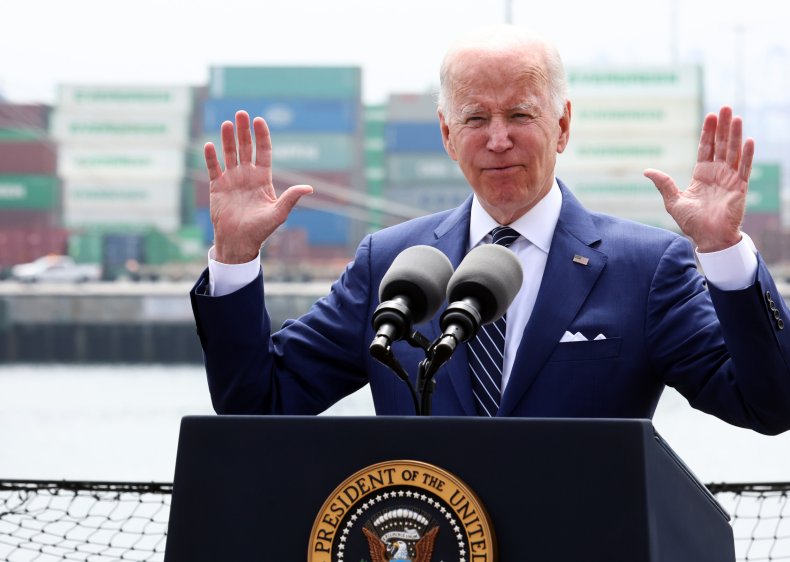 Biden also pushed for increased domestic drilling, noting there are currently more than "9,000 permits to drill." However, he said that oil companies "are not drilling."
"Why aren't they drilling? Because they make more money not producing more oil. The price goes up, number one," the president said. "Number two, the reason they are not drilling is they are buying back their own stock, [which] should be taxed quite frankly. Buying back their own stock and making no new investments."
Biden also took aim at foreign shipping companies. He said he has called on Congress to "crack down" on foreign-owned shipping companies that are raising prices despite still raking in $190 billion in profit.
"I have to admit to you, a lot of us elected officials have been in office for a while. Every once in a while, something you learn makes you viscerally angry. Like if you had the person in front of you, you'd want to pop them," Biden said. "No, I really mean it."
When Exxon announced its earnings for 2021, chairman and CEO Darren Woods credited the company's COVID-19 pandemic response and other business moves for its success.
"Our effective pandemic response, focused investments during the down-cycle, and structural cost savings positioned us to realize the full benefits of the market recovery in 2021," Woods said. "Our new streamlined business structure is another example of the actions we are taking to further strengthen our competitive advantages and grow shareholder value. We've made great progress in 2021 and our forward plans position us to lead in cash flow and earnings growth, operating performance, and the energy transition."
Newsweek reached out to ExxonMobil and the White House for comment.