Hunter Biden Lawyers Tried to 'Infiltrate' Set of New Film, Director Says
Hunter Biden's lawyers tried to "infiltrate" the set of a film about him, according to its director.
Robert Davi directed My Son Hunter, an upcoming film distributed by Brietbart that delves into Hunter Biden's life and his relationship with his father, President Joe Biden.
A recent teaser trailer touted the film, which is out on September 7, as the "scandalous" and "shocking true story" of the Biden family.
"We filmed in Serbia because I needed, you know, Ukraine. I needed to have that visuals," Davi, an actor who has appeared in Die Hard and The Goonies said during a panel discussion about the film earlier this week.
"A month before I was there, Hunter was in Serbia at Belgrade, a month before we started to film, and also they sent a team of lawyers down that were saying they were doing a documentary, to infiltrate the set and we find out later on that they were sent down... and they're representing Hunter Biden."
In an interview with Mediaite, Davi said he immediately had doubts about the individuals.
"I had a funny feeling that they weren't forthcoming," he said. Davi also said that he had told them that he was not seeking to "demonize" Hunter Biden in the film.
Newsweek has contacted representatives for Davi and Hunter Biden for comment.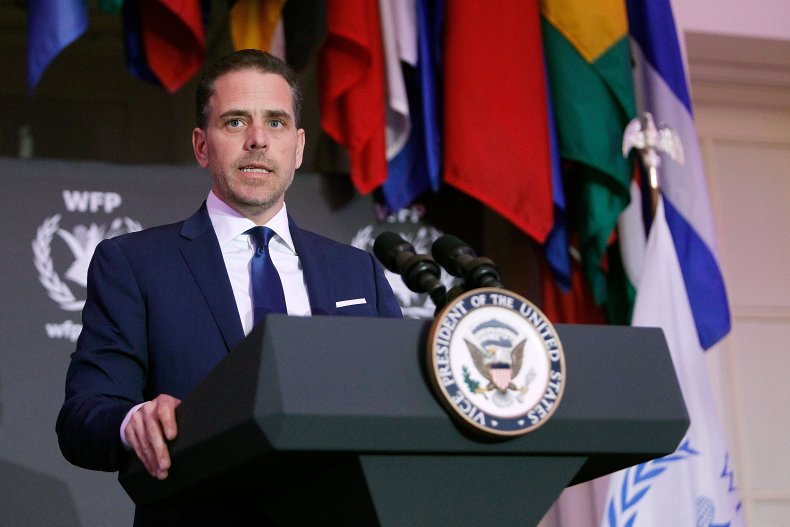 The younger Biden has faced intense criticism from Republicans since before the 2020 presidential election.
He is under federal investigation related to potential money laundering, as well as violations of campaign finance, tax and foreign lobbying laws—a probe that had initially focused on his business activities in foreign countries while his father served as vice president. Hunter Biden has denied wrongdoing and his father has said he is "confident" that his son did not break the law.
There was controversy in October 2020 after the New York Post reported emails and images from a laptop allegedly belonging to Hunter Biden. The New York Times and The Washington Post were later able to verify some of the emails on the laptop.
Conservatives blasted Facebook founder Mark Zuckerberg this week after he stated that his social network suppressed reporting about Hunter Biden's laptop after a warning form the FBI.
It led to former President Donald Trump blasting the "coverup" of the laptop story, pointing to a recent poll that found a majority of voters believe it affected the 2020 election.
In a post on his Truth Social website, Trump said: "8 of 10 voters in major poll say that the 'Laptop from Hell' coverup played a major roll [sic] in the 2020 Presidential Election result.
"The FBI had the Laptop, but refused to divulge information because that would be bad for Biden. Even worse, sold the story to media as Russian 'Disinformation,' knowing that was FAKE NEWS."