Hurricane Florence Spaghetti Model, Warnings: Where Florence Is Headed After Carolinas
The latest Hurricane Florence spaghetti models map on Thursday showed the potential path the storm may take in the coming days. The model showed the storm could veer north after making landfall later this week.
The new spaghetti model showed Florence landing on North and South Carolina before continuing northwest into Tennessee, Virginia and Kentucky before heading into West Virginia. The storm was expected to make landfall in the Carolinas Thursday night or Friday morning. The National Weather Center forecast showed the storm was poised to hit the coast at around 2 a.m.EDT on Friday.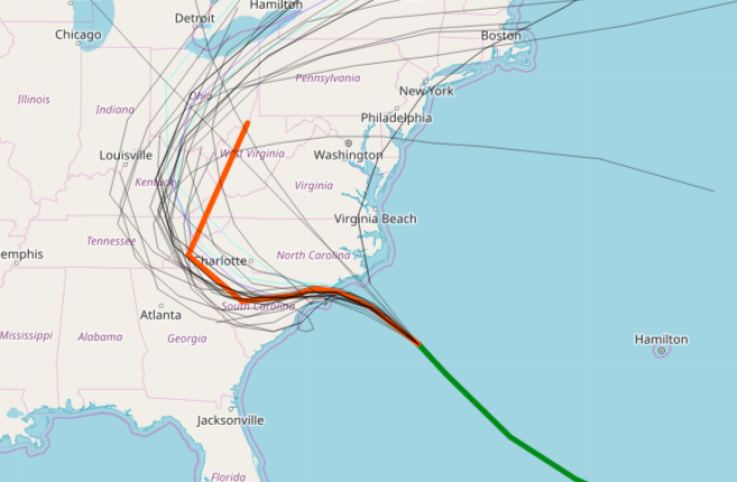 The storm was downgraded to a Category 2 on Wednesday evening, though officials cautioned the downgrade doesn't mean it should be taken lightly. The National Hurricane said in an update winds had weakened to 105 mph as the storm moved northwest. Though the winds weakened somewhat, the storm still had the potential to cause catastrophic and life-threatening flooding on the coast and further inland.
See the latest updates on Hurricane Florence's track, path and potential affected areas here.
The Federal Emergency Management Agency also warned that despite being downgraded, the fact that the storm will slow as it approaches the coast and moves inland will make it extremely dangerous.
"Category of the storm is only related to the wind," the National Weather Service warned in an update "It does not tell you about all of the impacts with a hurricane like Florence. Our impacts have not changed with storm surge and catastrophic flooding. Do not let your guard down."
The storm's effects began to show in parts of the Carolinas on Thursday morning, where areas saw rain, wind and large waves. Florence was expected to bring anywhere from 20 to 30 inches of rain in some places, with as much as 40 inches in other areas. The National Weather Service in Wilmington, North Carolina, warned on Thursday morning that the storm was moving "ever closer," bringing "strong winds, devastating storm surge and life-threatening flooding."
Authorities warned on Thursday morning that the window for evacuations was closing. FEMA warned that the "window of time to leave is closing rapidly," urging those in mandatory evacuation zones to take heed and leave now.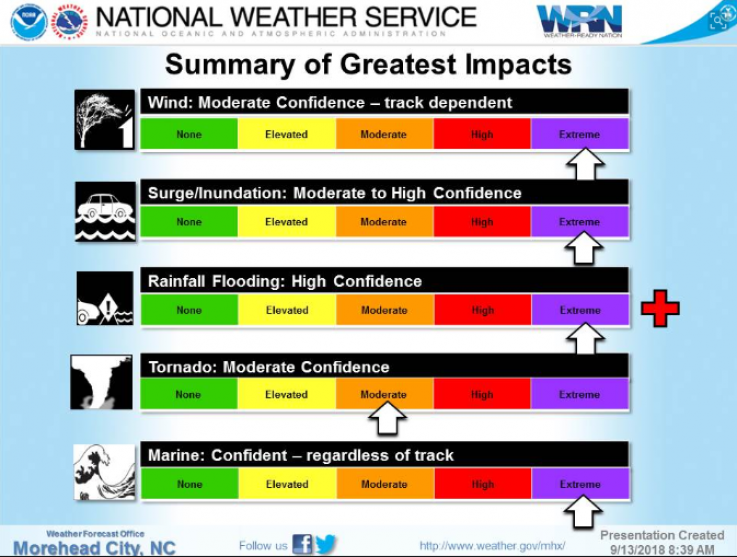 Hurricane Florence Spaghetti Model, Warnings: Where Florence Is Headed After Carolinas | U.S.