Hurricane Hanna Makes Landfall in Texas as a Category 1 Storm
Hurricane Hanna has made landfall as of 5:00 p.m. local time in Padre Island, Texas with a maximum sustained wind speed of up to 90 mph, according to the U.S. National Hurricane Center (NHC).
The NHC upgraded the former tropical storm to a hurricane on Saturday morning. A hurricane is a storm with winds of at least 75 mph. With its 90 mph wind speed, Hanna is a Category 1 storm. If the hurricane hits a minimum of 96 mph, it becomes a Category 2 storm. However, Hanna is expected to weaken as it moves inland, and may even be downgraded back to a tropical storm by midnight, according to KIII.
A hurricane warning is in effect for Port Mansfield to Mesquite Bay, Texas; a tropical storm warning is also still in effect for the stretch between Barra el Mezquital, Mexico and Port Mansfield, and from Mesquite Bay to High Island, Texas. Forecasters also warned that tornadoes were possible on Saturday in the Texas coastal plain and that Hanna could bring with it up to a foot of rain through Sunday night.
Hanna is the first hurricane of the 2020 Atlantic season. However, Hurricane Douglas, the first of the 2020 Pacific season, is also raging and is heading towards Hawaii. This year has seen a record number of storms so far, with forecasters at Colorado State University expecting 20 named storms, nine hurricanes and four major hurricanes.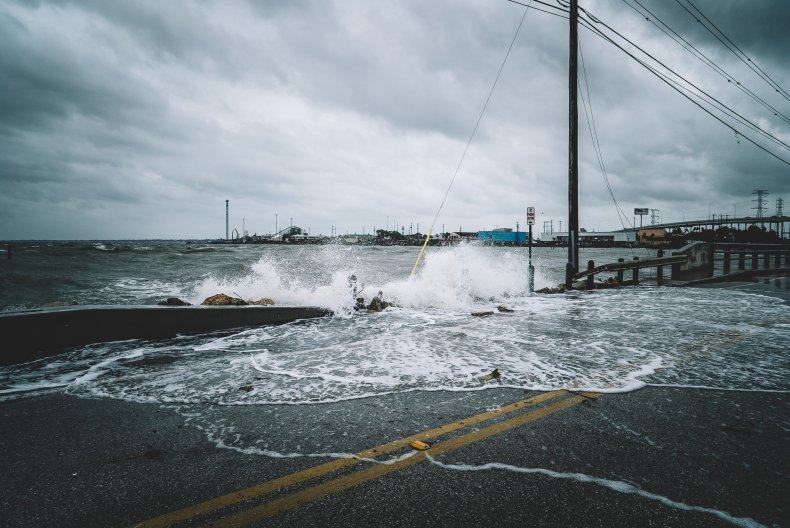 A half-hour after reporting that Hanna had made landfall, most of North Beach, Texas is underwater, according to KIII. The water appears to be flooding the first floor of the Art Museum of South Texas, according to a photograph shared by the station. The National Weather Service (NWS) of Brownsville is reporting significant structural damage in Port Mansfield. The NWS has also issued flash flood warnings in Willacy County, Cameron County and Kenedy County until 8:30 p.m. local time.
Hidalgo County Judge Richard F. Cortez also declared a local state of disaster due to expected flooding. The order, which will last seven days, activates the county's emergency management plan and authorizes Hidalgo County officials to "take actions necessary to protect the health and safety of persons in the county." Cortez also sent a letter to Governor Greg Abbott, a Republican, requesting he declare a state of emergency for Texas.
South Texas has also seen over 18,000 active cases of COVID-19, according to The Washington Post. Texas as a whole is the state with the second-highest number of new cases this week. Hidalgo County has seen 433 fatalities to the disease, the third-highest number of deaths in the state.
Hanna has broken the record for the earliest "H" storm; the previous record was Hurricane Harvey, which first formed on August 3, 2005. In addition, this season has also seen the earliest "C," "E," "F" and "G", according to the Post.